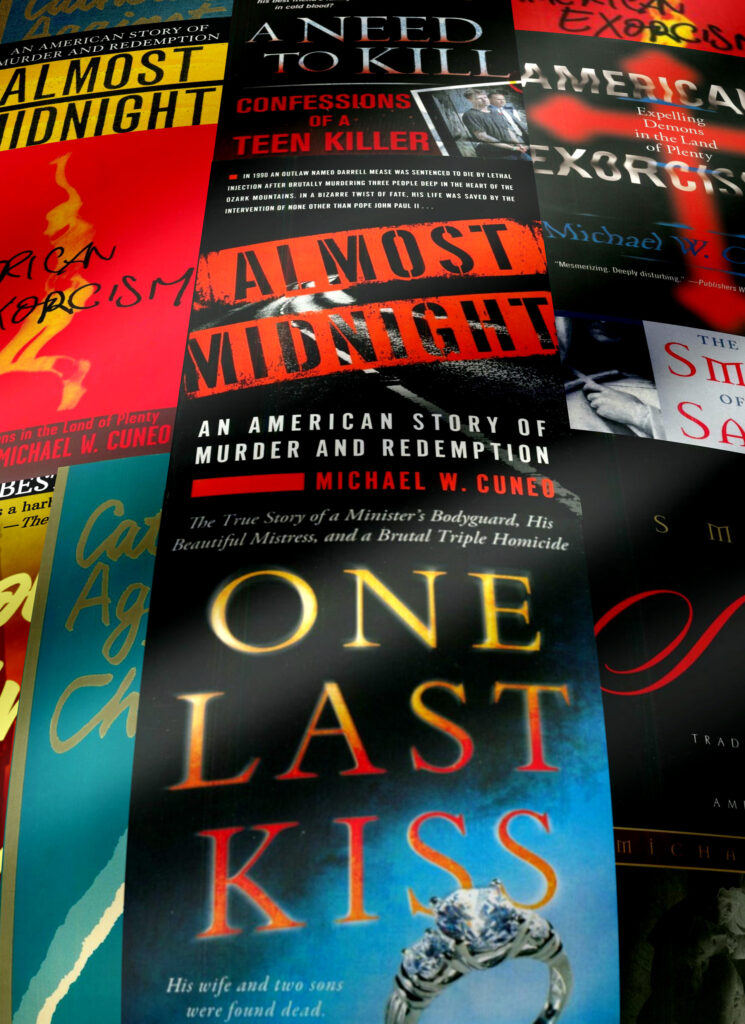 Contents
The New York Times Book Review — 50 States of True Crime
The Kansas City Star — Almost Midnight
Playboy — Almost Midnight
The Today Show — Murder in the Ozarks
Publishers Weekly — Almost Midnight
NPR — Tales from the Underworld
The Washington Post Book World — Almost Midnight
Knight Ridder — Spring Drought
Cinenews — John Hawkes
Edmonton Journal — Sunday Pick: Almost Midnight
Crime Magazine — One Last Kiss
Carbondale Times — Book 'One Last Kiss' is Out
Intelligencer Journal (Lancaster, PA) — Making Sense of Senseless
Jane — American Exorcism
The Guardian — American Exorcism
Publishers Weekly — American Exorcism
Birmingham Mail (UK) — Unholy War with Spirits in America
The Washington Post Book World — American Exorcism
The Herald (Glasgow) — American Exorcism
Western Mail (Cardiff) — Pick of the Paperbacks
The New York Times Book Review — The Smoke of Satan
The Boston Globe — 'Smoke' Tackles Catholic Fundamentalism
Fort Worth Star-Telegram — Chapter & Verse: The Smoke of Satan
The New York Review of Books — The Vatican Monarchy
The New York Times Magazine — Is the Pope Catholic . . . Enough?
Christianity Today — The Smoke of Satan
Toronto Star — Catholics Squabble on Abortion Unity
Saturday Night — Catholics Against the Church
America (New York City) — Catholics Against the Church
The Vancouver Sun — Unholy War
The Atlanta Journal-Constitution — The Abortion War
The Washington Post — Campaign of Violence Against Abortion Clinics
Crisis Magazine — Catholics Against the Church
The Heythrop Journal (Oxford University, UK) — Catholics Against the Church
Sociological Analysis — Catholics Against the Church

ALMOST MIDNIGHT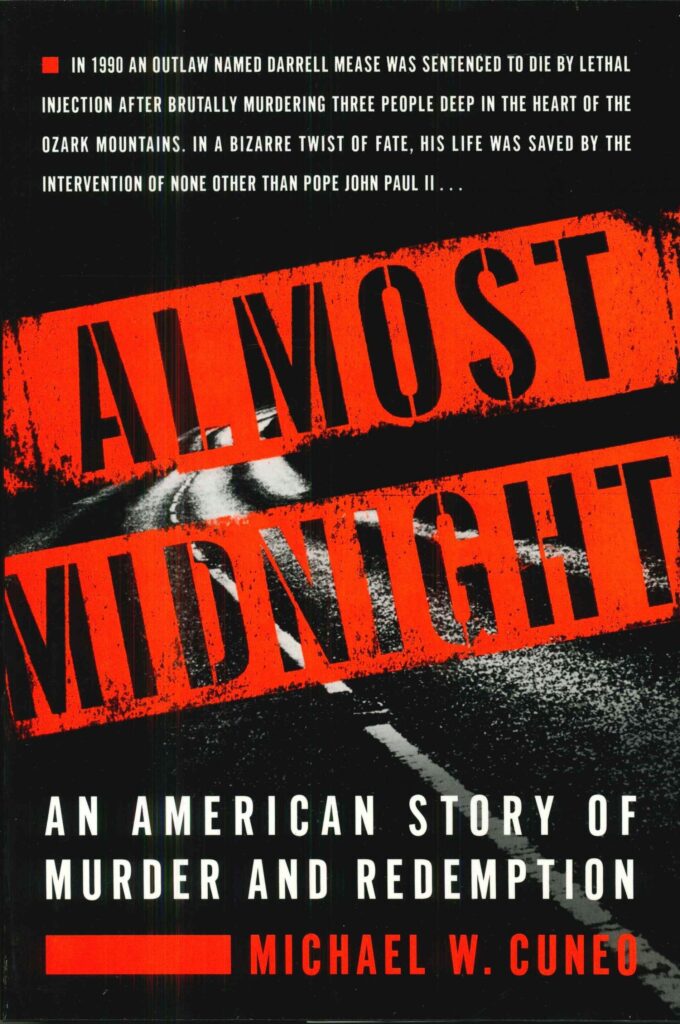 Notable Book of the Year — Arizona Republic (Phoenix)
Notable Book of the Year — The Kansas City Star
Notable Book of the Year — Lincoln Journal Star
All-Time Best Crime Book Based in Missouri — The New York Times Book Review

The New York Times

50 States of True Crime
By Tina Jordan and Ross MacDonald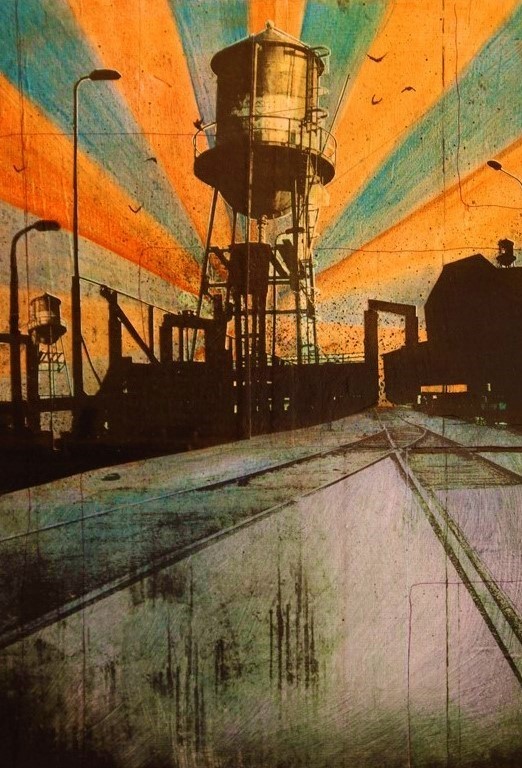 From '50 States of True Crime,' a New York Times Book Review feature from July 27, 2019, identifying the single best true crime book ever written from every state in the U.S.A.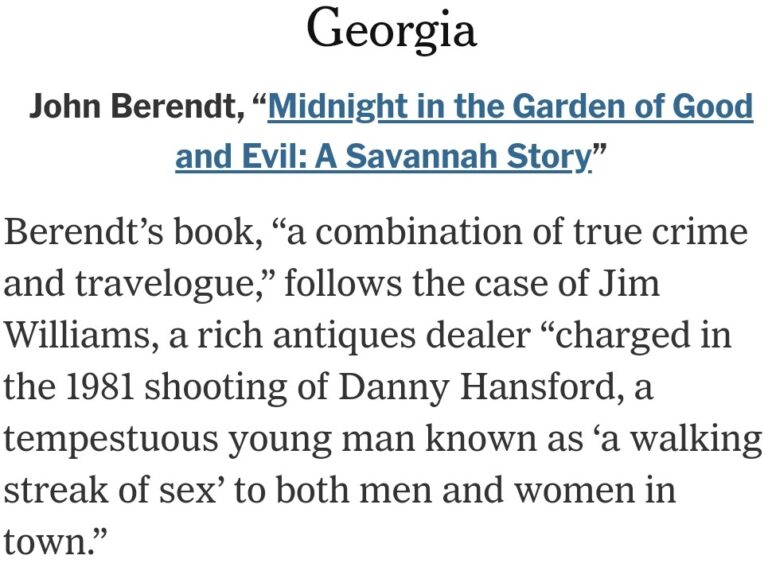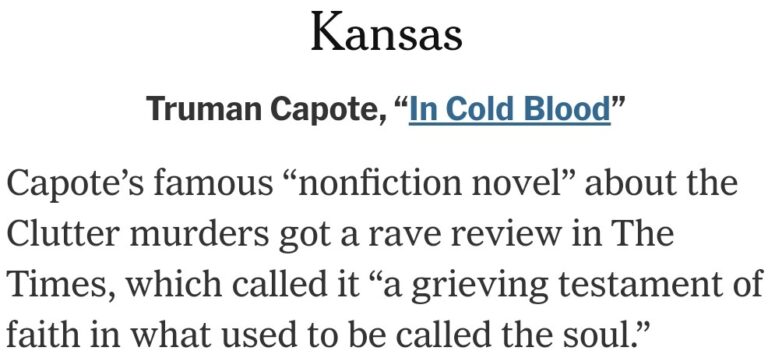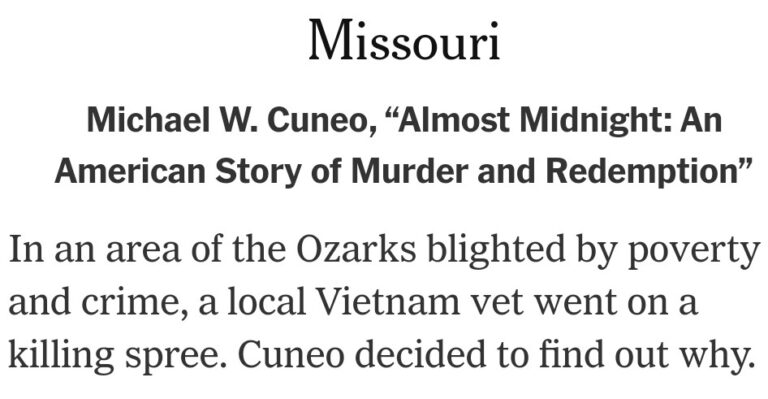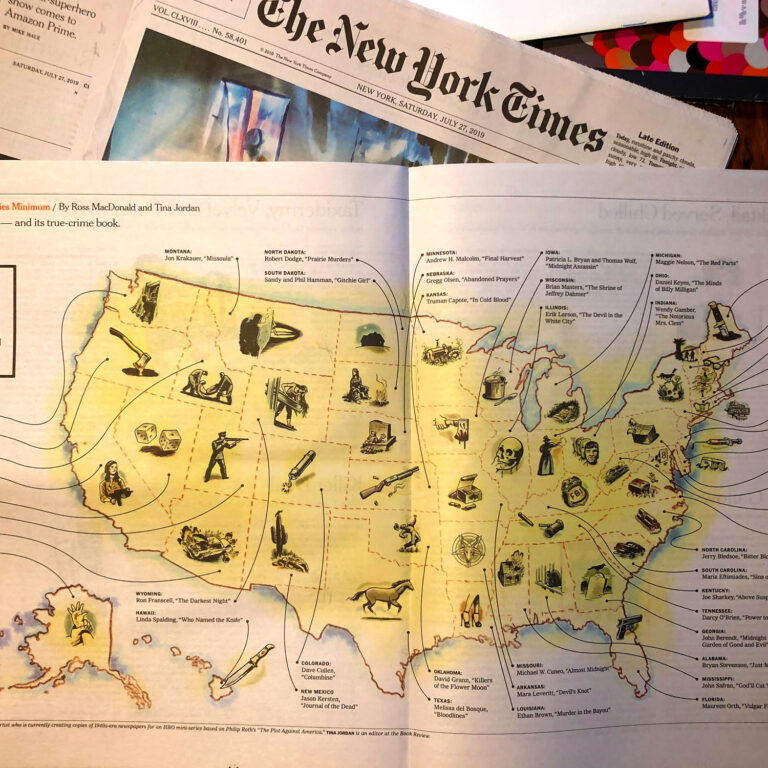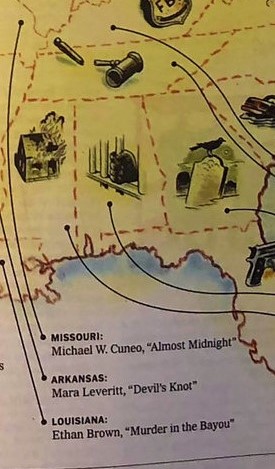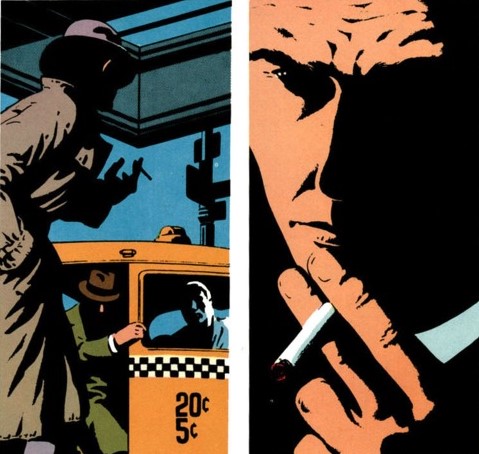 The Kansas City Star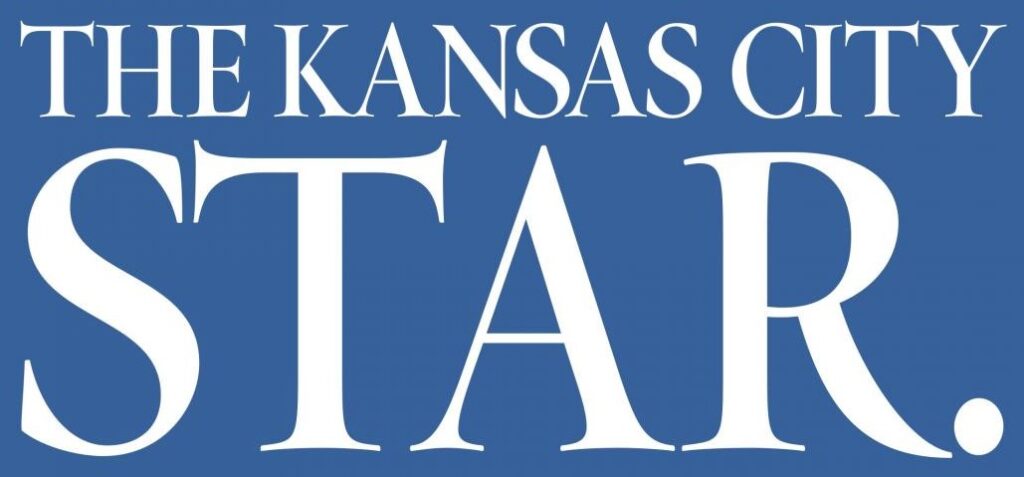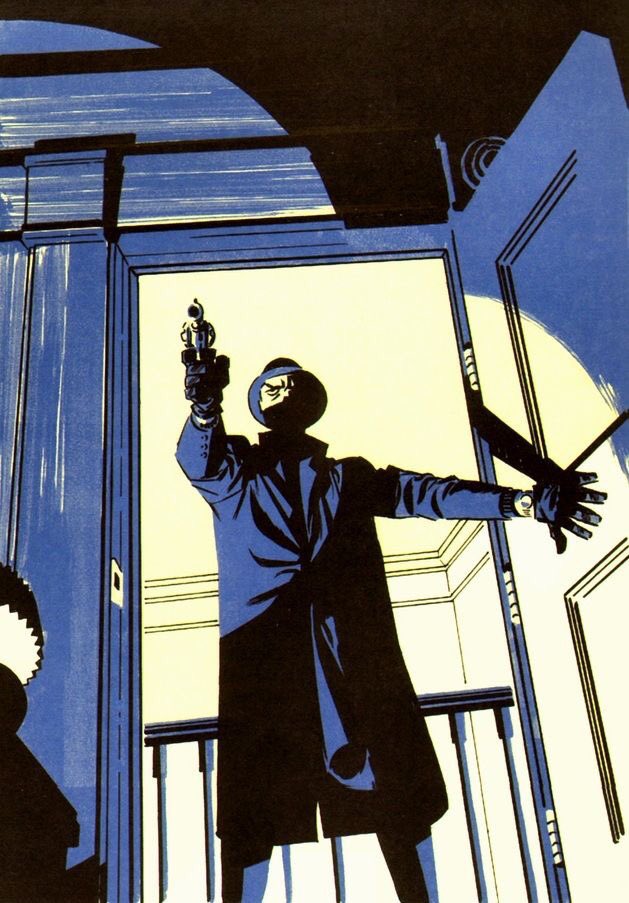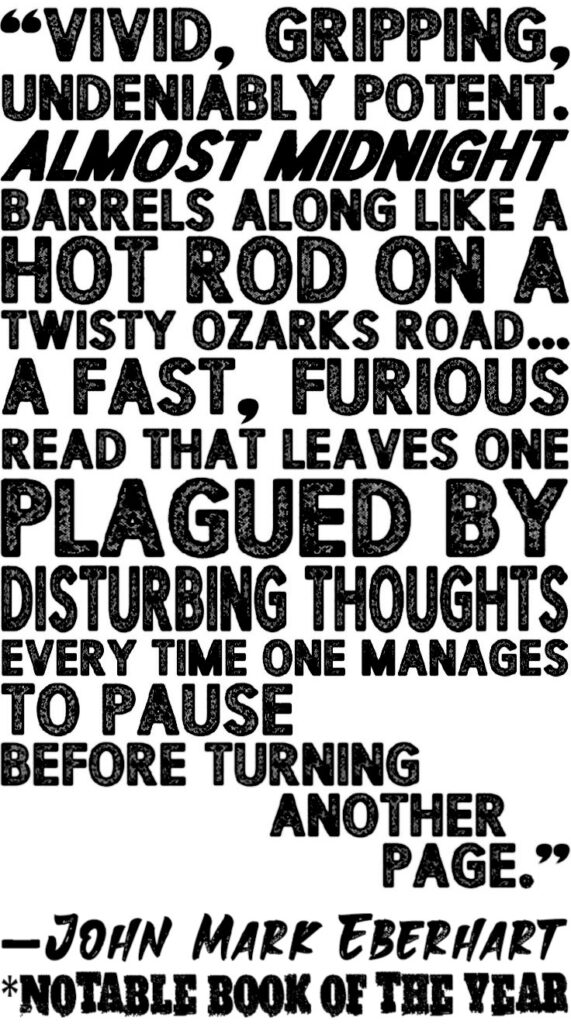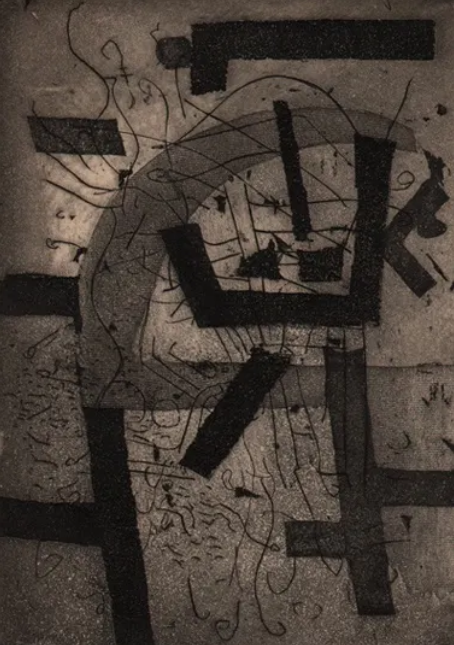 Playboy

Almost Midnight, Michael W. Cuneo
By Jason Buhrmester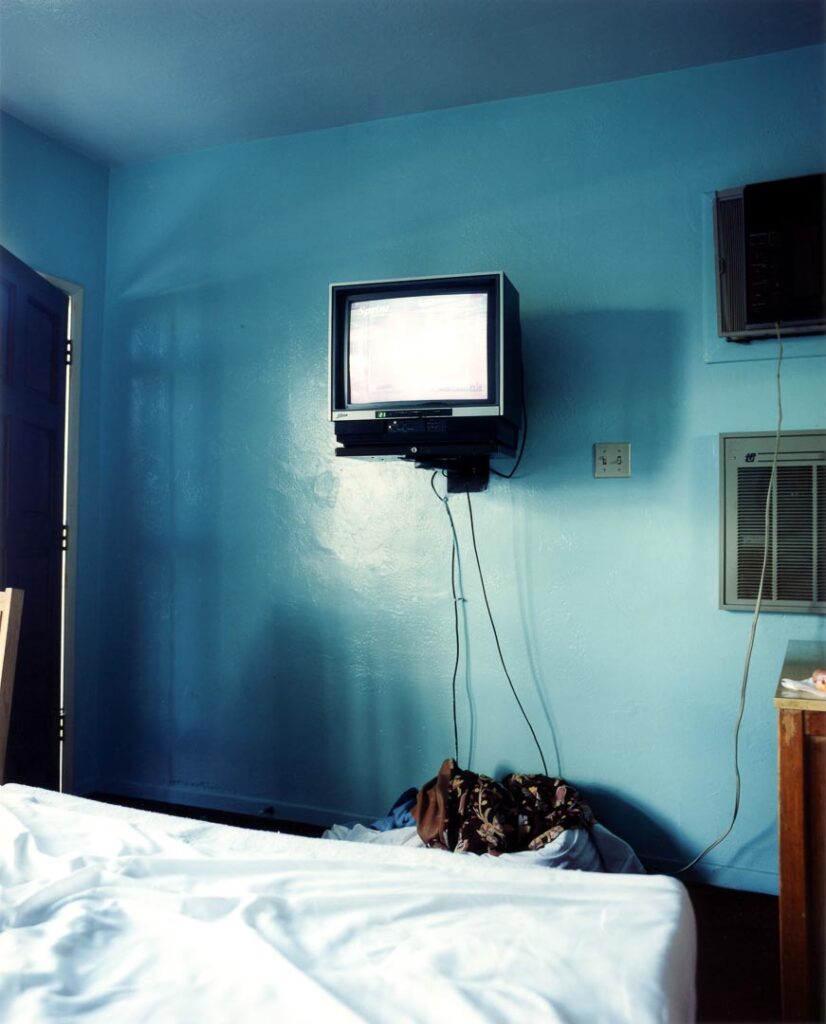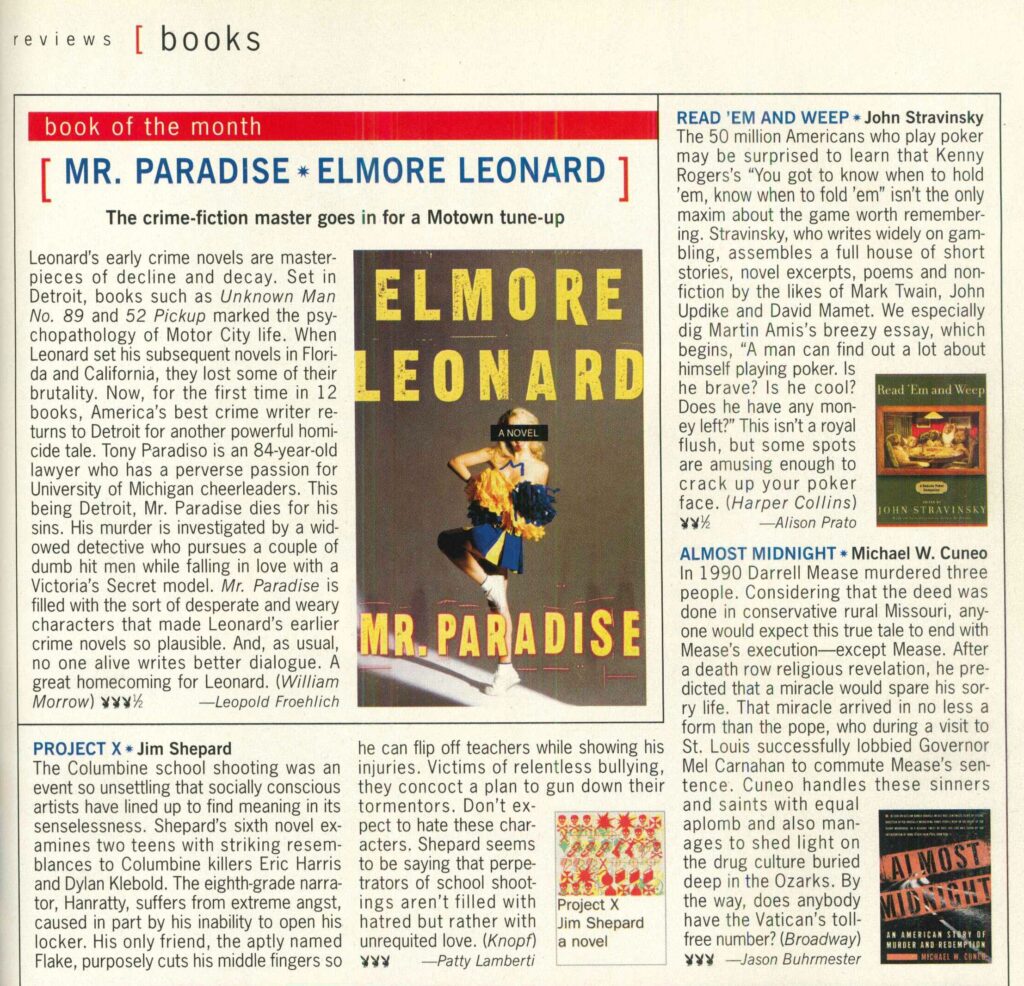 IN 1990 DARRELL MEASE murdered three people. Considering that the deed was done in conservative rural Missouri, anyone would expect this true tale to end with Mease's execution – except Mease. After a death row religious revelation, he predicted that a miracle would spare his sorry life. That miracle arrived in no less a form than the pope, who during a visit to St. Louis successfully lobbied Governor Mel Carnahan to commute Mease's sentence. Cuneo handles these sinners and saints with equal aplomb and also manages to shed light on the drug culture buried deep in the Ozarks. By the way, does anybody have the Vatican's toll-free number?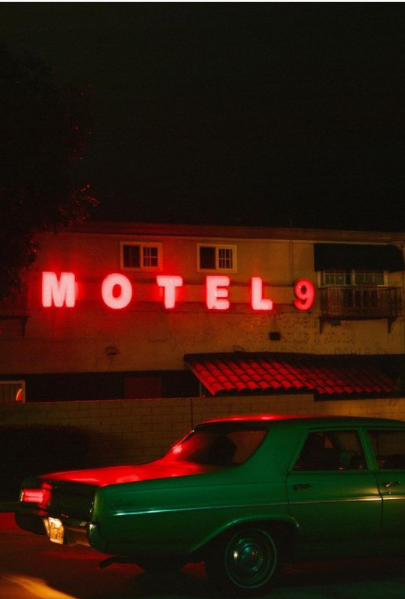 The Today Show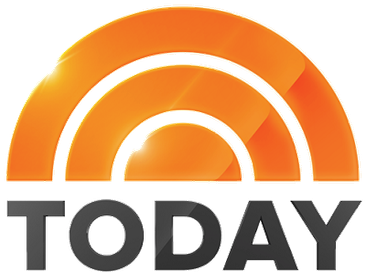 By Gael Fashingbauer Cooper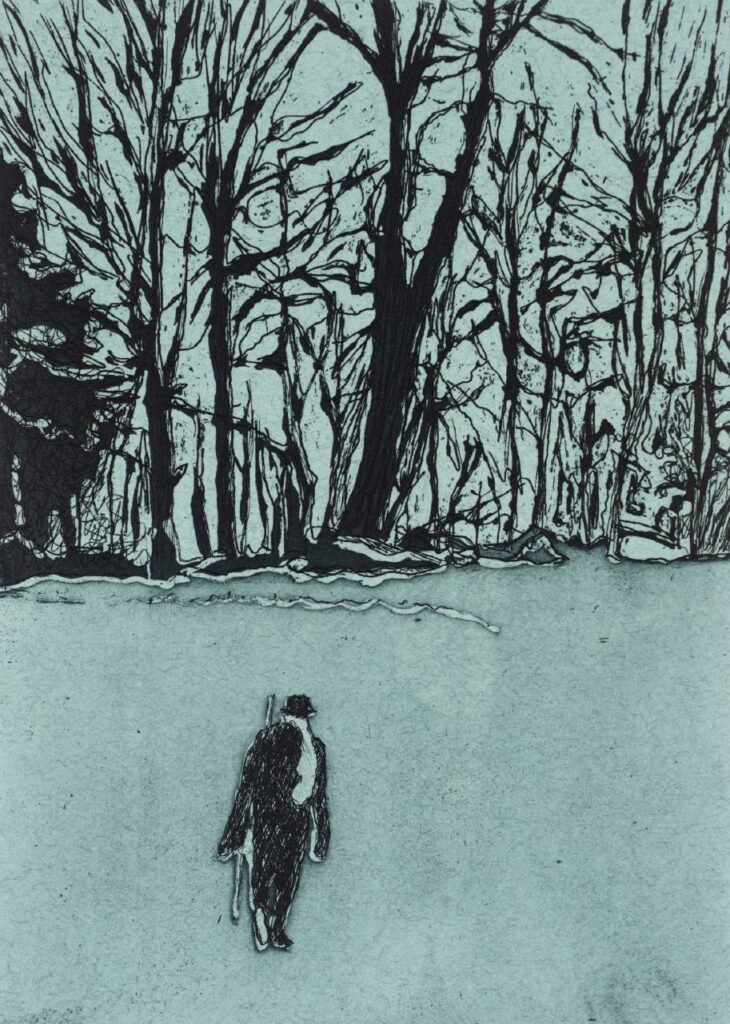 THERE ARE good true-crime books, and there are bad true-crime books. You can recognize the bad ones a mile away — they're usually paperback, sometimes rushed out within weeks of a verdict, and often feature the word "BLOOD" in the title and the phrase "16 pages of shocking photos!" on the cover.
"Almost Midnight: An American Story of Murder and Redemption," by Michael W. Cuneo (Broadway Books), is one of the good ones.
Cuneo tells the story of a triple murder in rural Missouri, but it's an unusual one in that the victims are not portrayed as saints, nor the murderer as the devil. Darrell Mease was a Vietnam vet who turned to drug dealing, and when his life is threatened by Lloyd Lawrence, a local meth kingpin, he kills the man, as well as his wife and grandson, who happen to be there.
Mease is a product of the American Ozarks, and Cuneo transports readers to this colorful region, bursting with natural beauty and also dank poverty, where cockfights and dogfights are regular entertainment. When Mease gets on the wrong side of Lawrence and flees with his young girlfriend, his worried and broke days on the road are so sharply described you'll give thanks for your warm bed and full pantry.
Mease's case took a bizarre turn after he was convicted and sentenced to death. His execution was set for the same day that Pope John Paul II was set to visit Missouri. The state tried to juggle the execution date to avoid embarrassment, but that only led to the Pope personally asking Missouri's governor for clemency.
While every detail of cases like Laci Peterson's are splashed over the nightly news, the Mease case would have been known only to Missourians if not for Cuneo's book. It's a fascinating — and often chilling — read.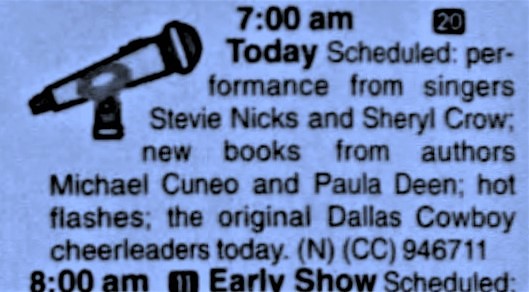 Publishers Weekly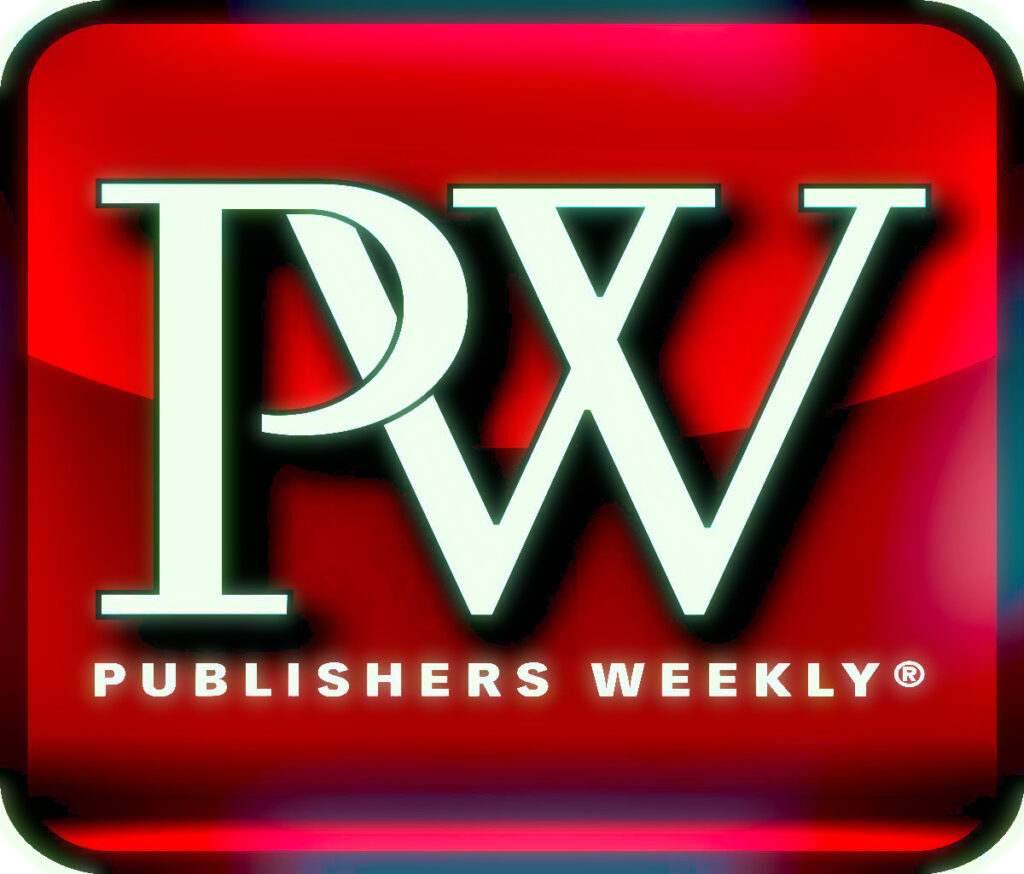 ALMOST MIDNIGHT ● Michael W. Cuneo (Broadway, $24.95)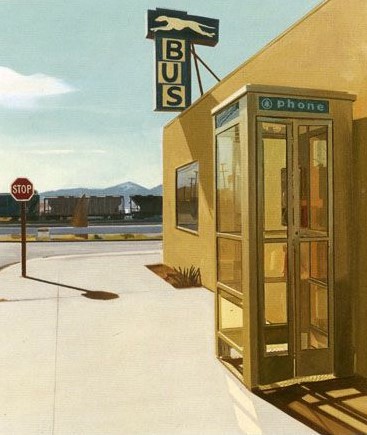 DARRELL MEASE, the Ozarks-born convicted murderer who got a death row intervention from Pope John Paul II in 1998 (the execution was to take place on the day the Pope visited St. Louis), is at the center of this true crime saga.
Cuneo (American Exorcism) follows Mease from his religious upbringing in the backwoods of Missouri, through his tour in Vietnam and baptism into the crystal methamphetamines trade to his love affair with Mary Epps and brutal murder of a drug kingpin, his wife and disabled grandson. Cuneo looks closely at Mease's time in prison, where he rediscovers religion and, while professing "God is my lawyer," is miraculously delivered from lethal injection just as he predicted he would be.
Cuneo's detailed descriptions of the virtues (loyalty, self-reliance, faith, family) and negatives (violence, chemical dependency, lawlessness) of the Ozarks' culture not only fleshes out Mease's personality but also vividly portrays this overlooked area of Americana.
Cuneo's skillful writing allows him to convey the romantic notions of Mease's outlaw ways and travels on America's back roads, while never romanticizing the violence or the hand-to-mouth living.
When all is said and done, one cannot help but appreciate Cuneo's in-depth, interwoven stories of Mease and the Ozarks.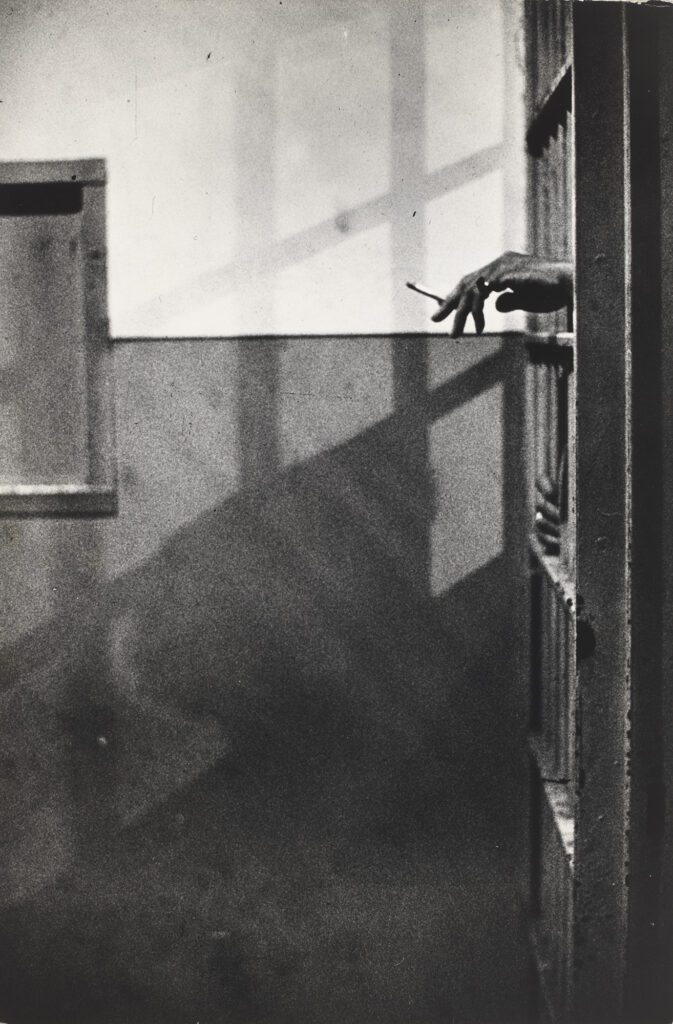 National Public Radio

Tales from the Underworld: Murderer Reaps Benefits of Religious Conversion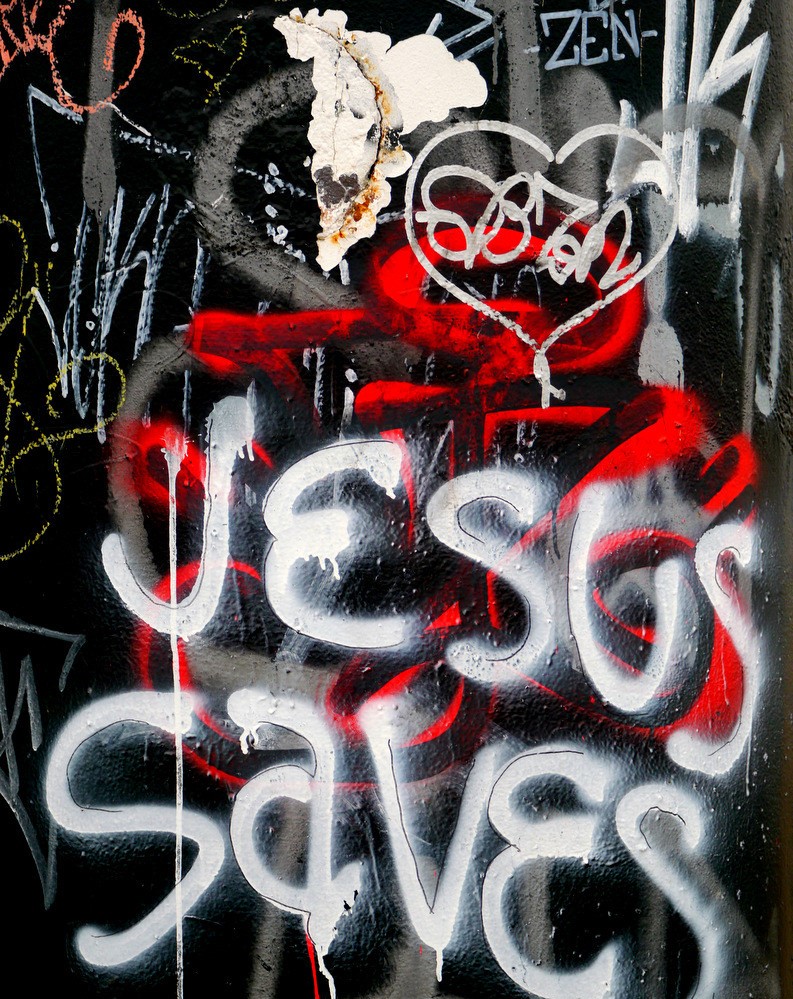 Heard on "Morning Edition"
Darrell Mease, a convicted murderer, was scheduled to die by lethal injection at a Missouri prison when something remarkable happened . . .
Steve Inskeep talks to author Michael Cuneo about his book Almost Midnight, which chronicles Mease's story.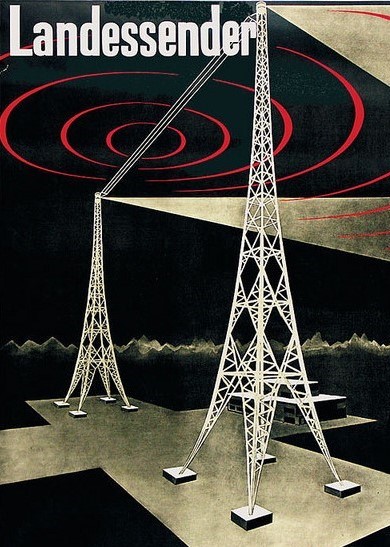 The Washington Post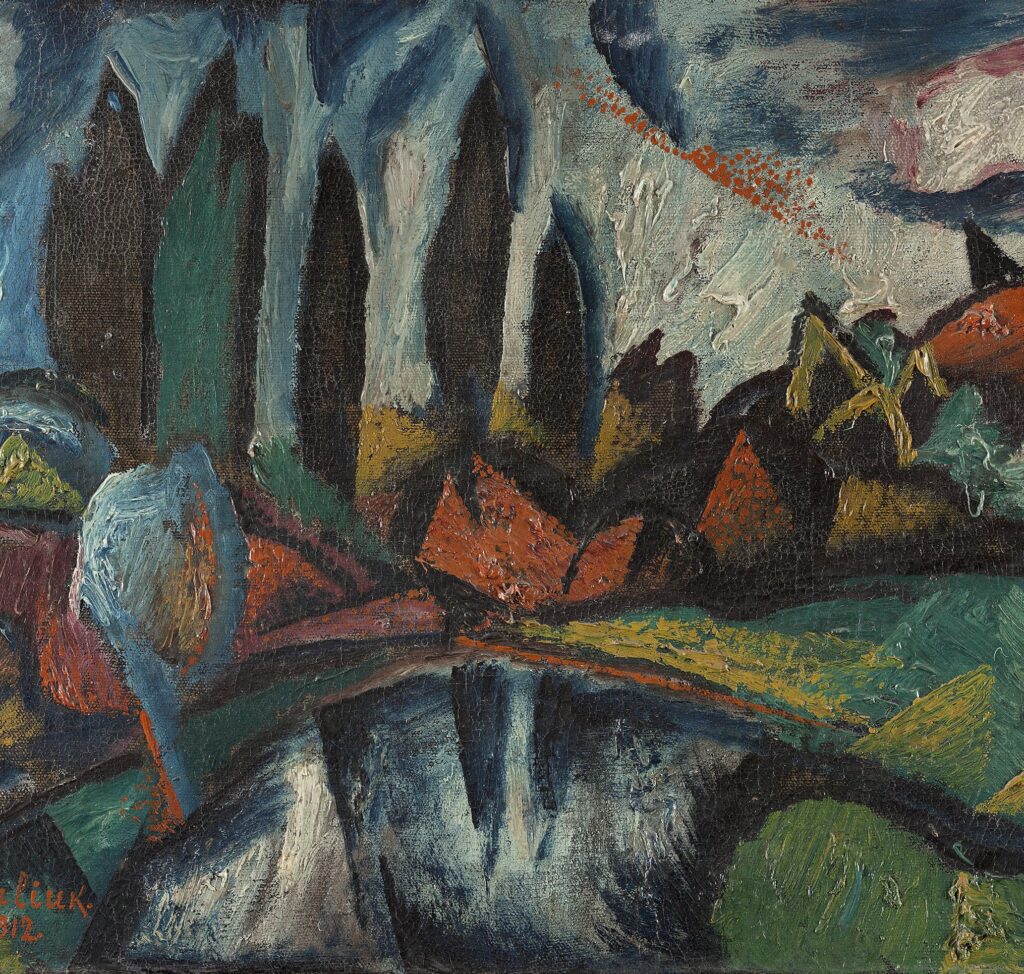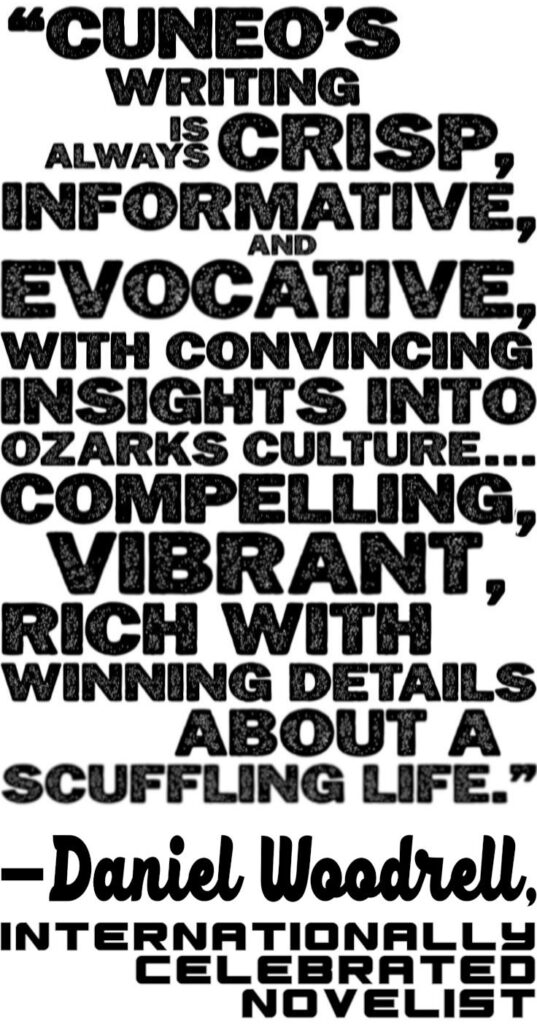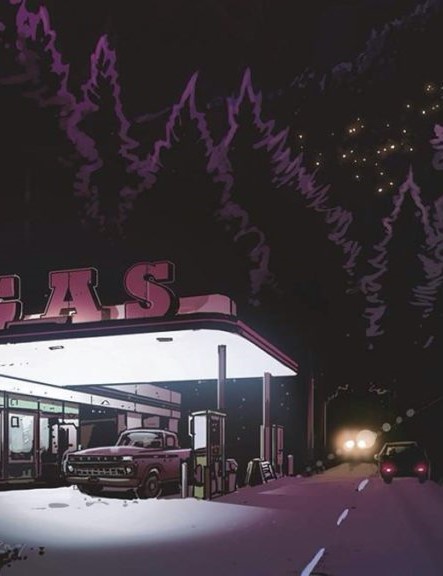 Knight Ridder Newspapers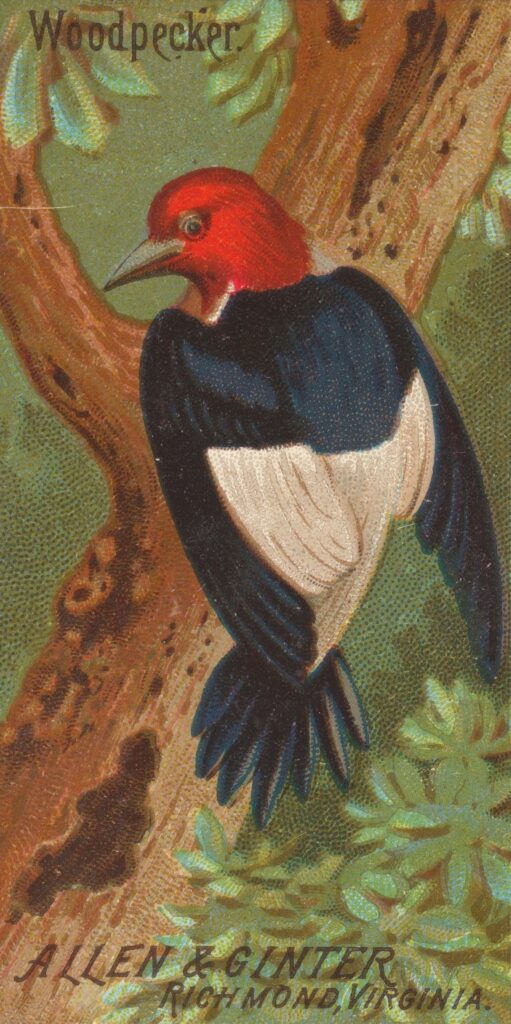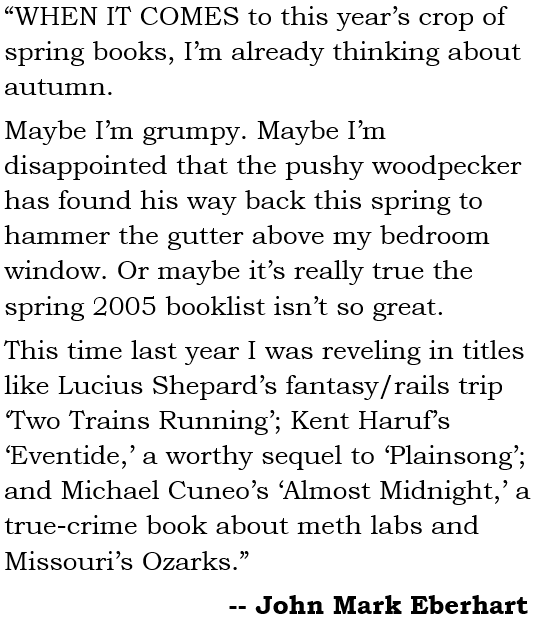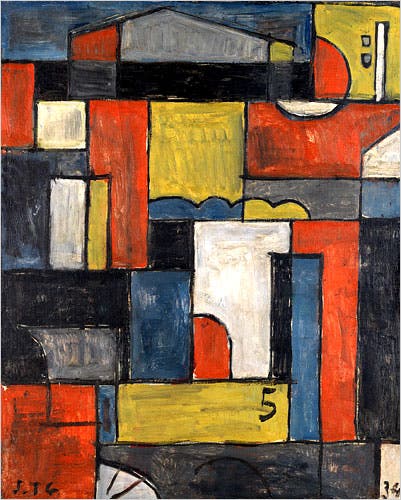 Cinenews

Actor John Hawkes on preparing for his Academy Award–nominated performance in Winter's Bone, a Sundance-winning film set in Missouri's Ozarks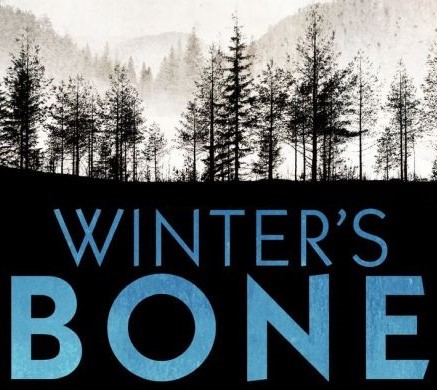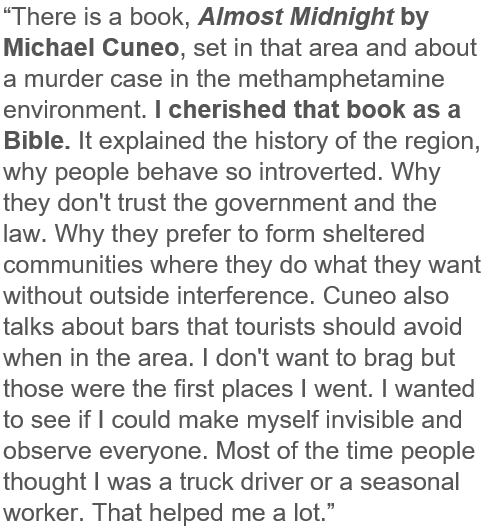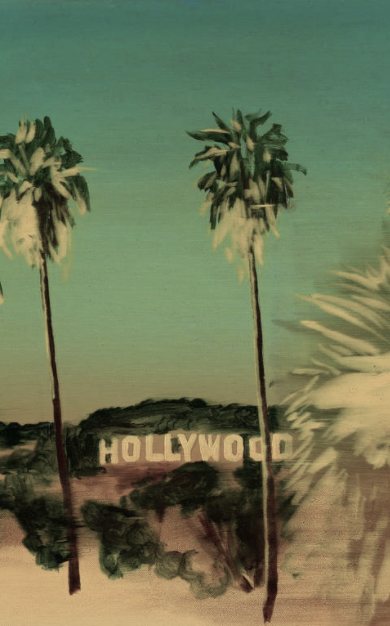 Edmonton Journal (Alberta)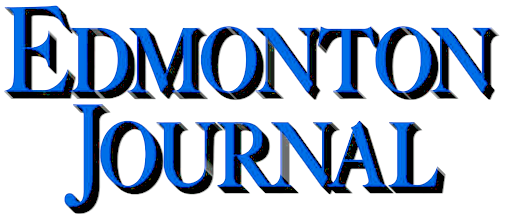 Sunday Pick
Almost Midnight: An American Story of Murder and Redemption, by Michael W. Cuneo (Broadway Books)
By Marc Horton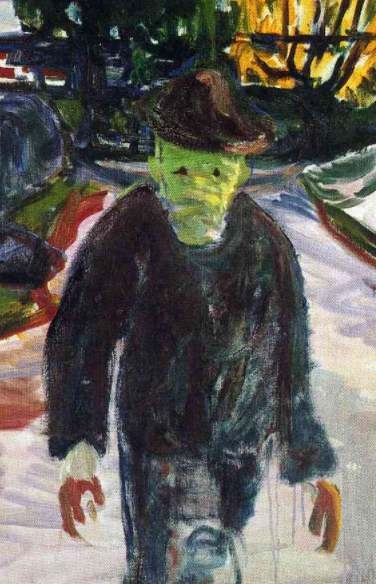 DARRELL MEASE, who shot 69-year-old drug kingpin Lloyd Lawrence, Lawrence's wife and teenage son to death almost 10 years ago, was unmistakably a low life. Addicted to crystal meth, he dealt in the drug, led a violent life and was one of those doomed souls who live without hope. He was a man of little or no compassion.
A lifetime spent in the Ozarks had given him the kind of prickliness that is almost constantly on the cusp of violence.
After his arrest, it seemed a certainty that Mease would be convicted of the Lawrence murders, and be condemned to die by lethal injection in prison.
All of this might make for a tawdry story of a loathsome man who deserved capital punishment.
However, investigative reporter Michael Cuneo, who also wrote the acclaimed American Exorcism, has dug into the Mease case and found a story of redemption.
Mease, who underwent a conversion while in the death house, predicted his life would be miraculously spared by the intervention of God himself.
While that didn't happen, Pope John Paul's plea to the governor resulted in a commutation of Mease's sentence.
A page-turner, Almost Midnight introduces readers to life in the Ozarks and to dozens of unforgettable characters as well.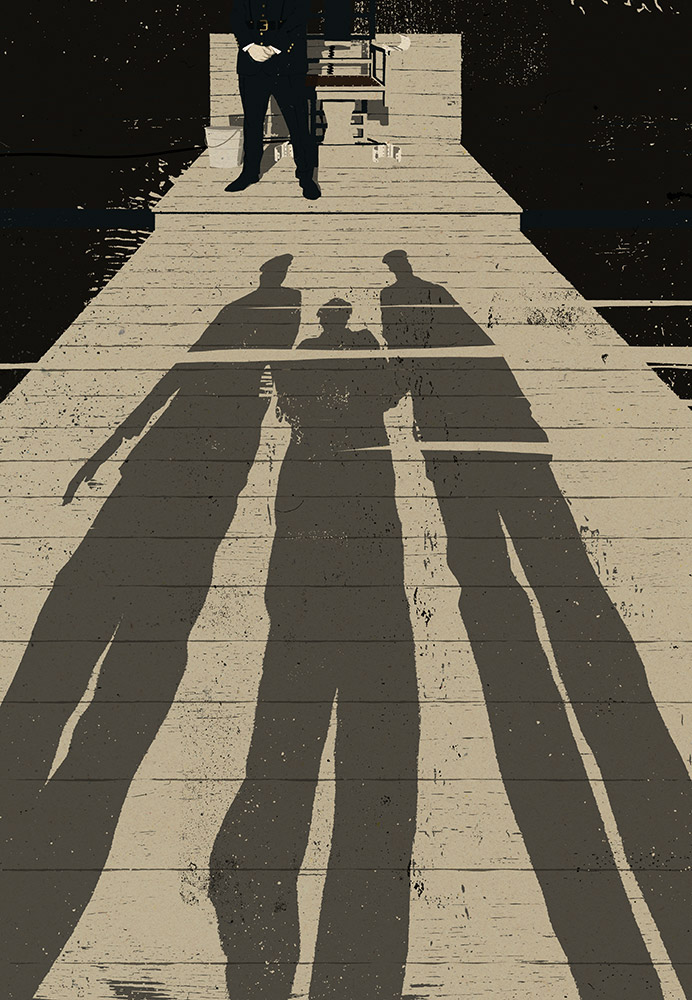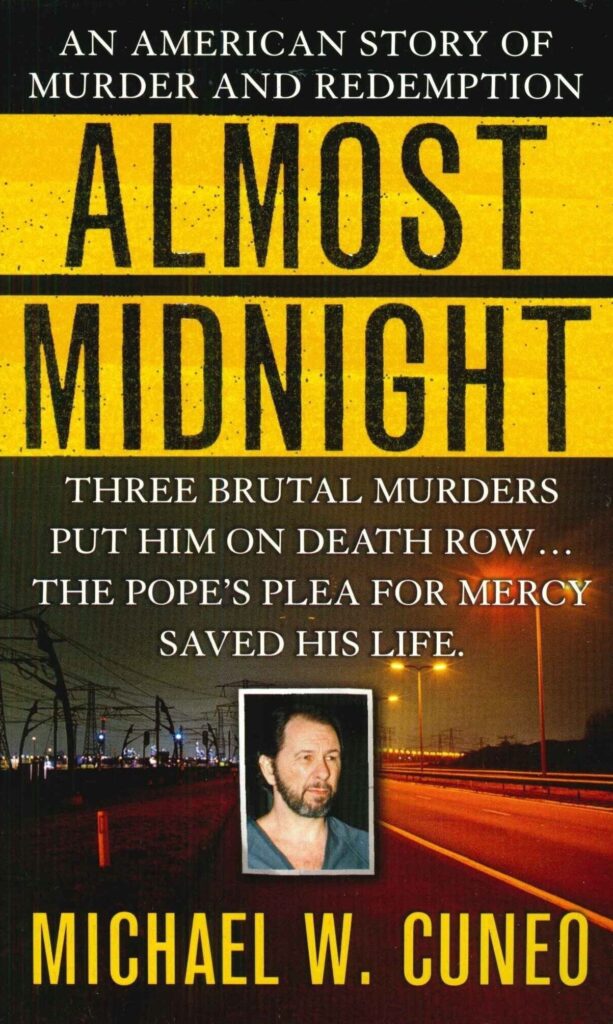 ONE LAST KISS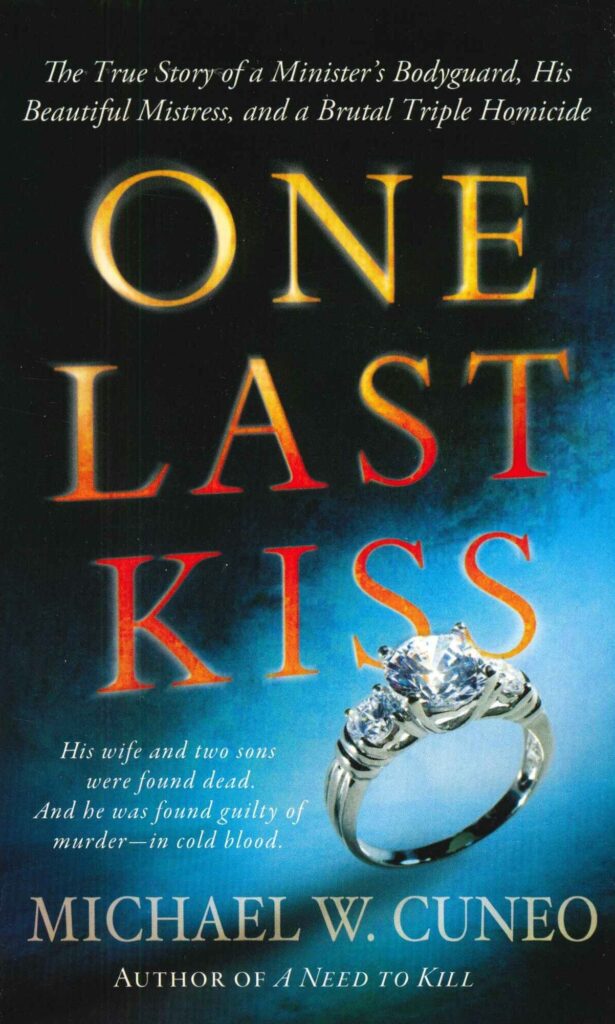 Top Ten Book of the Year — True Crime Zine

Crime Magazine

By Denise Noe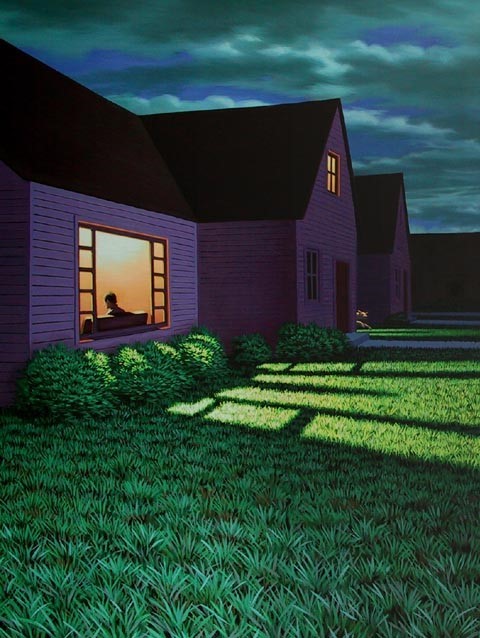 ONE LAST KISS by Michael W. Cuneo (St. Martin's Paperbacks) focuses on the May 5, 2009 brutal strangulation murders of Sheri Coleman and her young sons, Gavin, 9, and Garett, 11. The husband and father, Chris Coleman, said he was at the gym during the time his family was slaughtered. Chris Coleman was head of security for Joyce Meyer Ministries. Preacher of a "prosperity gospel," Meyer is both famous and controversial. Loved by millions as a charismatic Christian minister, she is also criticized by many who regard the "prosperity gospel" as a distortion of the teachings of Jesus. Indeed, it initially appeared that Sheri, Gavin, and Garett were the victims of an anti-prosperity gospel zealot. Chris and his family had received threatening messages that seemed to be from someone who hated the Meyer ministry. However, investigators soon found evidence that the messages were sent by Chris himself who wanted out of his marriage but feared a divorce would cause him to lose his job with Joyce Meyer. Chris was eventually convicted of the murders and sentenced to life without parole.
One Last Kiss is what a true crime book should be. Cuneo draws us into the Coleman family. He makes us care about Sheri, Gavin, Garett – and even to some extent Chris. At 327 pages, it is long but it never drags. It is a fascinating study of a family destroyed by its seemingly advantaged but grotesquely flawed pater familias. It is a model of what a good true crime book should be.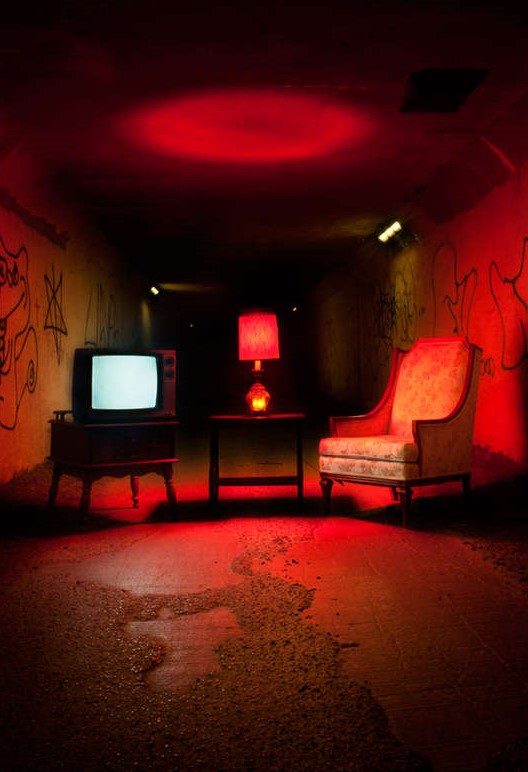 Carbondale Times (Illinois)

Book 'One Last Kiss' is Out: Chronicles Chris Coleman Case, Perry County Jury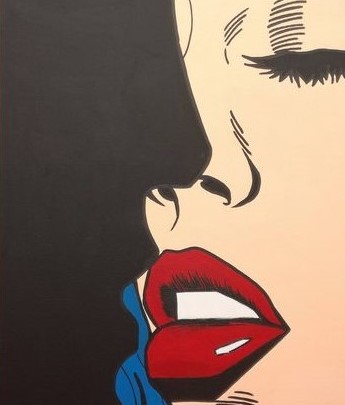 A NEW PAPERBACK book just out by Michael W. Cuneo entitled "One Last Kiss" chronicles the murder trial of Chris Coleman, found guilty of killing his wife and sons in a Monroe County courtroom earlier this year. The murder trial involved busing jurors from Perry County to Monroe County for the trial and the work of Perry County Circuit Clerk Kim Kellerman in assisting the Monroe County courthouse in getting the jurors to that site and conducting the trial in a very orderly fashion.
Ex-Marine and bodyguard Chris Coleman was a family man with a secret: He wanted to leave his wife for another woman, Tara Lintz. But as head of security for the world-famous Joyce Meyer Ministries—an evangelical organization that frowns on divorce—Coleman had to make other plans. On May 5, 2009, Illinois police received a call from Coleman, who claimed he was unable to contact his family. When investigators arrived at his home, they found Coleman's wife and two sons strangled in bed. Across the walls, spray-painted in red, were various obscenities—the word punished among them. Who could have done something so sinister? As Coleman played the part of a grieving husband, forensic evidence at the crime scene told a different story. Key testimony from Lintz afforded yet more evidence of Coleman's guilt—and soon a jury would find him guilty of three counts of murder in the first degree.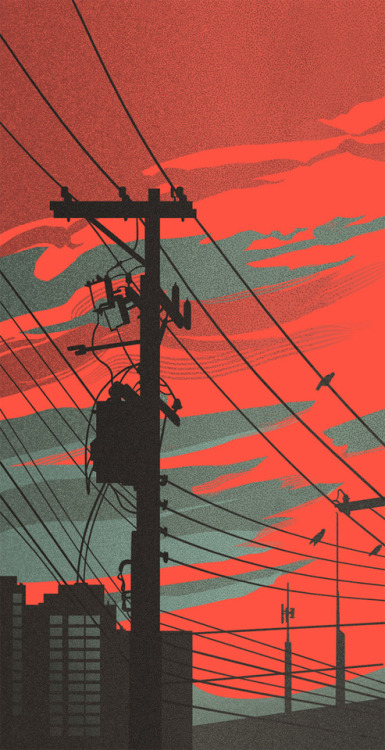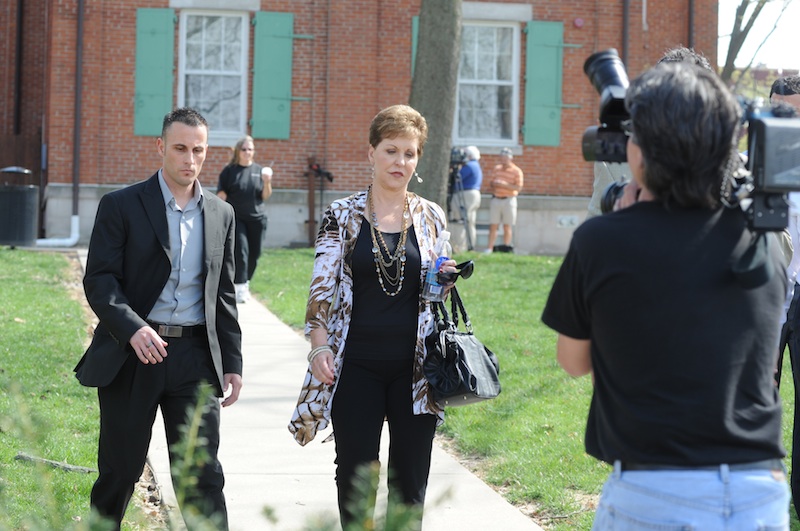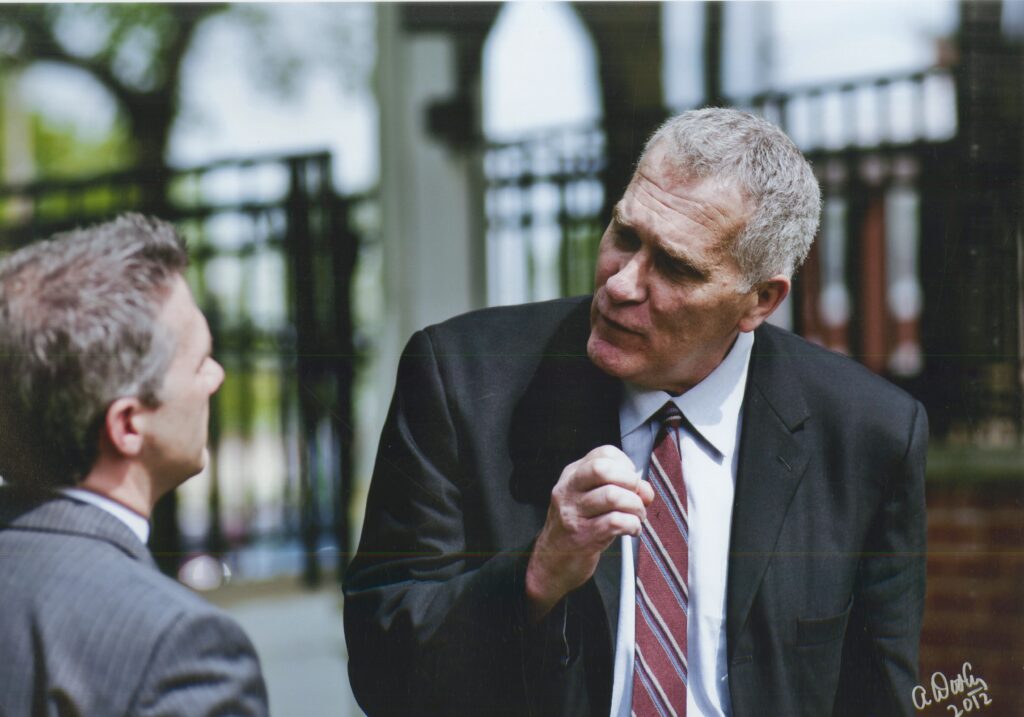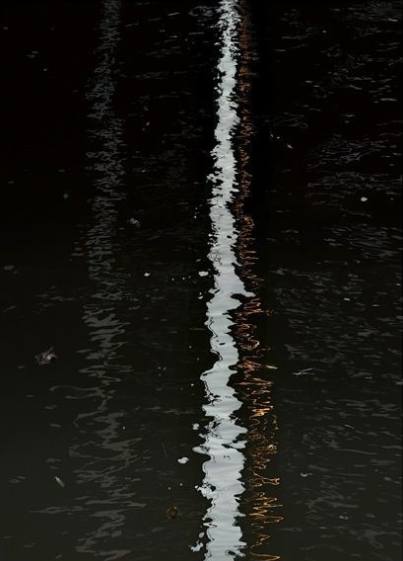 A NEED TO KILL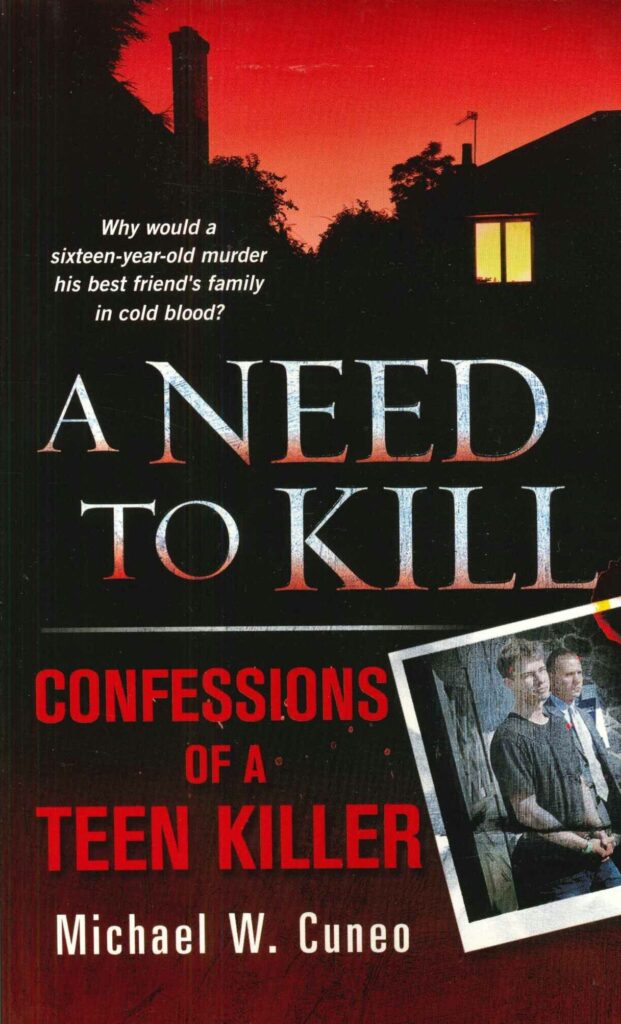 Intelligencer Journal (Lancaster)

Making Sense of Senseless
By Jo-Ann Greene, Books Editor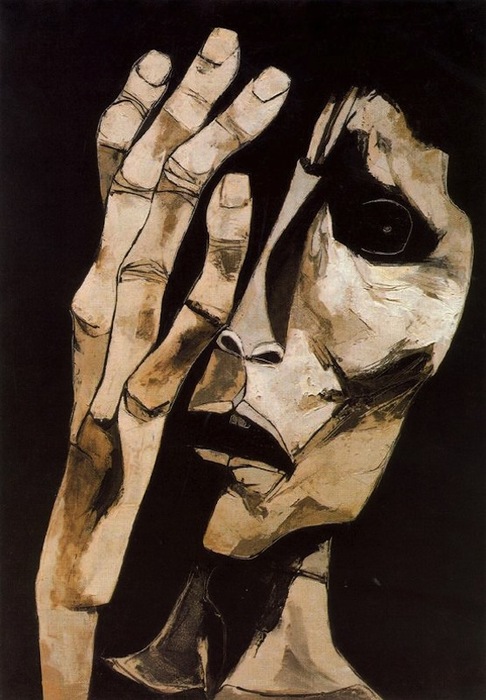 WHO KNOWS WHAT evil lurks in the hearts of men — or even one adolescent boy?
Not Alec Kreider's parents, teachers, friends or police – at least not until the Manheim Township High School sophomore admitted stabbing to death sleeping classmate Kevin Haines and parents Tom and Lisa Haines in their Blossom Hill home in May 2007 one month after the fact.
The author of "A Need to Kill: Confessions of a Teen Killer" thinks he knows something about why, though a motive was never established in the official proceedings.
Kreider "wanted to experience the thrill of murdering in cold blood," author Michael W. Cuneo said by phone from his home in Toronto last week.
"He was already targeting his next victims," Cuneo said. "I think we're looking at the fledgling serial killer."
Cuneo came to these conclusions after reading Kreider's personal writings and interviewing people close to the case, including police and prosecutors.
His 291-page mass-market paperback is a detailed account of the crime and its investigation, just published at $7.99 as part of the St. Martin's True Crime Library.
It dispels rumors that Kreider became murderous because his best friend rejected his homosexual overtures.
Rather, it shows how Kreider's interest in a girl and his sudden despair at learning of her rejection of him prompted him to admit to the crime during a family therapy session at Philhaven. Kreider was being treated at the Lebanon County psychiatric facility after threatening suicide during a phone conversation with the girl.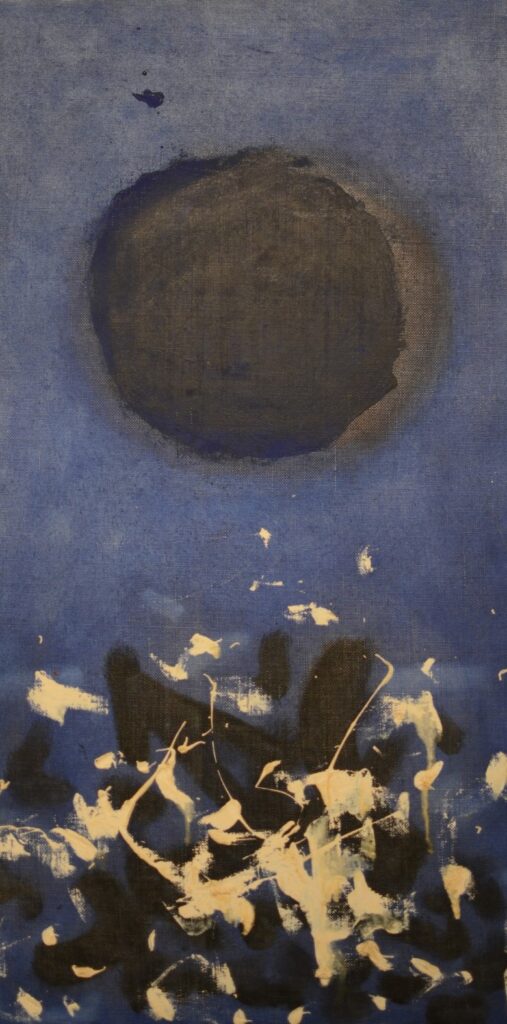 Before the surprise confession, police had been stymied by the case, following many fruitless leads. The cool-headed Kreider had been questioned repeatedly, but so had the victims' unflappable sister/daughter, Maggie Haines, a college student who fled the house during the middle-of-the-night butchery.
One surprising aspect of the book is the chronicling of just how many people – frightened, vengeful, mentally unstable, or seeking advantage with the police – voiced suspicions about everyone from innocent strangers to relatives and neighbors they disliked. (One man accused his younger sister, whom he said had always had a nasty temper since she had thrown metal objects with sharp points at him from her playpen.) Police, who hesitated to leave any tip unpursued, were swamped, the author notes.
Not so surprisingly, the book offers flattering portrayals of those in law enforcement whom Cuneo relied on for his research.
'Split personality'
A professor of sociology and anthropology at Fordham University in New York City, Cuneo concludes that Kreider, who had been treated for anger and depression earlier, is a narcissist and a sociopath with a "split personality."
He finds no evidence Kreider hated Haines, though he may have been annoyed with him at times. Kreider, an honor student, expressed annoyance with those he did not consider as intelligent as he – and even those who chewed their food too loudly, Cuneo notes in the book.
"Targeting his so-called best friend was simply a matter of convenience. Under different circumstances, it could just as well have been somebody else," Cuneo writes. He points out that Kreider knew the family's habits, the layout of the neighborhood and the house, and the fact that its doors were usually unlocked. The house was just a short walk from his mother's home, and she couldn't monitor him because she worked nights.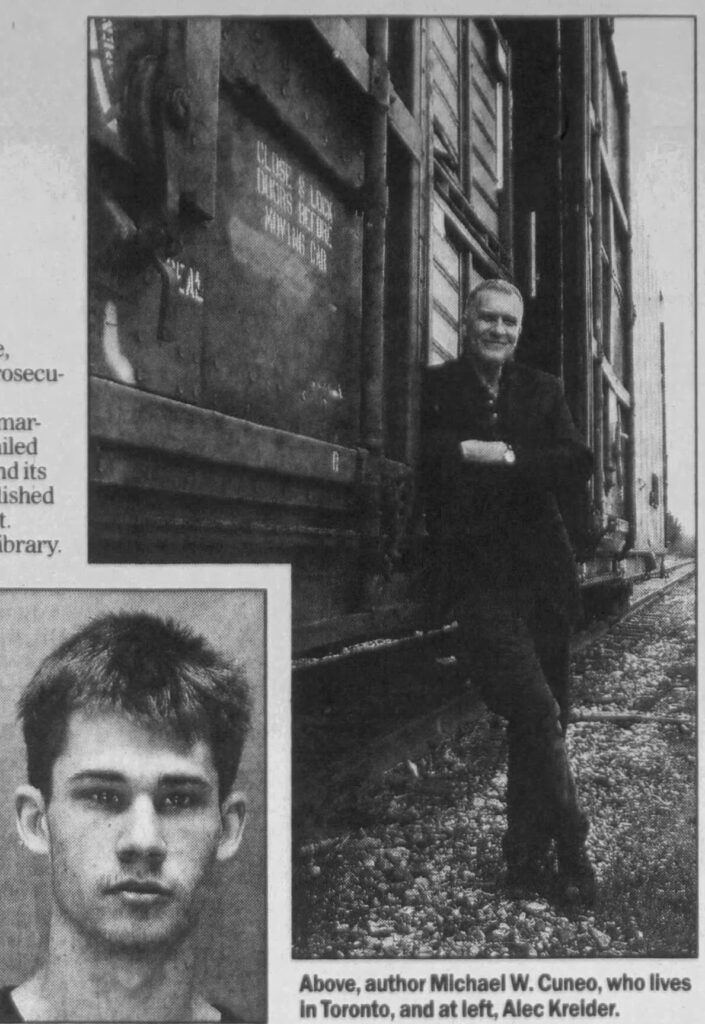 In 2008, a remorseless Kreider entered a guilty plea to three counts of first-degree murder and was given three consecutive life sentences without parole. He is now held in a medium-security prison near Shamokin, Cuneo reports.
The author has corresponded with Kreider, who offered to review a written list of questions about his case. After sending the questions, Cuneo writes, he heard nothing further from him.
Kreider's latest appeal, based on the fact that he was a teen at the time of the crimes, was rejected last December by Judge David Ashworth, who sentenced him.
Living in one big city and working in another, Cuneo said he was drawn to write about the local crime because it offered stark contrasts between the senseless horror of the act and the "kid next-door" who committed it in "a community that struck me as so wonderful."
As he writes in the book: "If such an awful thing could happen to someone as patently inoffensive as Kevin … did this mean that everyone was potentially at risk?"
Cuneo, who writes smoothly and clearly, is the author of another book in St. Martin's True Crime Library, "Almost Midnight: An American Story of Murder and Redemption," about Missouri Death Row inmate Darrell Mease, whose life was spared at the request of a visiting pope.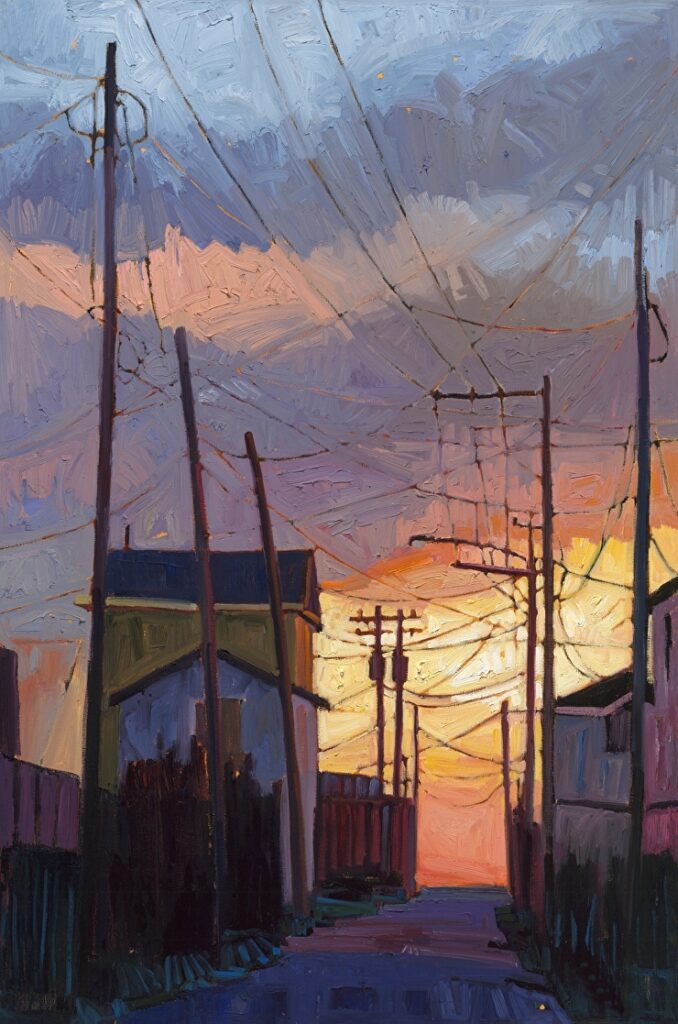 AMERICAN EXORCISM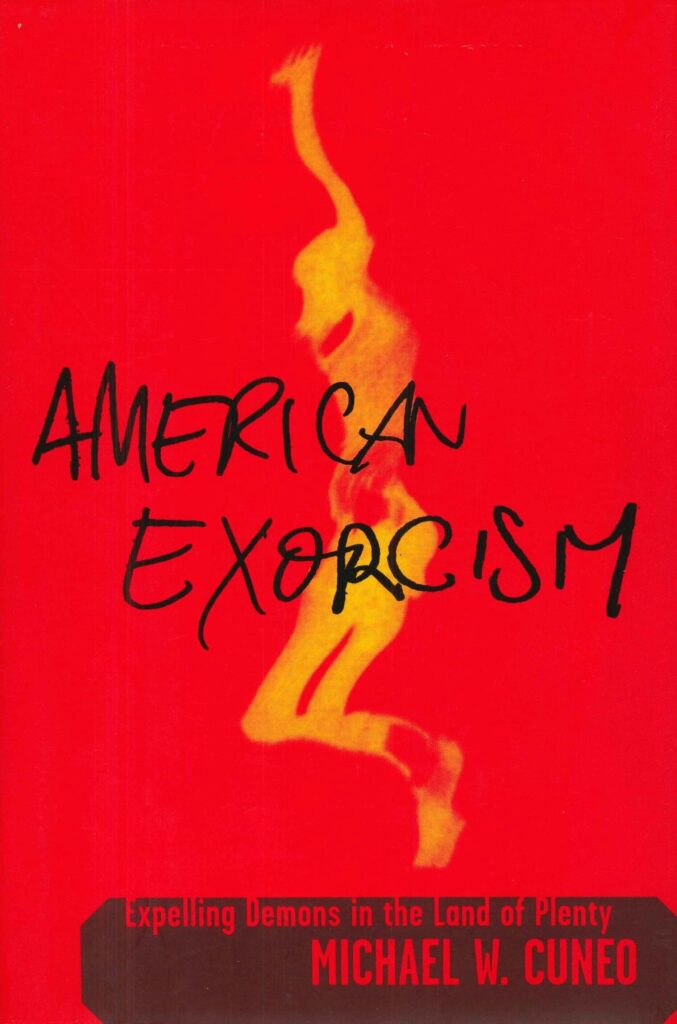 Notable Book of the Year — Publishers Weekly
Starred Review — Library Journal
Starred Review — Publishers Weekly
Starred Review — Booklist
Pick of the Paperbacks — Western Mail (Cardiff, Wales)
Reviewer's Choice — The Dallas Morning News

Jane Magazine

AMERICAN EXORCISM Michael W. Cuneo (Doubleday) ★★★★
By Lydia Lunch, performance art legend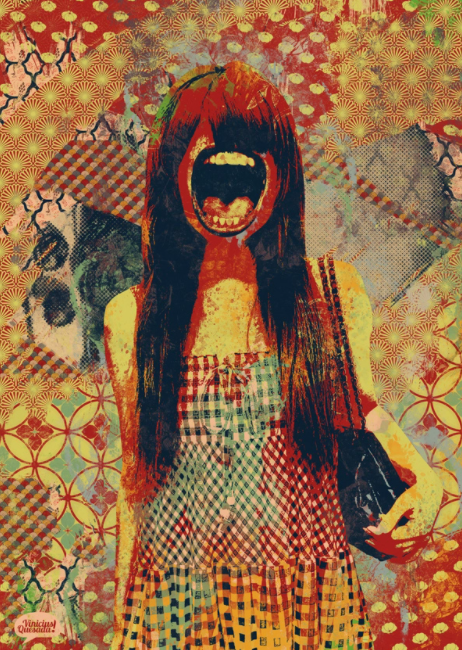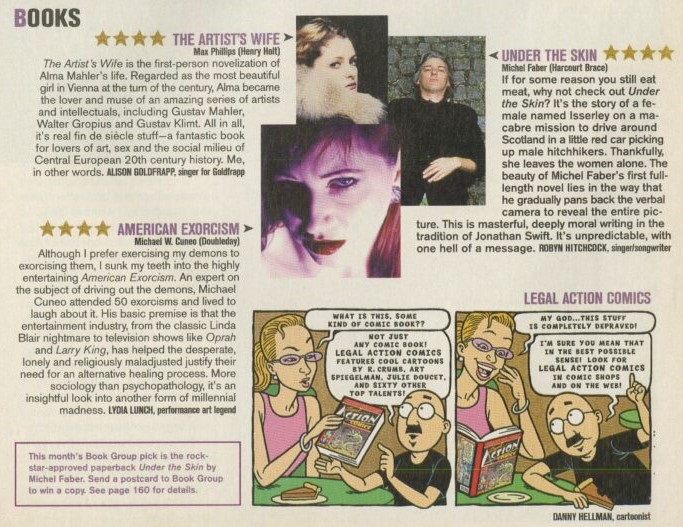 ALTHOUGH I PREFER exercising my demons to exorcising them, I sunk my teeth into the highly entertaining American Exorcism. An expert on the subject of driving out the demons, Michael Cuneo attended 50 exorcisms and lived to laugh about it. His basic premise is that the entertainment industry, from the classic Linda Blair nightmare to television shows like Oprah and Larry King, has helped the desperate, lonely and religiously maladjusted justify their need for an alternative healing process. More sociology than psychopathology, it's an insightful look into another form of millennial madness.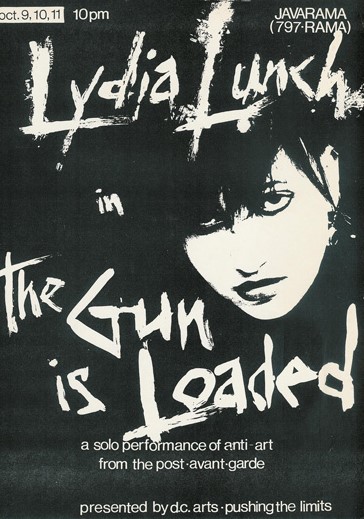 The Guardian (Manchester, UK)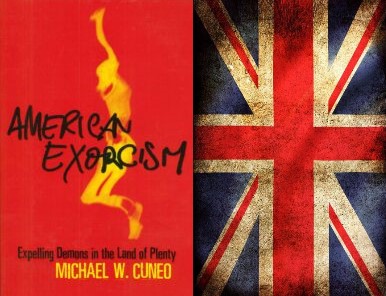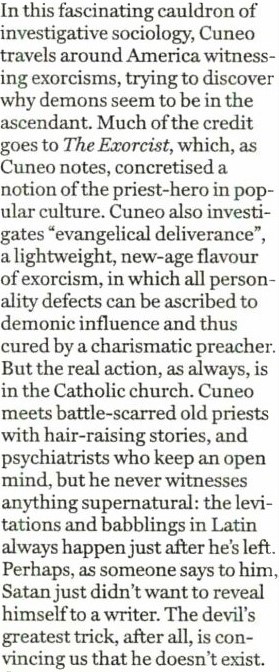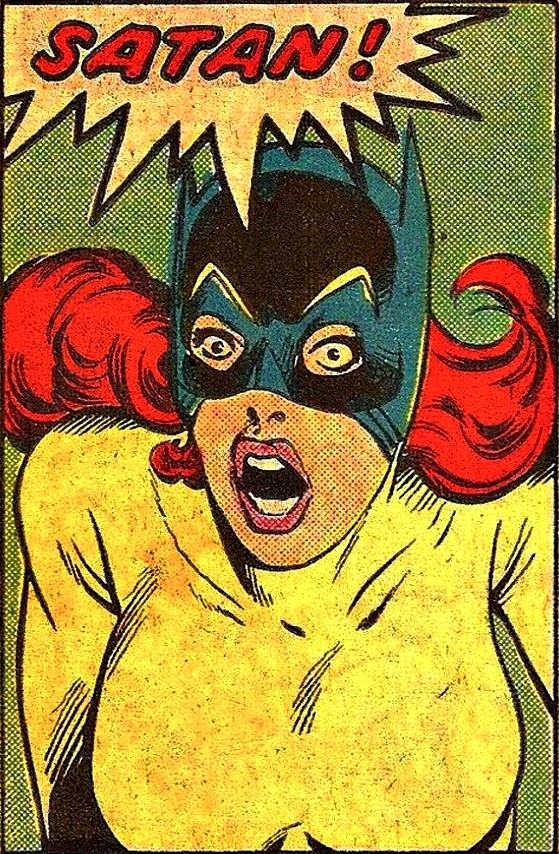 Publishers Weekly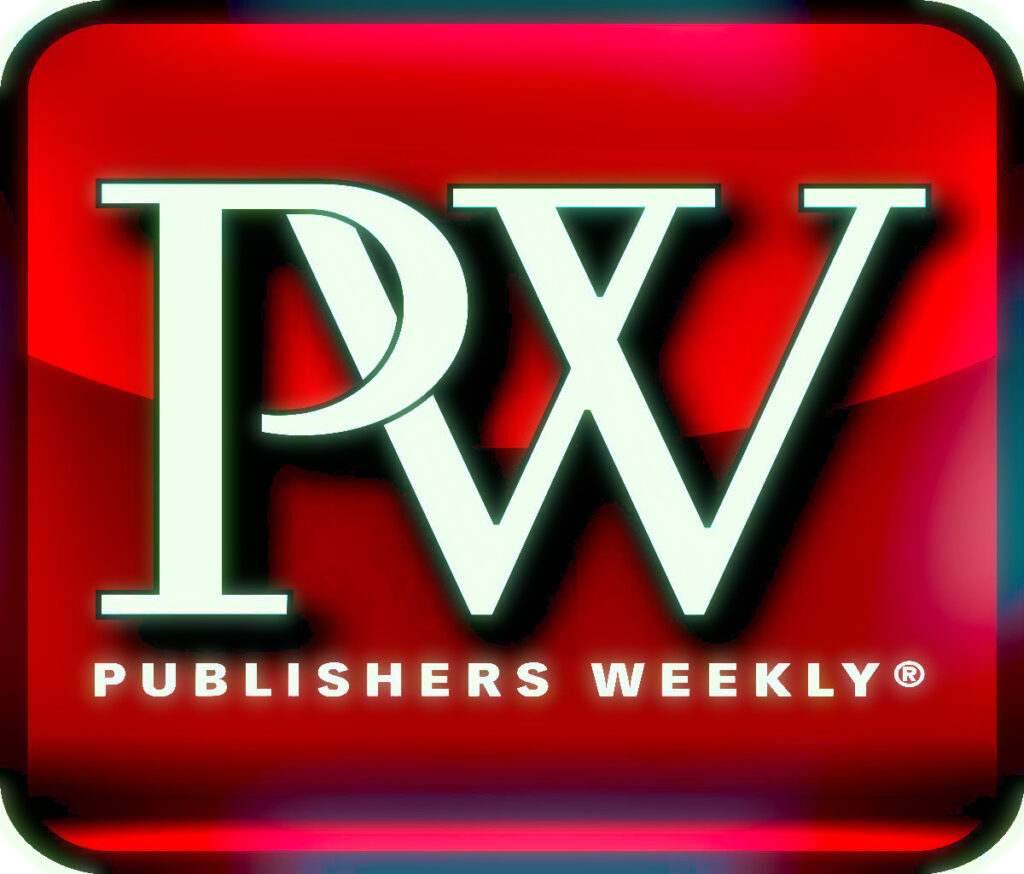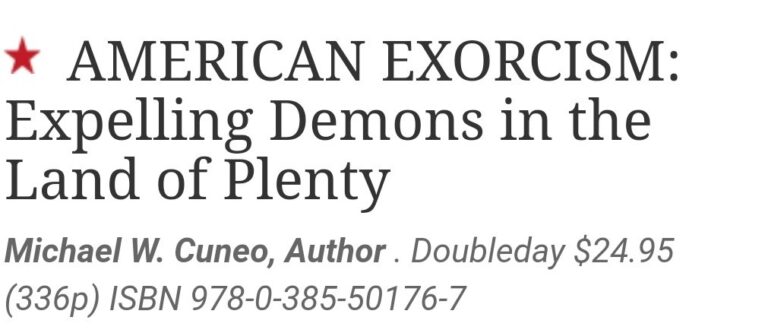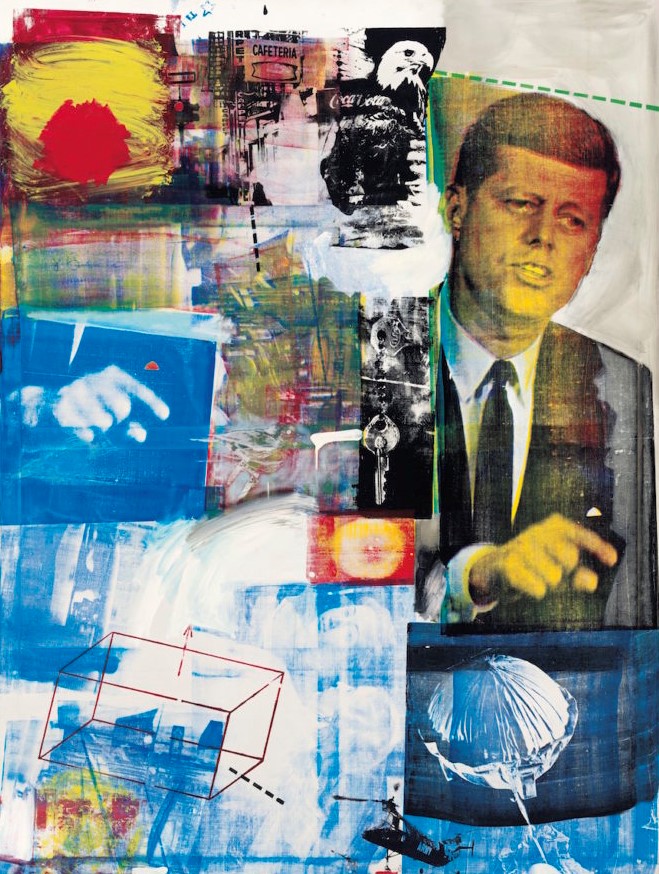 NOT SO LONG AGO pundits were complaining that Americans had lost their sense of evil; "no one cares about Satan anymore," they sighed. This mesmerizing study proves them utterly misguided. Cuneo, an intrepid sociologist based at Fordham University, explores the bizarre subculture of renegade priests, rough-and-tumble preachers, shady psychiatrists and tormented souls, spewing foulness. Building on his earlier surveys along the fringes of contemporary Catholicism, the "openmindedly skeptical" author interviewed hundreds of believers and attended dozens of exorcisms, here described in mordant deadpan. The current plague of demonic infestation among charismatics and evangelicals, Cuneo proposes, has less to do with the machinations of hell than the productions of Hollywood. Popular books and movies have blamed malevolent spirits for a wide range of maladies—everything from voices in one's head, to twinges in one's groin, to dissatisfaction in one's heart. And they have established models of behavior for both the possessed and their heroic deliverers: Regan and Father Damien of The Exorcist have scores of real-life imitators. The rise of a new therapeutic ethos also has something to do with it. Aimed at curing addiction, compulsion and other psychological problems, exorcism has become "a recovery program with a supernatural twist." Lucidly written and riveting as any horror novel, Cuneo's excursion into the darker paths of American faith offers a deeply disturbing, ironic vision of what he sees as the unintended consequences of popular culture for the modern religious imagination. (Aug.)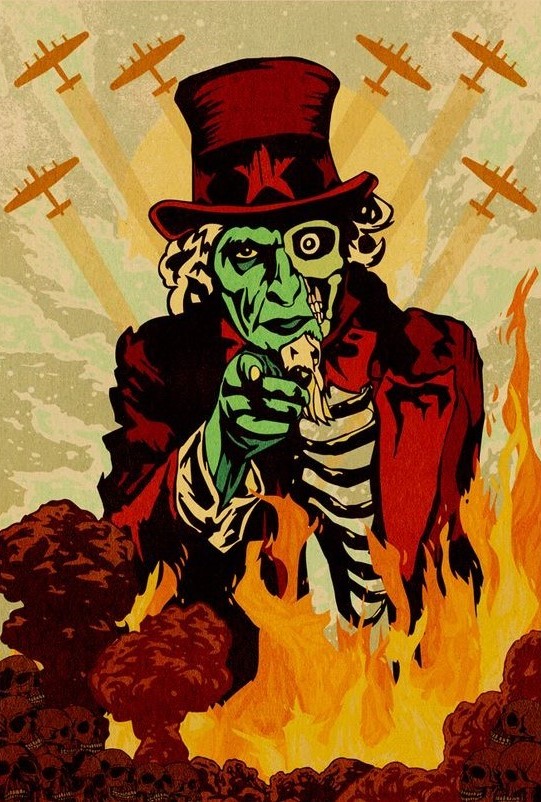 Birmingham Evening Mail (UK)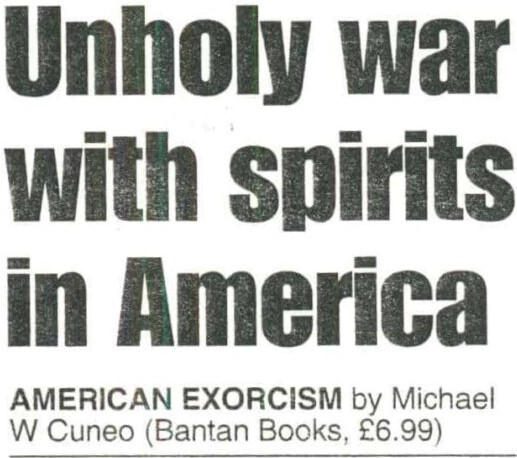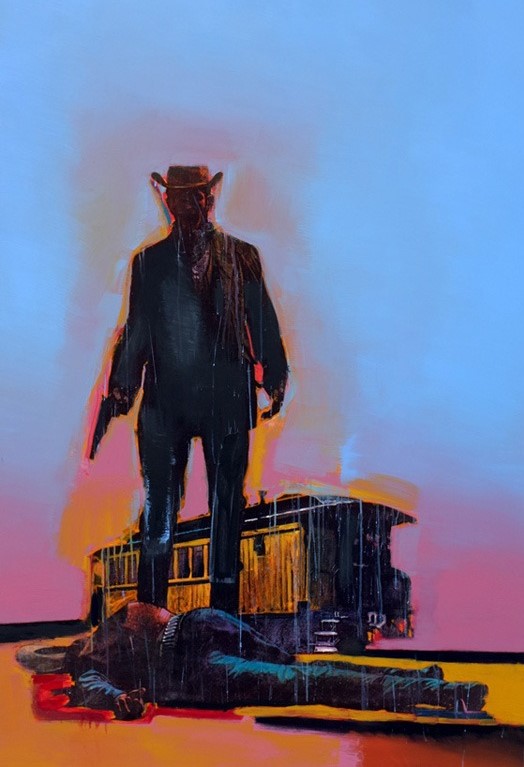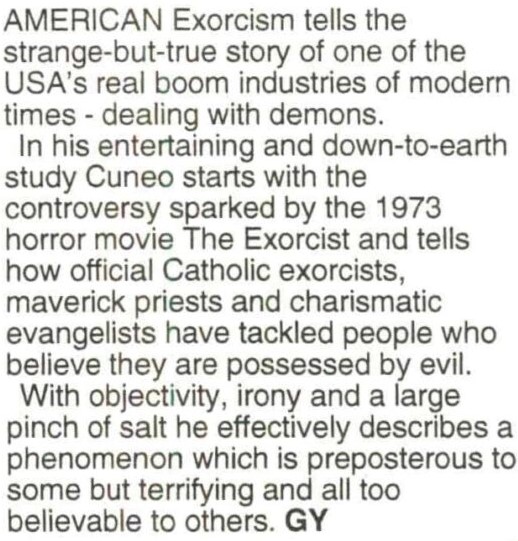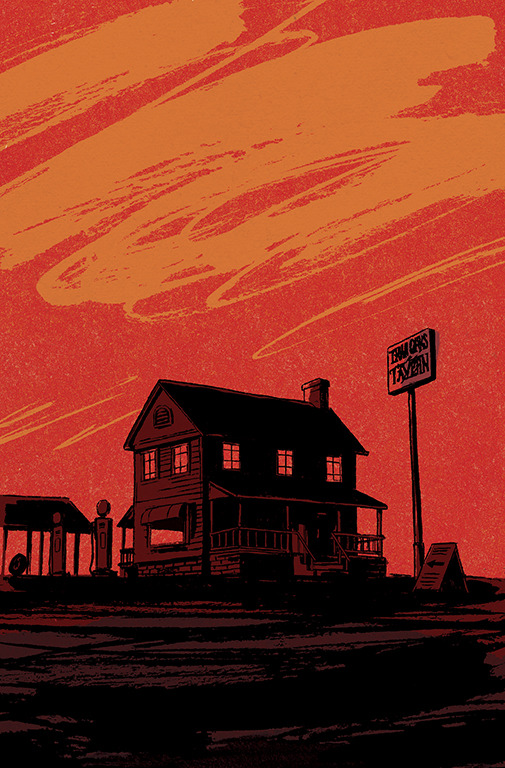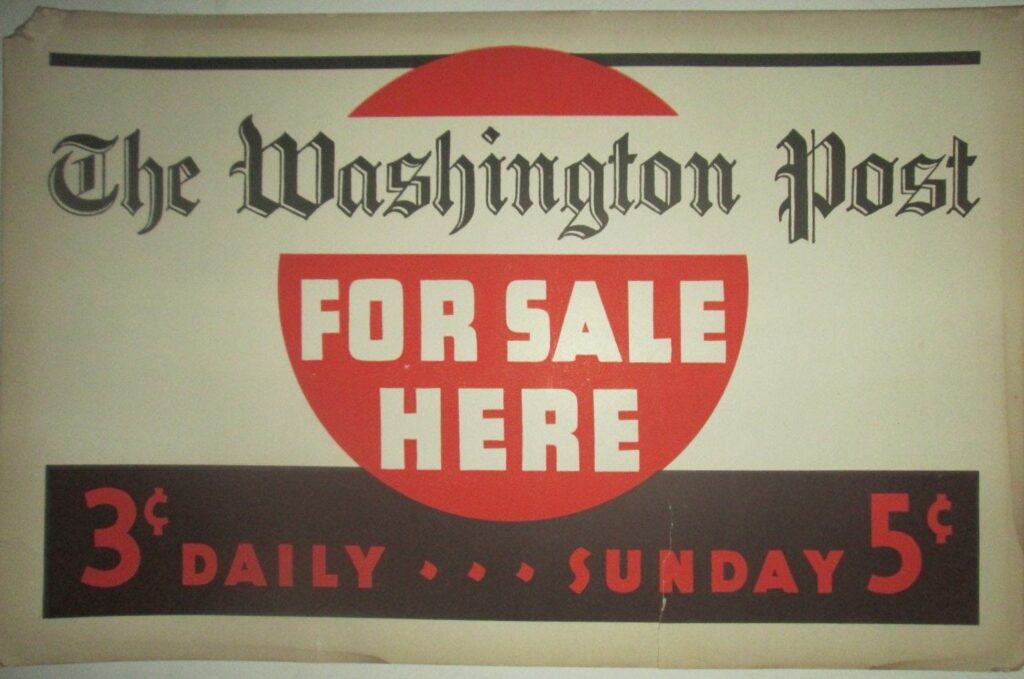 The Washington Post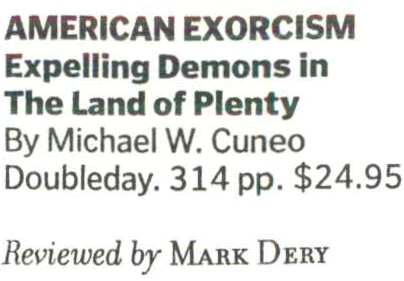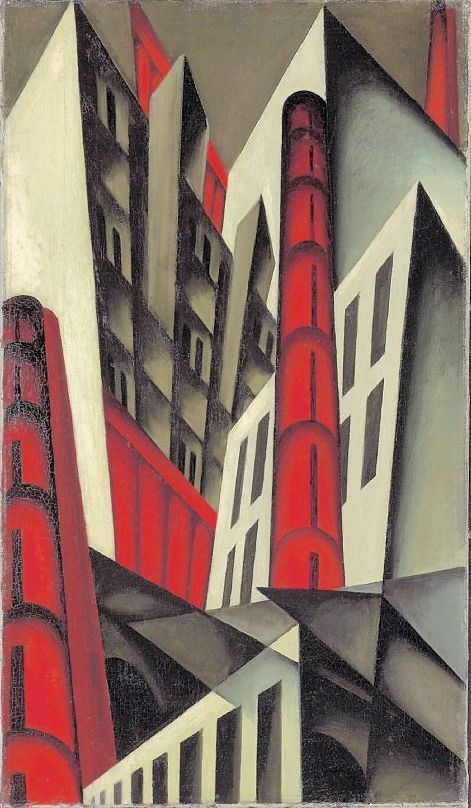 REPORTS OF SATAN'S DEATH, it turns out, are greatly exaggerated. According to Michael W. Cuneo, a professor of sociology and anthropology at Fordham University, the old serpent is alive and well, at least in the imaginations of some Christians. If the true believers in American Exorcism are to be believed, the wicked one is everywhere: in the man who terrorizes his family, "growling and snorting" (in the words of a witness), with eyes like "golf balls of flame"; in the woman whose occupying army of evil spirits comes with cool perks like the ability to do rubber-tongued tricks that would make KISS's Gene Simmons green with envy ("she was sticking her tongue out right down to her belly button," the auditioning exorcist recalls, "with an absolutely hideous, lascivious leer on her face").
All this deviltry has given rise to a flourishing subculture of exorcism. Casting out demons is a growth-industry in turn-of-the-millennium America, Cuneo reports, "operating below radar perhaps, invisible to anyone not specifically on the lookout for it, but booming nevertheless." There are at least 500 evangelical exorcism ministries in America, and even the Vatican, which has always frowned at such tent-show histrionics, has gotten in on the act. American archdioceses have begun appointing official exorcists for the first time in decades.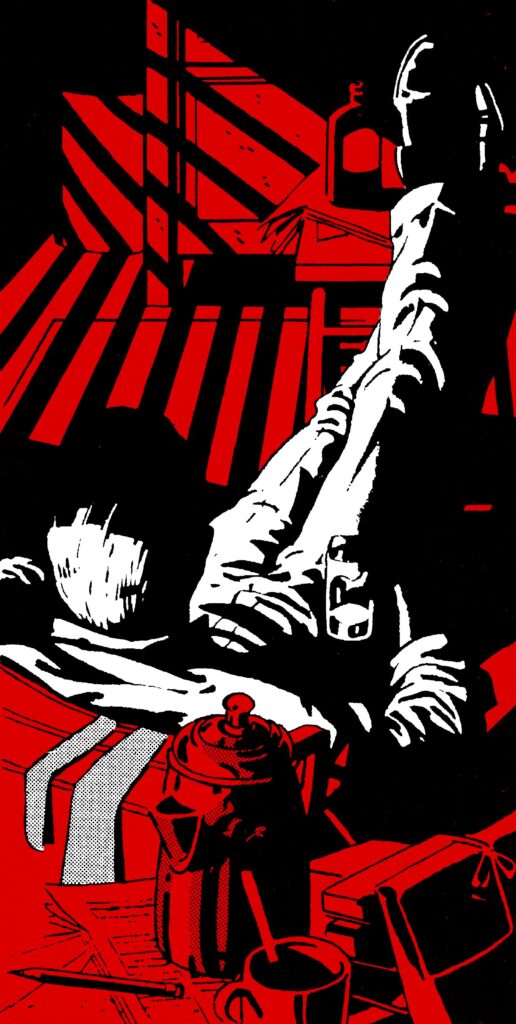 Armed with wry wit and girded in the armor of an inquiring but "open-mindedly skeptical" intellect, Cuneo has attended more than 50 exorcisms across America, by evangelical preachers and Episcopal charismatics, official Catholic exorcists and rogue priests defying church decree. "Untold numbers of Americans, many of them staunchly middle-class, the kind of people you might chat with at the supermarket checkout counter or bump into at the local mall, have undergone exorcisms of one kind or another," he writes. Some of these rituals, like the raucous hell-raisings known to charismatic Christians as "deliverances," are equal parts Jerry Springer and Hieronymous Bosch, with the possessed expelling their demons amid "gushes of vomit and strands of mucus."
What in God's name is going on? How, in the age of cloned sheep and Frankenfood, xenotransplants and nanotechnology, did a significant minority of American Christians come to live in a demon-haunted world straight out of the Middle Ages, where exorcism is the cure for all our sicknesses of the soul? Cuneo reads the phenomenon as a backlash by religious conservatives, adrift in a secular society that they perceive as amoral, while at the same time feeling alienated from an increasingly secularized Protestantism or a post-Vatican-II Catholicism. To him, the charismatic ministers and renegade priests are casting out the demons of social change: feminism, the sexual revolution, New Age spirituality and the loss of faith in traditional institutions (most worryingly, the church).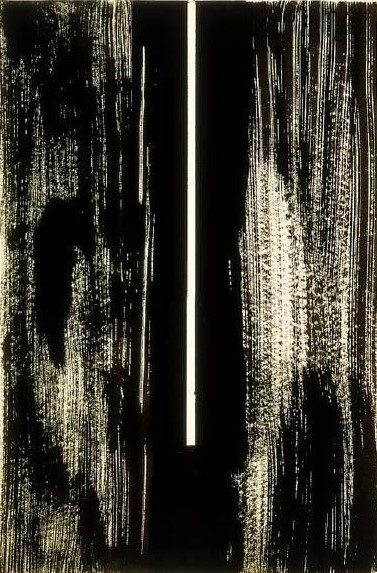 In a devilish irony, the exorcism sub-culture uses a script written by the Great Satan itself, pop culture. Cuneo argues convincingly that books like Hal Lindsey's Satan is Alive and Well on Planet Earth (1972) and movies like "The Exorcist" (1973) put a mythic face on the anxieties of a deeply religious nation. In the 70's, when the black-and-white morality of the past was dissolving into a confusion of grays, the notion of evil incarnate—a cosmic principle that couldn't be explained away in the unsatisfying jargon of psychology or sociology—offered a strangely reassuring philosophical anchor to the conservative faithful. "It isn't much of an exaggeration to say that exorcism today is actually the invention of the popular entertainment industry," Cuneo writes.
The Devil always gets his due. As Cuneo points out, pop exorcism's quick-fix approach to spiritual maladies is uncomfortably close to the plastic-surgery mentality of secular culture. (One young man in American Exorcism has some unsightly "demons of shame and rejection and sexual perversion" liposuctioned off his soul in 15 minutes!) When Cuneo suggests to a deliverance minister that the movement shares the "blame-free" mindset of therapy culture, the exorcist readily agrees. "We feel a real affinity with twelve-step groups," he says. "Our position is that Christians, historically, have put too much emphasis on sin and willpower. Very often, individuals will have a problem with sex or drinking or something else—and no amount of willpower can cure it. They're afflicted by evil spirits. They need deliverance."
A Christianity that shrinks from thorny questions of free will and regards the concept of sin as a been-there, done-that downer bears little resemblance to Christianity as Father Damien Karras knew it in "The Exorcist." Could it be that the Devil, that scary old sophist, is behind the exorcism vogue? That he's seducing conservative Christians with a corrupted version of their faith, replacing the grim rigors of the pilgrim's progress with a guilt-free theology that has no time for sin? It's a conundrum that leaves those who believe that the Devil made them do it very much on the horns of a dilemma.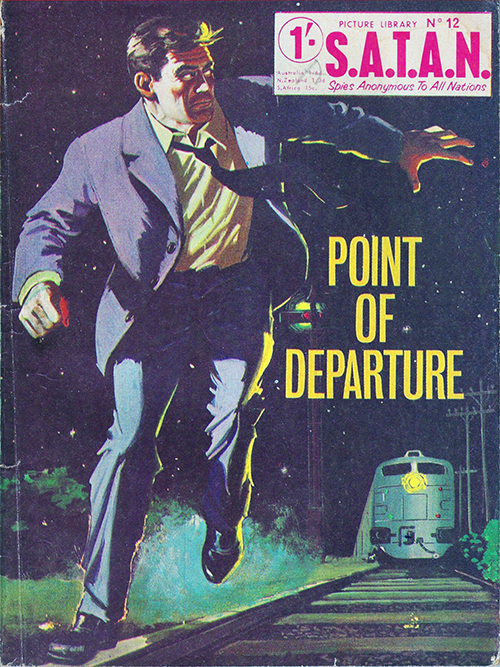 Sunday Herald (Glasgow)

American Exorcism, Michael W Cuneo, Black Swan, £6.99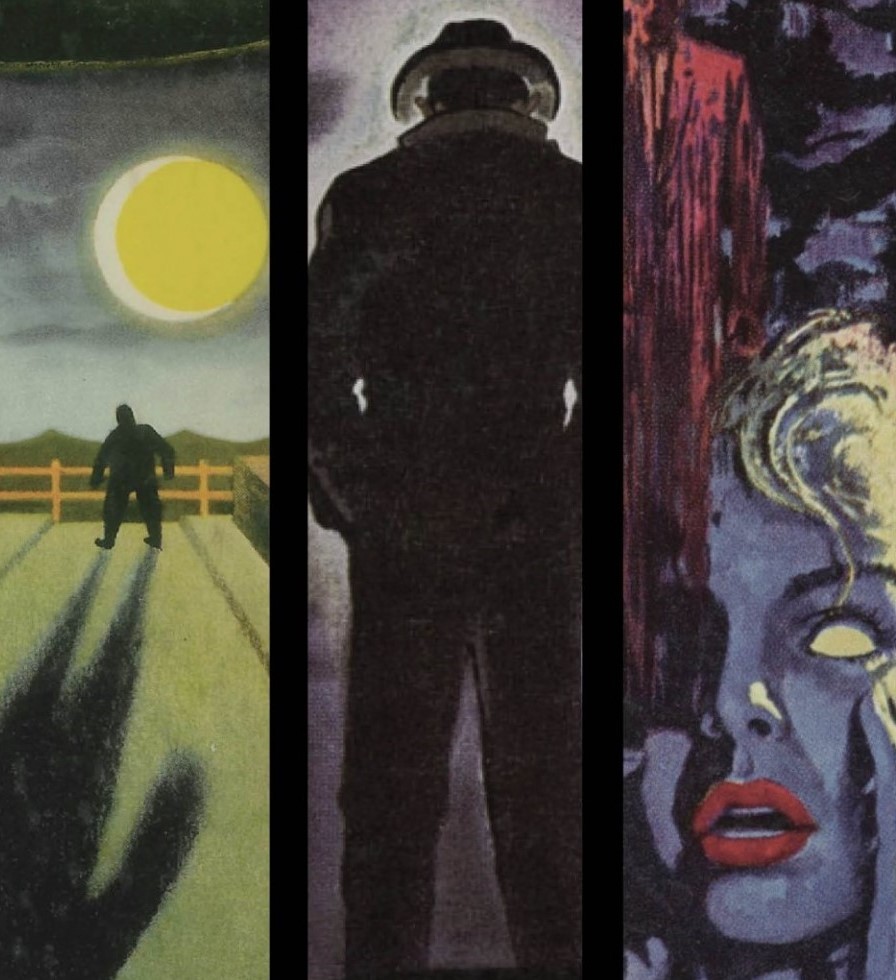 EXORCISM, says Michael Cuneo, is "a booming business." Yet as recently as the 1960s it was an all but forgotten practice, and only became popular again after the huge success of William Friedkin's 1973 film The Exorcist. Indeed, the entertainment business has spawned more demons than Old Nick himself – a scary number of Americans still believe their teenagers' sullenness is caused by Satanic messages on heavy metal records. But Cuneo, a witness to more than 50 exorcisms, examines the phenomenon with objectivity.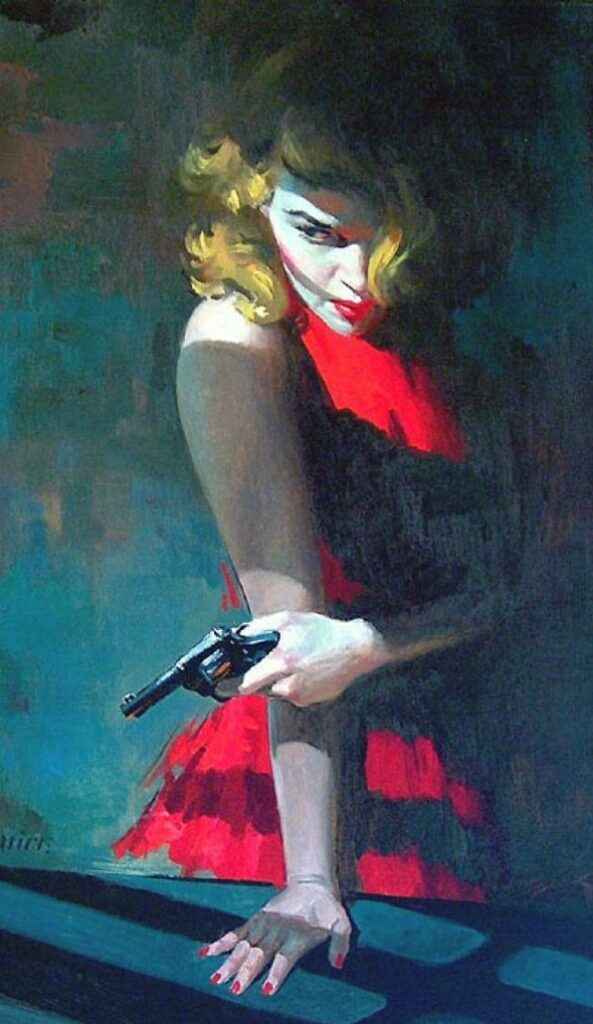 Western Mail (Cardiff)

Pick of the Paperbacks

By Dean Powell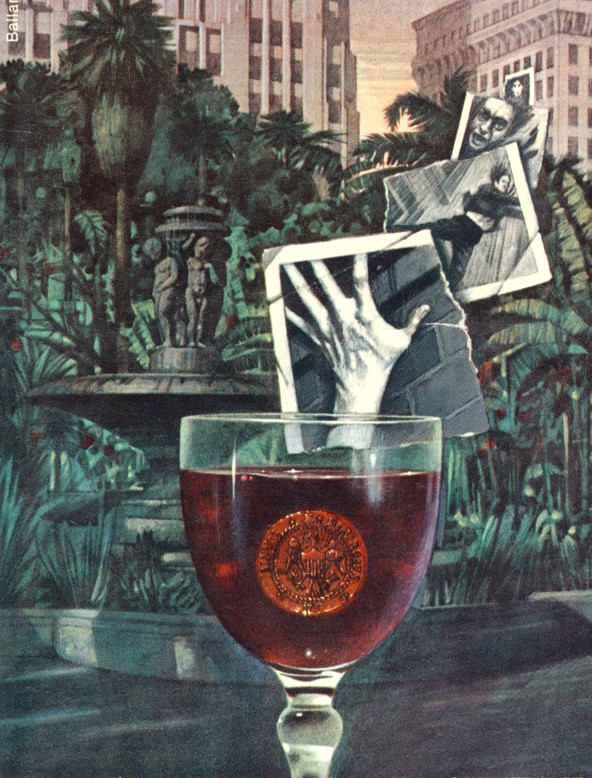 THERE IS PERHAPS no other religious ritual more fascinating, or more disturbing, than exorcism. This is particularly true in America today, where the ancient rite has a surprisingly strong hold on the popular imagination.
Whether conducted by officially appointed exorcists, maverick priests or Episcopal charismatics, it seems exorcism is alive and well in this new millennium. The Archdiocese of Chicago recently appointed its first full-time exorcist in its 160-year history, while in New York four priests have officially investigated forty cases of suspected demonic possession every year since 1995.
Michael Cuneo reflects on the meaning of exorcism today.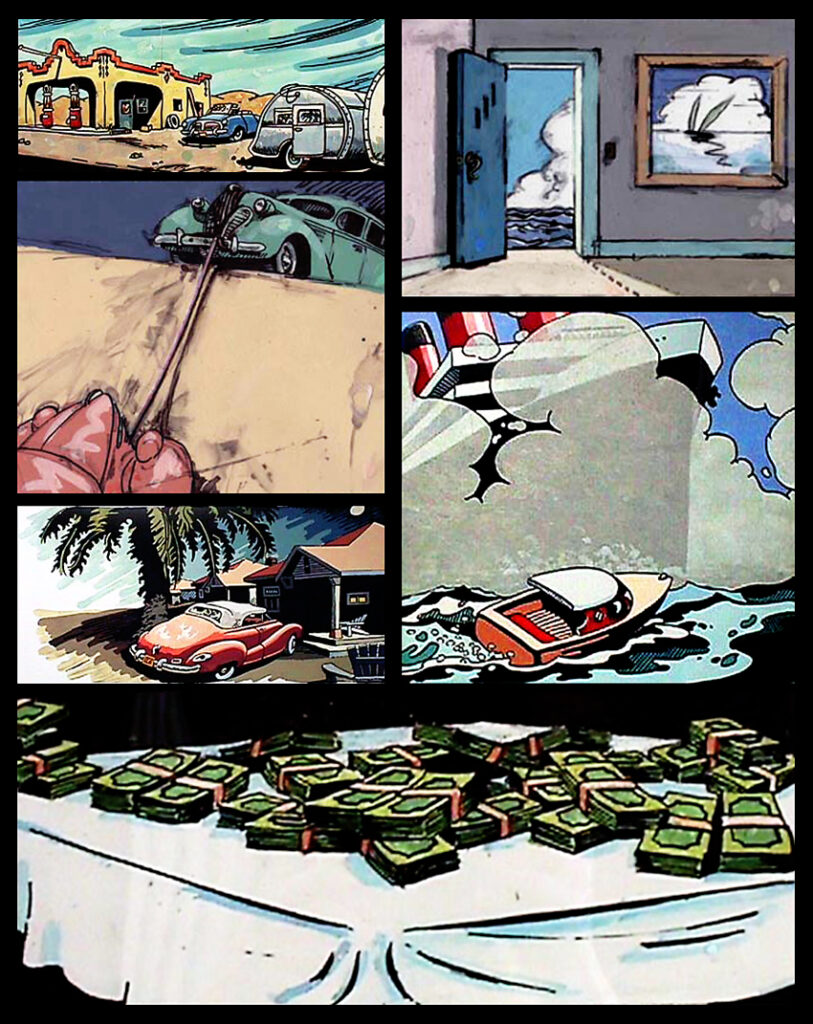 Daily News (New York City)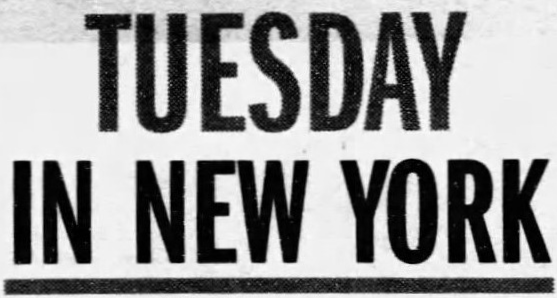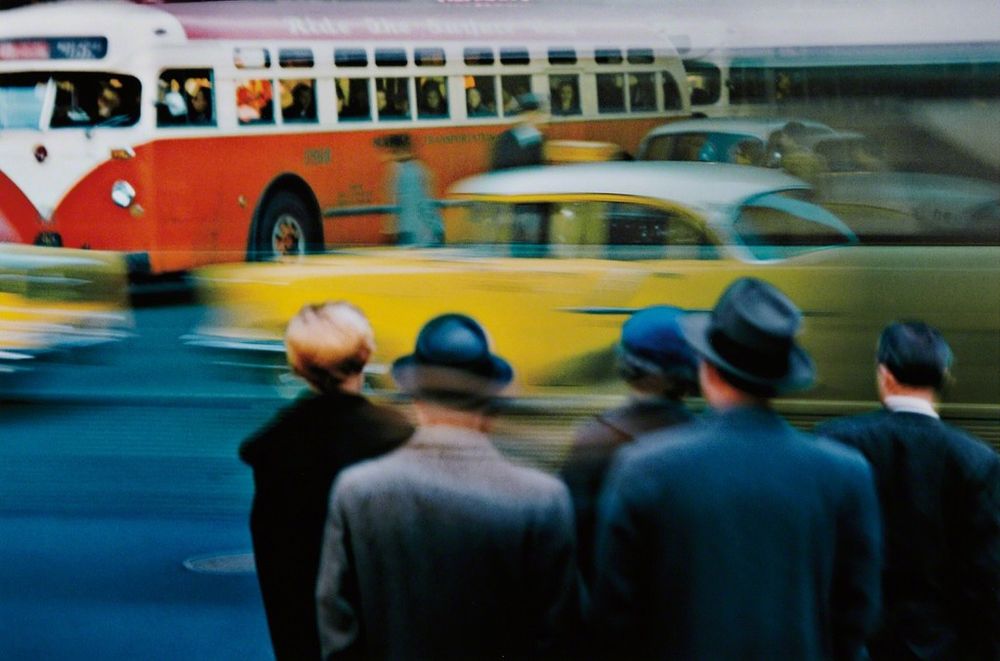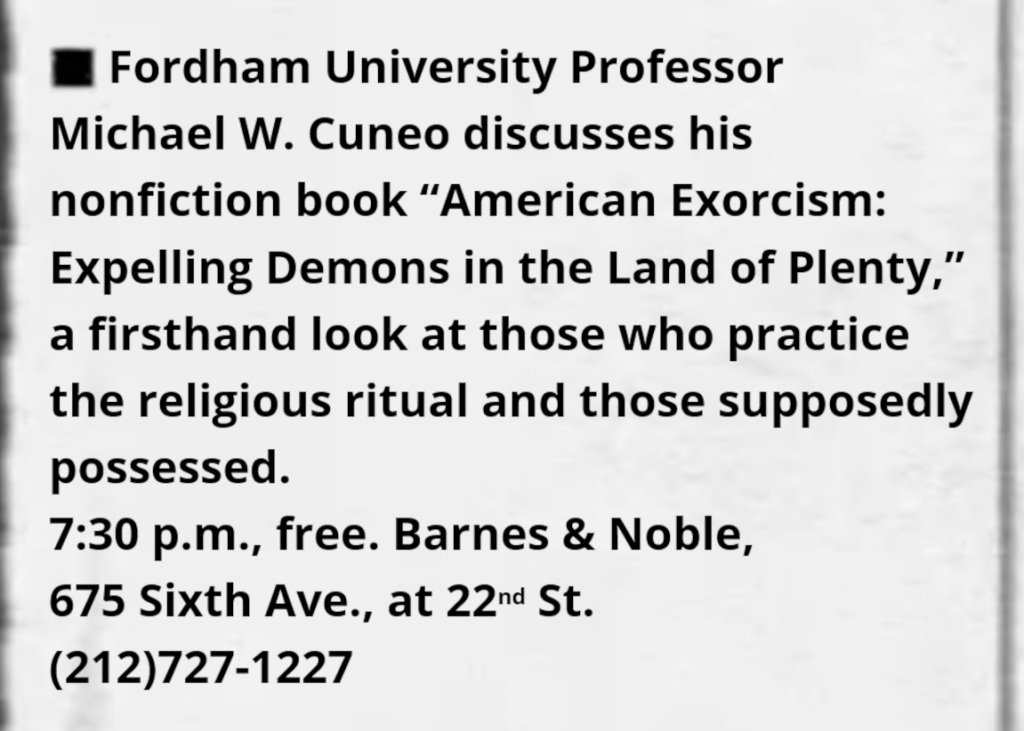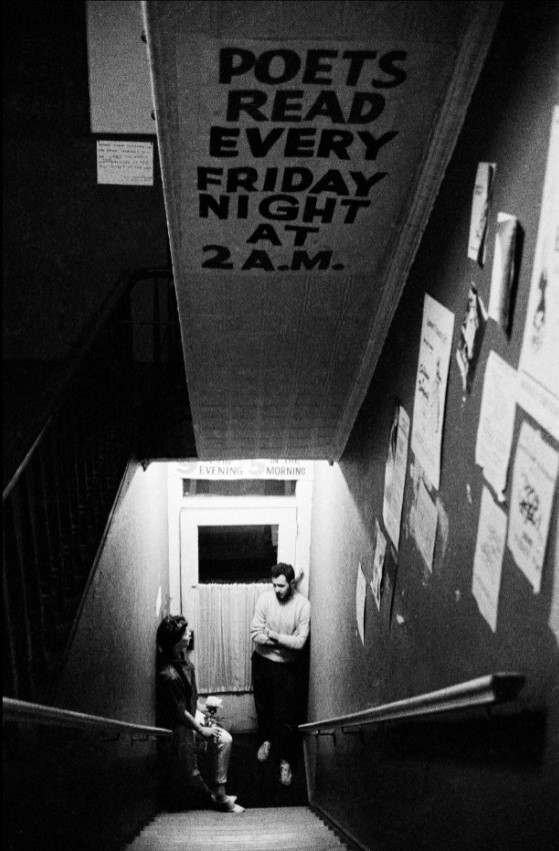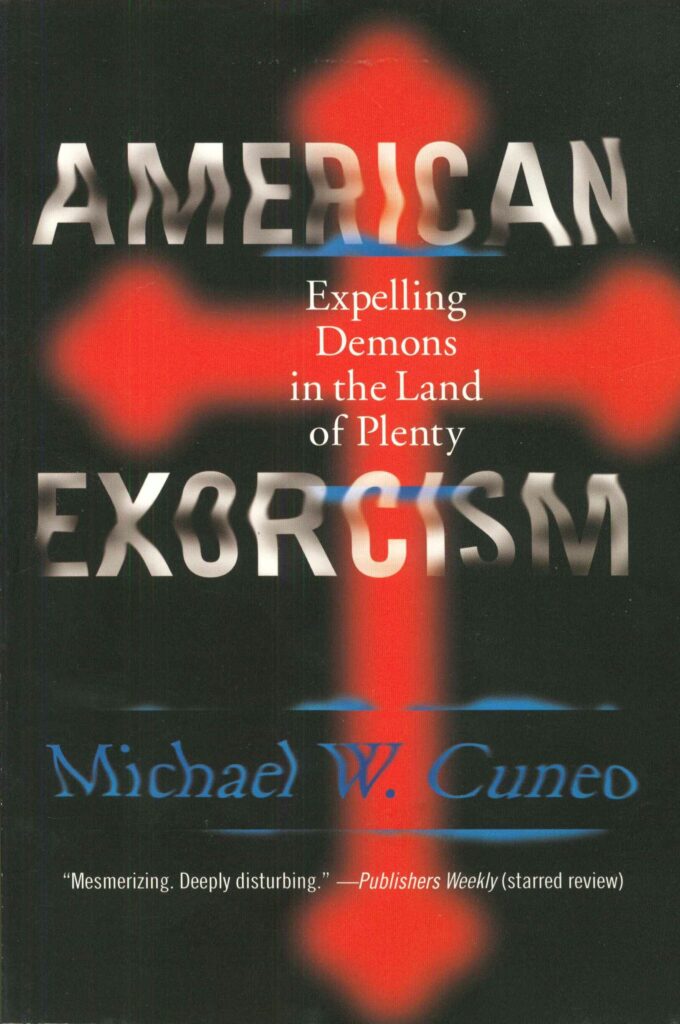 THE SMOKE OF SATAN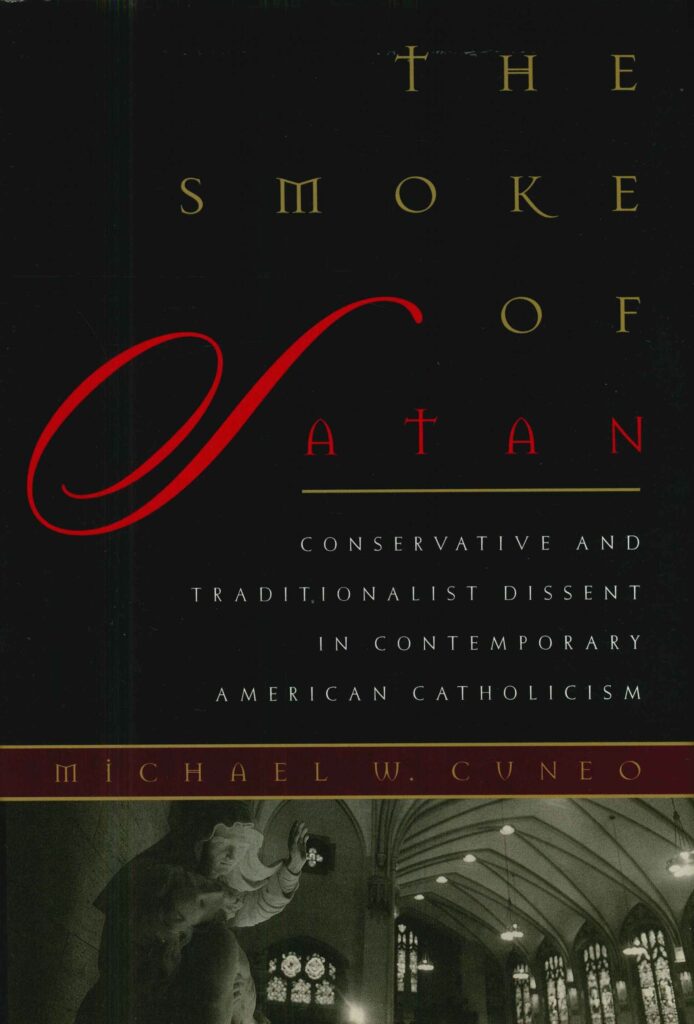 Recommended Book of the Month — Christianity Today

The New York Times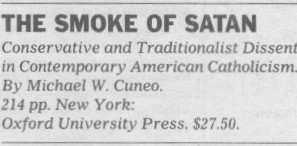 By Peter Steinfels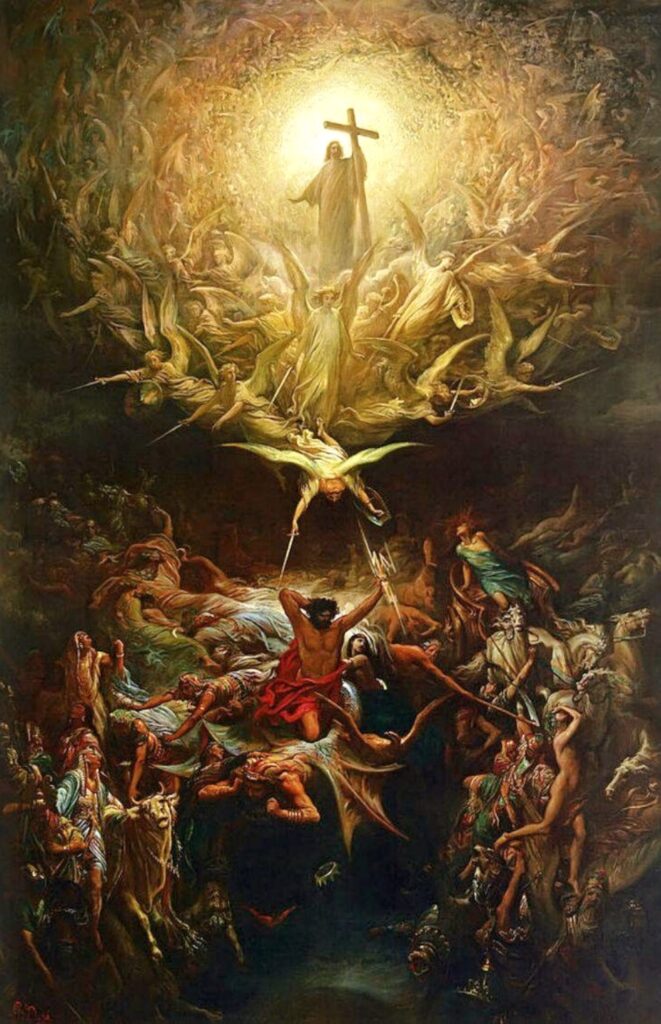 •
THAT IS ALSO true of the wilder tribes of American Catholic conservativism reported on by Michael W. Cuneo in "The Smoke of Satan." Here are feverish critics who regard the Catholic bishops as milquetoasts on sexual ethics and abortion. Here are poor souls whose distress over changes in traditional doctrine or liturgy has flowered into true night gardens of conspiracy theory. Some believe that the Second Vatican Council was a plot of Communists and Freemasons, and therefore the Popes who endorsed the council's work must have been either satanic anti-Popes or impostors placed on the throne of Peter by mysterious forces that had kidnapped and imprisoned the genuine Pontiffs. Others find the key to history in secret instructions from the Blessed Virgin, often to themselves, and denounce church leaders who refuse to march to these orders.
This colorful fringe, Cuneo makes clear, does not weigh heavily on the church's organizational life. Nor does it represent anything parallel to the Protestant religious right. Lack of influence doesn't make these people uninteresting, of course, and sometimes they're even poignant, in their determination to live out convictions that tie them into theological knots and put them at odds with the very church whose teaching they claim to follow without deviation. Michael Cuneo, who teaches sociology and anthropology at Fordham University, is a sympathetic reporter, to the point of occasionally seeming to share his subjects' utterly bleak view of the contemporary church. But he also reports nuttiness as nuttiness.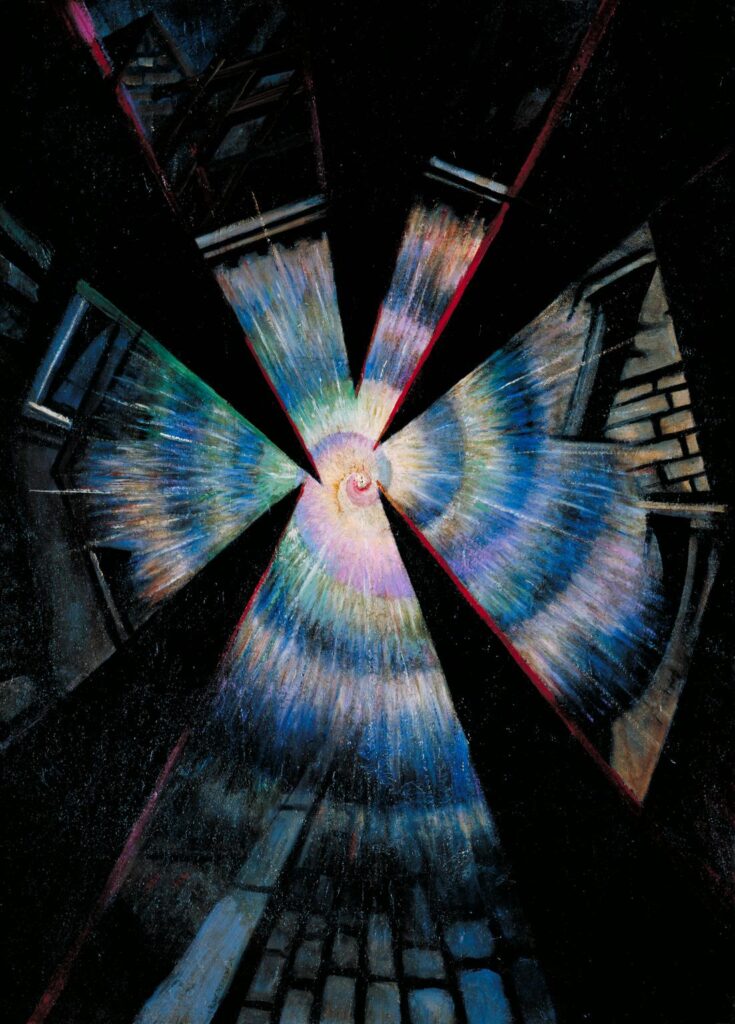 The Boston Globe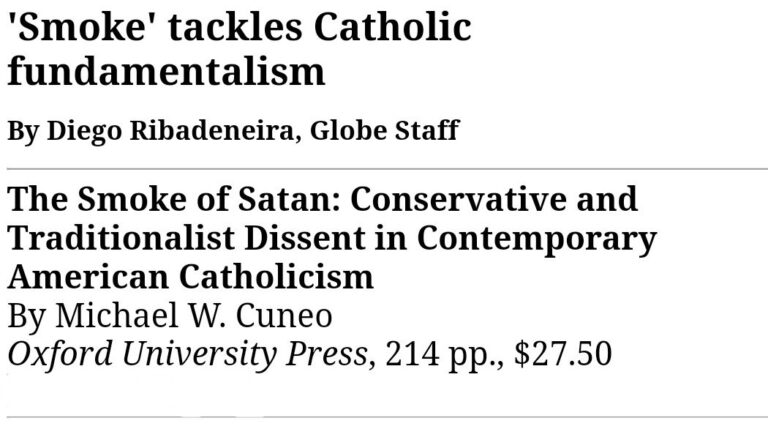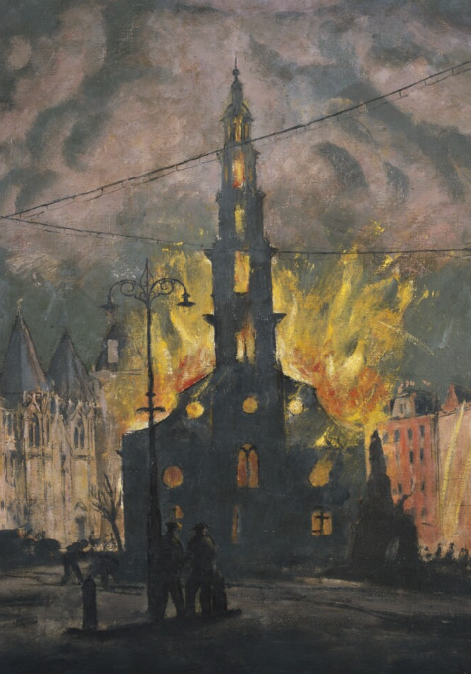 WHAT HAPPENS WHEN a 2,000-year-old organization decides to change the rules? You end up with many bewildered and unhappy members. To some degree this has been the fallout from the Second Vatican Council, the Roman Catholic Church's attempt to reconcile an ancient, mysterious faith with the modern world.
The three-year conclave held more than 30 years ago touched on every aspect of Catholic life, from the role of priests and nuns to the treatment of other religions, and produced legions of critics on both the left and the right. Liberals said the council didn't go far enough, failing, for example, to allow married priests. Conservatives blasted the council for going too far. The elimination of the Latin Mass still rankles.
Michael W. Cuneo, associate professor of sociology and anthropology at Fordham University, uses the Second Vatican Council and the seismic shift it unleashed as a framework for vivid profiles of the church's unnoticed players — Catholic fundamentalists. His well-researched, eye-opening book shows them to be a fascinating and, at times, bizarre and disturbing subgroup, whom even faithful Catholics would have a hard time embracing. With crisp and concise writing, Cuneo uses colorful anecdotes to shine a light on a mostly unknown part of the church.
At the old World's Fair grounds in Queens, N.Y., Cuneo reports, followers of the late Veronica Lueken, who believed the Virgin Mary routinely appeared to her to give instructions, gather regularly before a portable statue of Mary. They believe, based on what Mary supposedly told Lueken in a sequence of apparitions beginning in the 1970s, that the world and the Catholic Church are so corrupt that everyone, except Lueken's followers, will soon perish in a fiery apocalypse.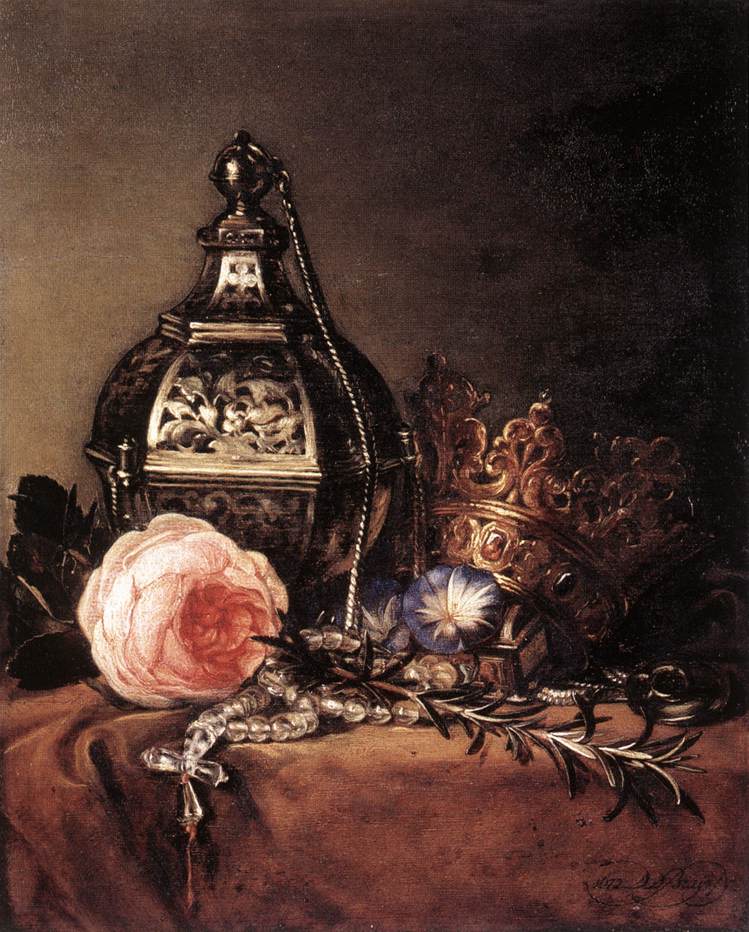 On the West Coast, meanwhile, at a former Jesuit college outside Spokane, Wash., a group of Catholic traditionalists has built its own version of a Catholic utopia. Having completely abandoned the institutional church, they have their own priests and nuns, and schools.
For other conservative Catholics, the touchstone, the dividing line between true and merely nominal commitment to the faith is the 1968 papal encyclical opposing artificial birth control. The fact that most American Catholics reject the church's teaching and that many bishops rarely talk about it is a sign to conservatives of how polluted the church is with secularism. Of all the conservative Catholic groups Cuneo examines, the most familiar are the antiabortion organizations, such as the Pro-Life Action League or Human Life International. For them, "public witness" — praying and picketing in front of clinics that perform abortions — is a vocation, a true living out of their faith that most members of the institutional church don't have the nerve to do.
"Four thousand human beings in the United States are butchered daily under the law, and the response of the American Catholic leadership has been weak-kneed and ineffectual and cowardly," Monica Migliorino Miller, an antiabortion activist who served nine months in jail for protesting clinics in the Midwest, told Cuneo.
While striving to be objective, Cuneo paints a fairly negative picture of conservative forces that are clearly out of the mainstream of American Catholic life. What emerges from Cuneo's portrait is a Catholic underground that is reactionary, intolerant, naive, and, in some cases, paranoid.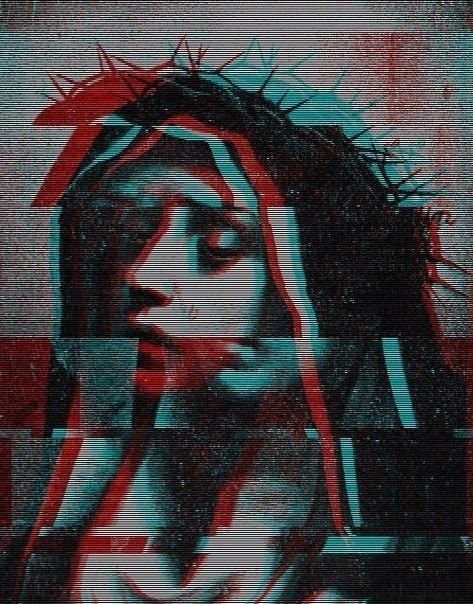 One of the more popular stories among the extreme right of the church is that in 1958 and 1963, the cardinal who had been legitimately elected pope was forced to yield the papacy to candidates favored by a cabal of conspirators that included Jewish groups out to dismantle the traditional church. This cardinal, Giuseppe Siri, was forced, so the story goes, to live in an Italian monastery until his death in 1989.
"Conservatives in general seem almost willfully out of touch with the complex political and cultural dynamics of the contemporary church," Cuneo writes.
Nevertheless, he is sympathetic to the dim view Catholic fundamentalists take of the Second Vatican Council. "Over the past thirty years," he writes, "a new or progressive approach to Catholic theology has won almost complete ascendancy within the American church, and in the process everything from the Virgin Birth to the Resurrection has been debunked and deconstructed and demythologized practically into submission."
And while the fundamentalist groups Cuneo describes are a tiny part of American Catholicism, he concludes, correctly, it seems, that the "religious hopes and grievances they represent are not likely any time soon to fade quietly into the night."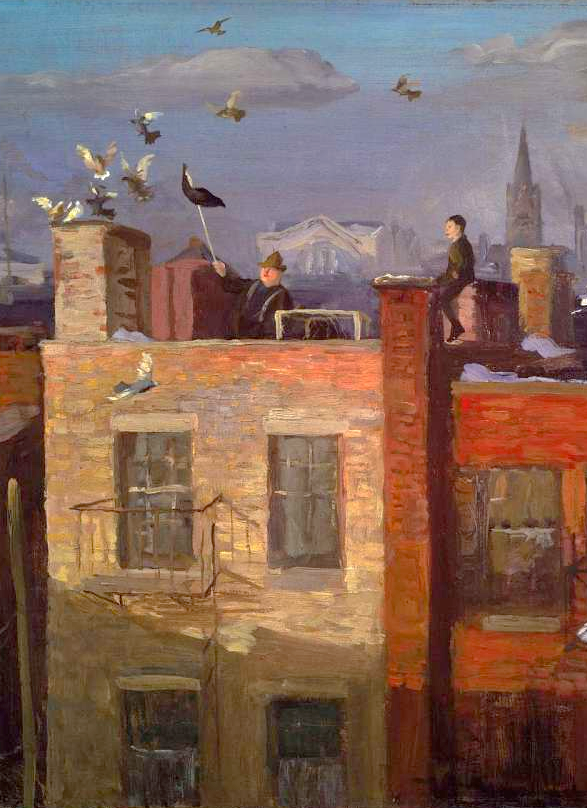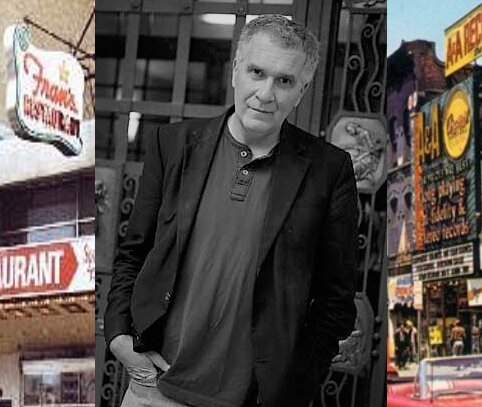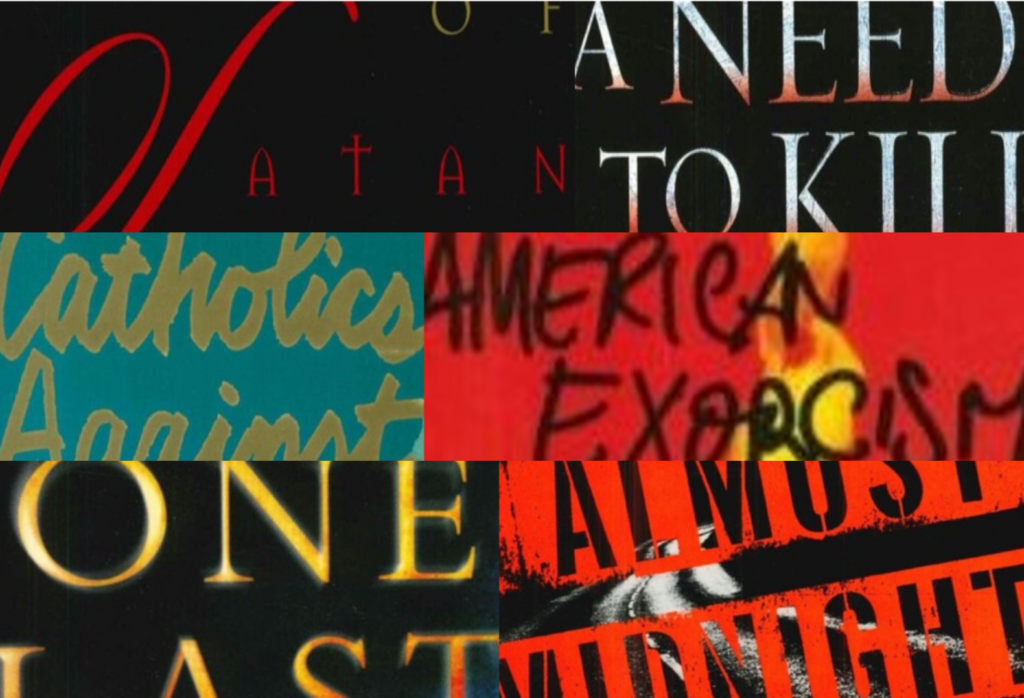 Fort Worth Star-Telegram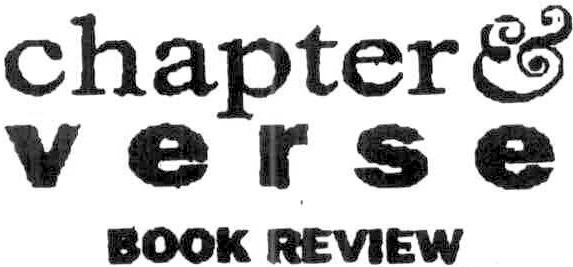 By Alan Cochrum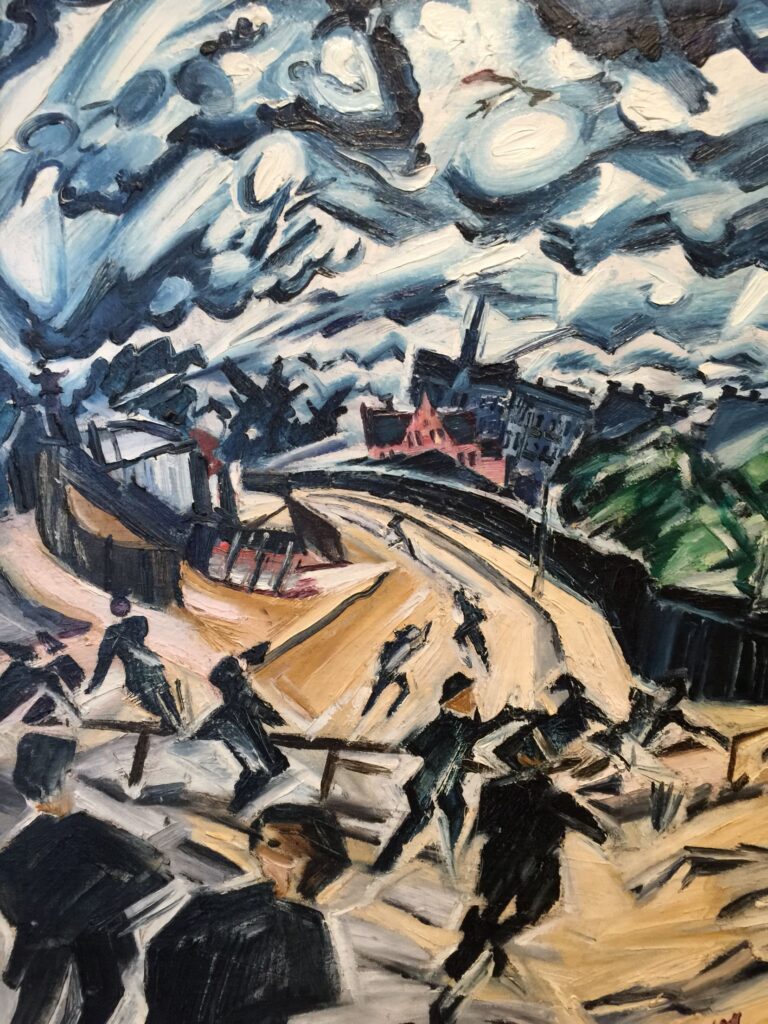 AND YOU THOUGHT all the angry conservative believers were on the Protestant side of the tracks. The Smoke of Satan is a plunge into the world of right-wing Roman Catholicism (the title springs from a remark by Pope Paul VI), and it is an eye-opening experience.
Michael W. Cuneo divides his subjects into three groups: conservatives, who oppose abortion and artificial contraception and believe that the post-Vatican II church has declined severely; separatists, who argue that the institutional church is basically apostate and who tend to indulge in conspiracy theory; and apocalypticists, who take refuge in apparitions of the Virgin.
Cuneo is definitely not a right-wing partisan; "conservatives in general," he writes, "seem almost willfully out of touch with the complex political and cultural dynamics of the contemporary church." But his style is far from scorched-earth, for which the separatists and apocalypticists in particular can be grateful. The Smoke of Satan dispels the haze around a world that is unfamiliar to many. Cuneo's book is well worth the time.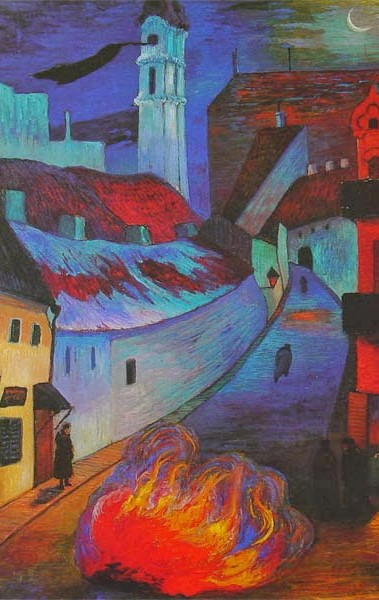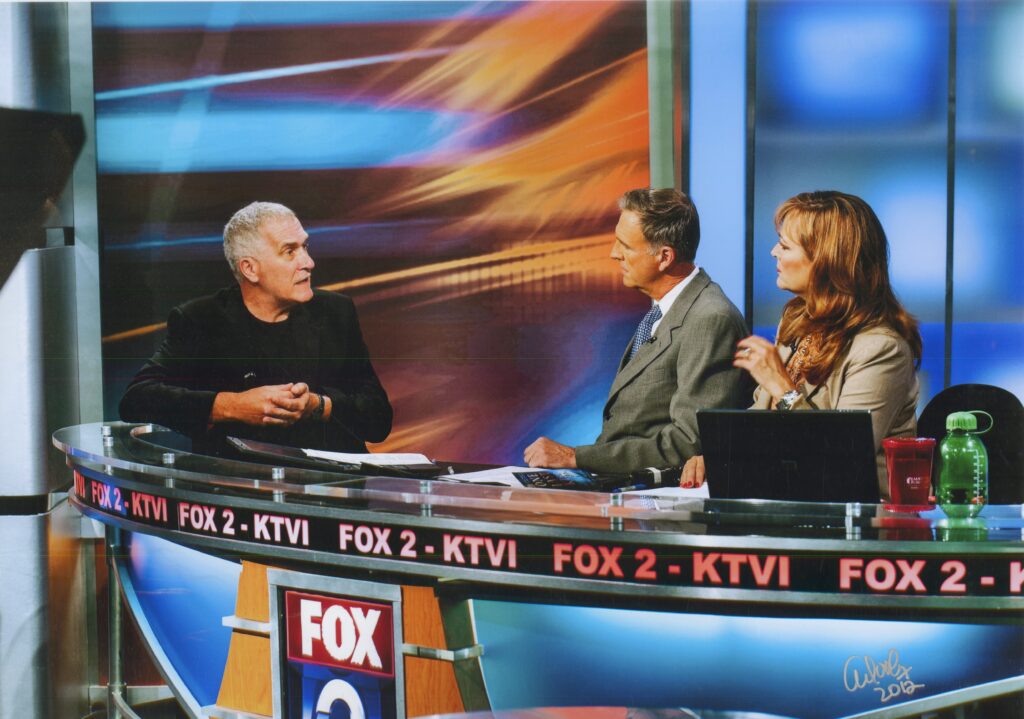 The New York Review of Books

The Vatican Monarchy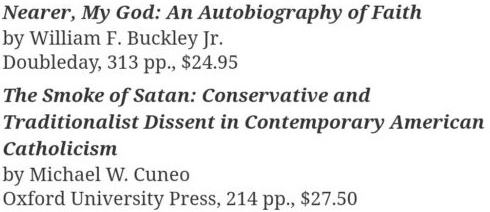 By Garry Wills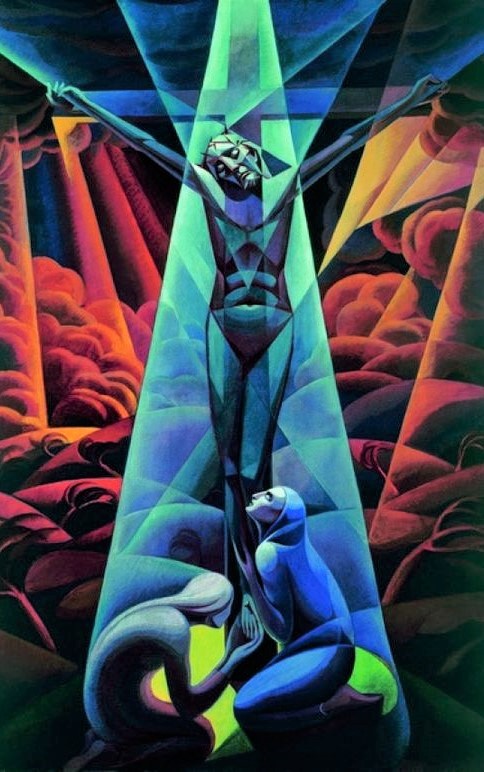 SINCE OUR CHURCH claims to be the repository of unchanging truth, Catholics of my generation were instilled with a temperament resisting change in Church matters. When some changes did occur, at and after the Second Vatican Council, there was a natural resistance on the part of people fostered in the earlier ethos. Mr. Buckley, thirty years after the changes, still calls the new liturgy "fascistic" in its encouragement of greater participation.
But the panel of conservative experts Mr. Buckley calls on to judge developments in the Church is entirely made up of converts, not of old Catholics. They prove just as opposed to change as Mr. Buckley. That explains, perhaps, their choice as experts. People who adopted the Church because it was a still point in flux—an exception in the modern world, and a rebuke to it—are especially pained to see it yield on any issue. Father Richard Neuhaus, for instance, tells Buckley that he opposes the idea of a non-celibate clergy "when it would be seen so widely as yielding to social pressures." Buckley's own investment in ecclesiastical changelessness is clear from his introduction.
"But the church is unique in that it is governed by a vision that has not changed in two thousand years….Nothing in that vision has ever changed, nothing at all, and this is for all Christians [he means Catholics, a significant slip] a mind-shaking, for some a mind-altering certitude, with which Christians [sic] live, in our earnest if pitiable efforts to clear the way for a love that cannot be requited."
Like Pius IX, the conservative takes calls for change from "the world" as a proof that the Church is superior to the world in its changelessness (though in fact the papacy has changed its position on secret baptism of Jewish children).
The most interesting (though, thank God, not the most typical) resisters to change in the Church are neither people old enough to be nostalgic for pre-conciliar ways nor converts, but "born Catholics" too young to remember the Council, yet dismayed, nonetheless, by what is happening in the post-conciliar Church. These dissident Catholics are studied by Michael W. Cuneo in The Smoke of Satan.
The most rigorous thinkers in this strange subculture have a doctrine of sedevacantism (empty-chairism) with regard to the papacy. They carry Buckley's doctrine of an absolutely changeless Church to its logical conclusion, arguing that a) an authentic papacy would not change the Church, but b) the modern (conciliar and post-conciliar) papacy has changed the Church, so c) the modern papacy is not authentic. By an appeal to history, during which for some periods no new pope was elected (the electing conclave not assembling, or not assembling to effect), or rival popes had their legitimacy in doubt, these believers say that the papal throne is currently unoccupied. The papal throne has been empty for one or two years at a time, and was in dispute for thirty-nine years from 1378 to 1417, as Eamon Duffy makes clear in his fine survey of the papacy, Saints and Sinners.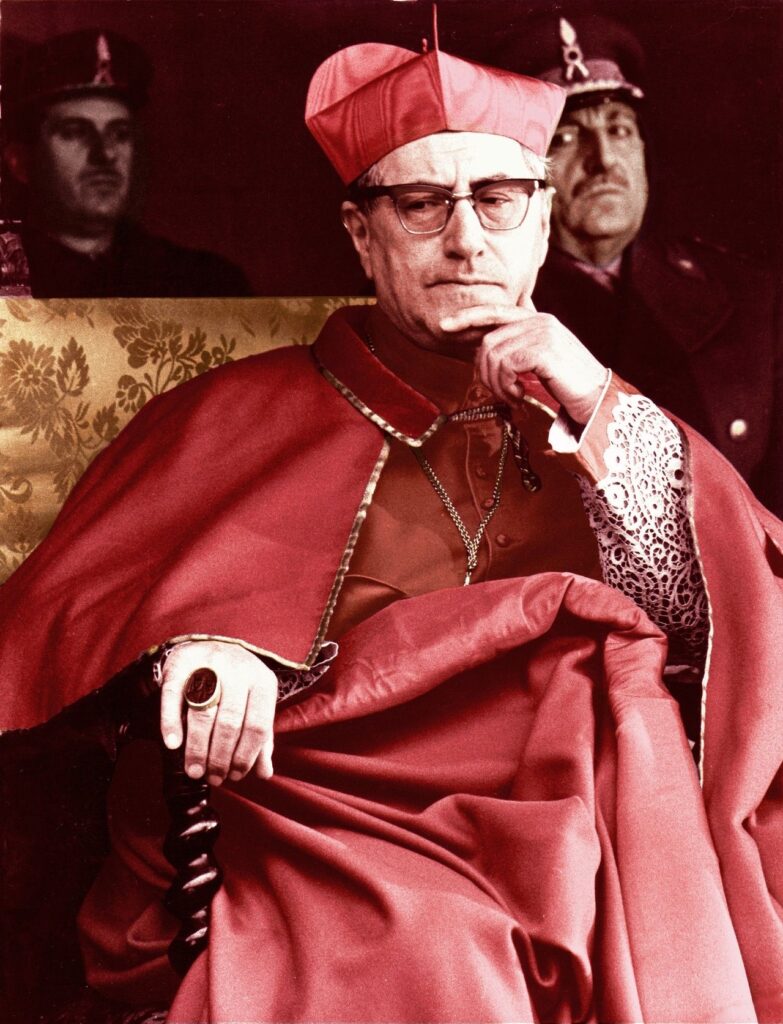 Some sedevacantists believe the seat has been unoccupied since 1958, when John XXIII was elected by what they call an invalid process and proceeded to initiate changes. Others, holders of the jauntily named "Siri theory," think that the throne has only been empty since 1989, when the conservative Cardinal Giuseppe Siri died. They say Siri was elected pope in 1958, and then the conclave, in a Jewish-inspired coup, covered up his election and created the sham procedure that presented John XXIII as pope. Siri theorists rely on reports of alleged secret interviews with Siri in his retirement, in which he said he could not claim the apostolic title that was rightly his, because "they can kill me at any time."
A different school of thought on Roman usurpation holds that "Paul VI," not John XXIII, was the fake pope. The real Paul VI, who was elected to succeed John XXIII in 1963, was secretly imprisoned, while an "exact double" let the Vatican Council do its evil work. The Virgin Mary revealed Paul's imprisonment in an apparition to the Spaniard Clemente Dominguez Gomez. She also ordered Gomez to be ordained a priest by the dissident bishop Ngo Dinh Thuc, brother of Vietnamese ex-president Ngo Dinh Diem. Paul VI himself appeared to Gomez, confirming the Virgin's order. When the real Paul VI died, in 1978, Gomez became his successor under the title of Gregory XVII.
Gregory XVI (1831-1846) is a great favorite of the conservatives. As Eamon Duffy says, Gregory's government "became a by-word for obscurantist repression." So it may not be surprising that there was already a Gregory XVII on the scene when Paul appeared in a vision to Gomez. A Canadian named Gaston Tremblay, but known as "Father John," had previously received a revelation that he was Pope Gregory XVII.
The Tremblay pope, like Saint Peter, had to spend some time in prison in Montreal—six months of a two-year sentence for contempt of court and illegal sequestration (a father had tried to get back the children kept in Gregory's monastery by their mother, a modern echo of the Mortara case).
Despite these troubles, the papal monastery of Father John, in Quebec, had two hundred priests and nuns in residence when Cuneo visited it in 1995 (about fifty of the nuns are under forty, at a time when nuns are no longer entering Catholic convents). Though Pope Gregory is aging himself, many sedevacantist bishops are young, often in their thirties, and their congregations are surprisingly youthful. Cuneo found at one center of the movement, Mount Saint Michael's in Spokane, "fifty blue-and-white-habited nuns, at least half of whom looked to be under thirty years of age."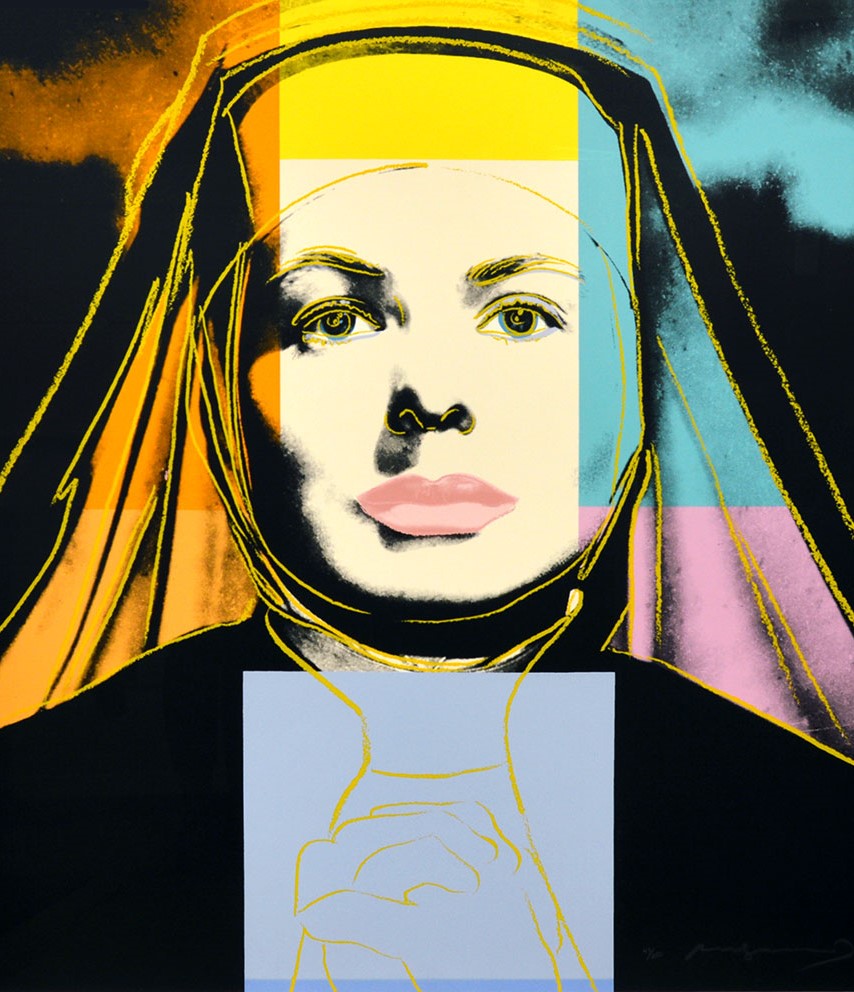 Bishops proliferate in the sedevacantist movement, since the defection of the papacy just makes it more urgent for the apostolic succession to be guaranteed through other channels. Yet how is this to be done? Only validly consecrated bishops can consecrate new bishops, and the sedevacantists do not recognize the authority of bishops in communion with the papal usurper in Rome. There have been several sources for the new hierarchy—the line of "old Catholic" bishops who left the church at the time of Vatican I, or Marcel Lefebvre, who left after Vatican II, or retired bishops sympathetic to the sedevacantists (Thuc of Vietnam or Alfred Mendez of Puerto Rico).
Though the number of core believers in such alternative popes is small, it includes hundreds of priests and nuns and thousands of laity, with a penumbra of sympathizers in right-wing Catholic circles, especially those in the widespread Marian cults. The largest Marian group in America was formed during the cold war on the basis of the Virgin's 1917 promise at Fatima, in Portugal, that Russia would be converted if the country were consecrated to her. This focus on Russia in the year of its revolution (1917) was pleasing to Archbishop Eugenio Pacelli, who was a papal diplomat at Munich in that year. Later, as Pope Pius XII, he would make Fatima one of the ten officially approved apparitions of the Virgin and encourage devotion to her as a means of converting Russia. Even during World War II he treated Russia and communism, not Hitler and Nazism, as the major threat to the Church. In 1942, Pius consecrated the entire world to Mary's Immaculate Heart, the title she had used for herself at Fatima.
During the cold war, Catholic parishes added a Fatima prayer for Russia's conversion to the prayers at the end of Mass, and a Fatima prayer to the end of each decade of the rosary. In 1946, Lucia dos Santos, the only survivor from the group of three children to whom the Virgin appeared at Fatima, said that the Pope's consecration of the world to the Immaculate Heart did not fulfill the command that Russia specifically be consecrated. In 1947, the Blue Army of Our Lady of Fatima was founded in New Jersey and soon spread around the world. Teams traveled with statues of the Lady of Fatima for rallies and all-night vigils. At the Jesuit high school I was attending in 1950, there was no lights-out while the statue was on campus. (I was able, in a 24-hour readathon, to gulp down War and Peace at one sitting, with only a half-hour taken out for my pre-dawn spell of kneeling before the statue.)
The association of the Virgin with anticommunism guaranteed that Marian worship would be at the center of the right-wing extremism dear to sedevacantists, along with the Virgin's apocalyptic warnings at the La Salette apparitions of 1846. It is no wonder sedevacantists organize themselves under titles like the Congregation of Mary Immaculate Queen or the Order of the Magnificat of the Mother of God (after Mary's canticle in Luke 1:46-55—"He has shown strength with His arm"). These believers see the refusal to consecrate Russia separately as a sign of papal apostasy. They find an even greater sign in the "Third Secret" of Fatima—written out for the Pope to reveal after 1960. Post-1960 popes, beginning (significantly for sedevacantists) with John XXIII, have not revealed this secret, though they were authorized to by the children. The sedevacantists are sure that Our Lady prophesied the very apostasy that has occurred in Rome.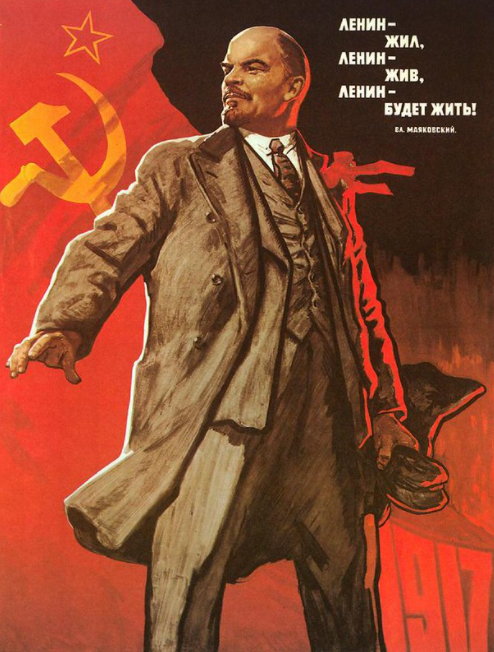 The Fatima cult is not confined to sedevacantists. Cuneo writes that one of the most ardent and active promoters of the devotion, Father Nicholas Gruner, professes loyalty to the Pope, but nonetheless finds apostasy in the Pope's advisors. Gruner is the editor of the Fatima Crusader, which had a circulation of 400,000 in the late 1980s. In 1988, he began a radio program, Heaven's Peace Plan (which airs in forty-three towns), and in 1989 he added a television talk show, Fatima: The Moment Has Come.
In 1992, Lucia dos Santos said that John Paul II's consecration of the world to Mary fulfilled the Virgin's command. This gave Mary credit for ending the cold war, though that is not enough for Gruner and others. The Blue Army had faded away after Vatican II. But the sedevacantists and their allies think the apostasy goes on in Rome. The "Third Secret" is now the focus of their suspicions.
Father Gruner finds rot everywhere in the Church and is good at capitalizing on resistance to change. His hatred of the new liturgy makes Buckley's attack on its "fascism" look pusillanimous. Cuneo heard Gruner tell an audience of three hundred gathered before a Fatima statue that receiving Communion bread in the hand instead of on the tongue "is a sacrilege even worse than abortion."
The Marian network keeps up the memory of other apparitions supplementing those at Fatima—to Mary Van Hoof in Necedah, Wisconsin, to Veronica Lueken in Bayside, Queens, to young Croatians in Medjugorje. Cuneo, admirably thorough in his investigation of this Marian netherworld, attends meetings devoted to the memory of Veronica Lueken, where photographs of her ecstasies are scrutinized for dim traces of the Virgin hovering above her. Ms. Lueken was given the same news of the real Paul VI's imprisonment that Gomez/Gregory was. She also had the stigmata given to her in a vision by the Italian stigmatic Padre Pio.
There seems something particularly ungrateful in these Marianists' use of their patron against the Pope. The modern papacy has been closely leagued with Marian piety. Pius IX and John Paul II grew up near Marian shrines, which were the focus of their early piety. Pius's mother took him to the shrine of Loreto, which purports to have the very house Mary lived in. (How could that be, I asked a priest when I was in school, and he said, after scratching his head, "Is Loreto a college town?") John Paul's father took him to the shrine of the "Black Virgin" at Czestochowa (to whom Chesterton addressed the magical line of verse "To thy most merciful face of night I kneel").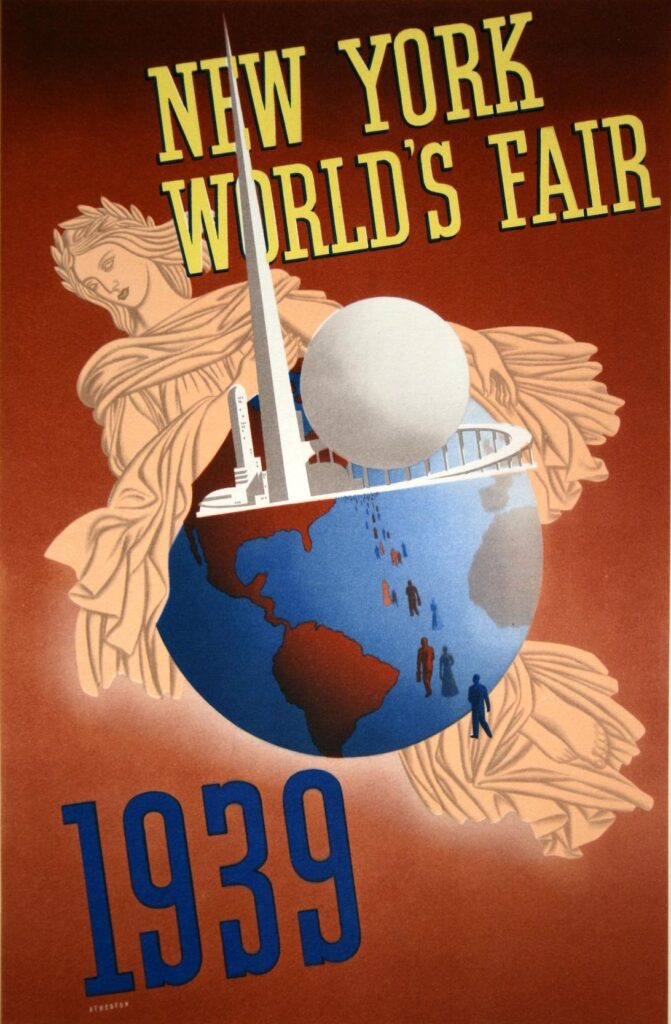 Later apparitions of the Virgin won both men's later enthusiasm—Lourdes for Pius, Fatima for John Paul. Pius felt that the Immaculate Conception had saved his life by "the miracle of Sant' Agnese" when a convent of that name collapsed around him. He later celebrated the date in honor of Mary. John Paul believes that Our Lady of Fatima saved him from death at a would-be assassin's hand. The date of the attempt on his life was that of the Virgin's first apparition at Fatima, and Eamon Duffy, in his shrewd and well-written history, reports that the bullet from Mehmet Ali Agca's gun is now mounted in the crown on the Virgin's statue at Fatima, where John Paul made a pilgrimage on the tenth anniversary of his rescue.
Pius XII, who had visions of the Virgin in his sequestered old age, was also devoted to Our Lady of Fatima, and addressed her as the Mediatrix of All Graces. A significant advance in papal authority took place in what Jaroslav Pelikan, in his learned study of Mary, calls "the great century of Marian apparitions—the hundred years from the 1830s to the 1930s."
Visions have become the Virgin's domain. Statues of her weep. Rarely do crucifixes speak now, as one did to Thomas Aquinas. It was the cross of Christ that blazed in the air when Saint Francis received the stigmata. Mystics like Teresa of Avila, John of the Cross, Catherine of Siena, and Saint Ignatius experienced union with God, not with the Virgin. Marian apparitions were known in the past, but she did not have the current quasi monopoly on the phenomenon. This raises interesting questions about shifting styles in devotional life.
Why has Mary become so prominent in modern Catholic mysticism? Does this fulfill the old Protestant prophecies that Mary would shove aside Jesus as a cult figure? Pelikan hints at a different explanation. In the past Jesus would often appear to learned ascetics, who set the fashion of piety from their elite station. In modern times, Mary has more often appeared to ordinary people, often unlearned, sometimes children. Does this show a "democratization" of piety in the modern world? (Pius IX, who hated democracy, would be shocked at the very notion.) Or does it signal a feminization of religion?
One thing that can be said with confidence on this still-murky subject is that Marian piety has been very useful to the popes of the nineteenth and twentieth centuries—and they have employed it as a tool for strengthening their office.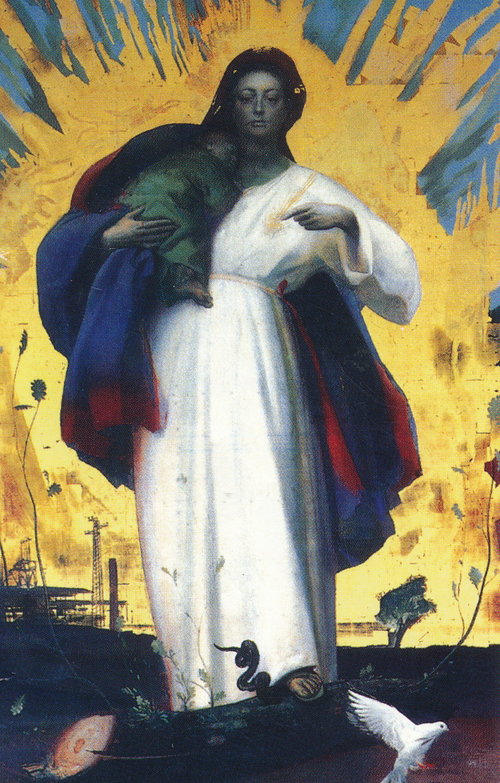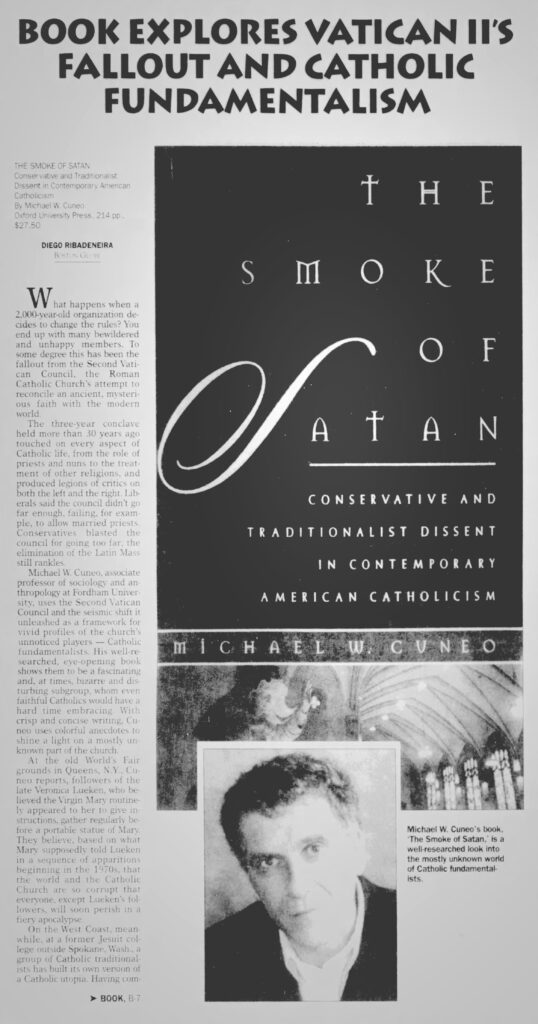 The New York Times Magazine

Is the Pope Catholic . . . Enough?
By Christopher Noxon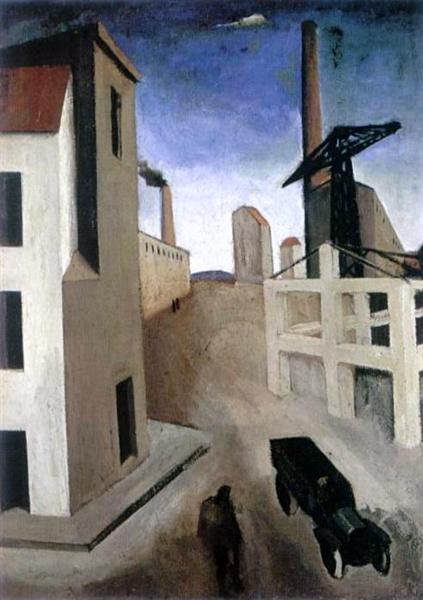 [excerpted]
MEL GIBSON is the star practitioner of this movement, which is known as Catholic traditionalism. Seeking to maintain the faith as it was understood before the landmark Second Vatican Council of 1962-1965, traditionalists view modern reform as the work of either foolish liberals or hellbent heretics. They generally operate outside the authority or oversight of the official church, often maintaining their own chapels, schools, seminaries and clerical orders. Central to the movement is the Tridentine Mass, the Latin rite that was codified by the Council of Trent in the 16th century and remained in place until the Second Vatican Council deemed that Mass should be held in the popular language of each country. Latin, however, is just the beginning – traditionalists refrain from eating meat on Fridays, and traditionalist women wear headdresses in church. The movement seeks to revive an orthodoxy uncorrupted by the theological and social changes of the last 300 years or so.
Michael W. Cuneo, a sociology professor at Fordham University who reported on right-wing Catholic dissent in his book, "The Smoke of Satan," wrote that traditionalists "would like nothing more than to be transported back to Louis XIV's France or Franco's Spain, where Catholicism enjoyed an unrivaled presidency over cultural life and other religions existed entirely at its beneficence."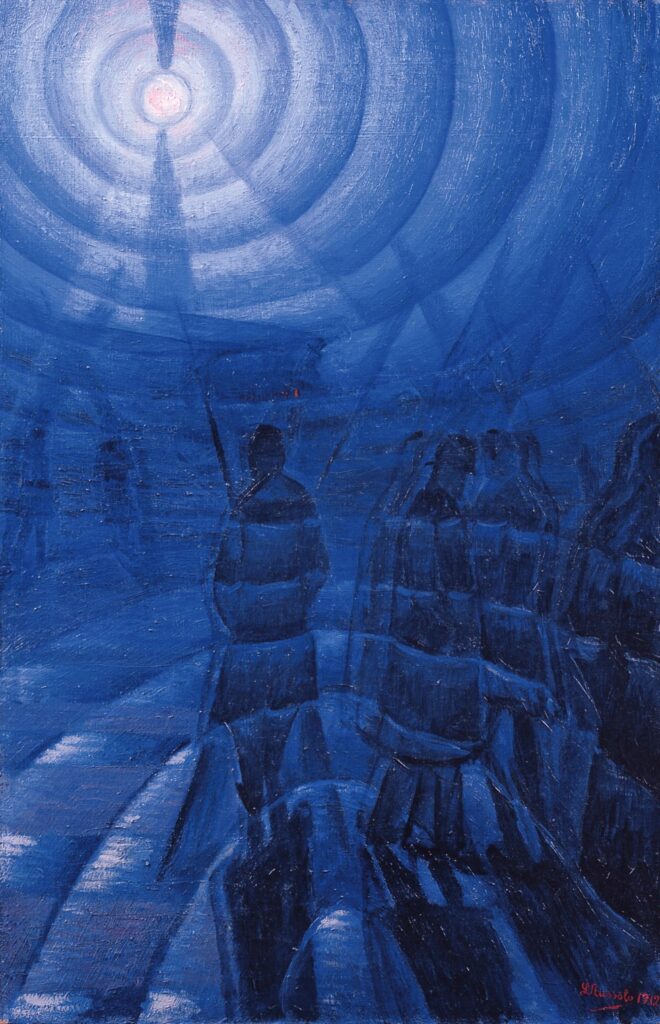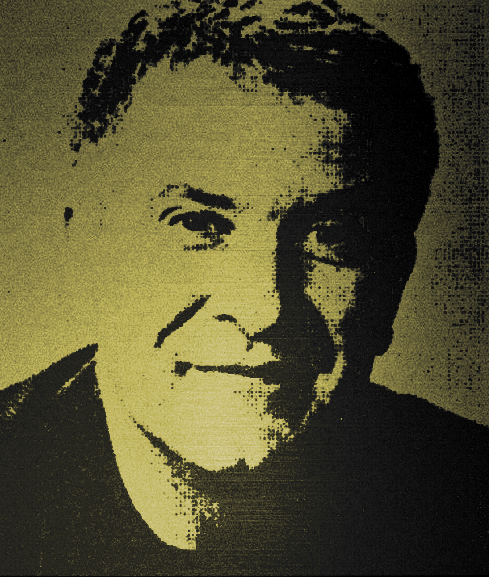 Christianity Today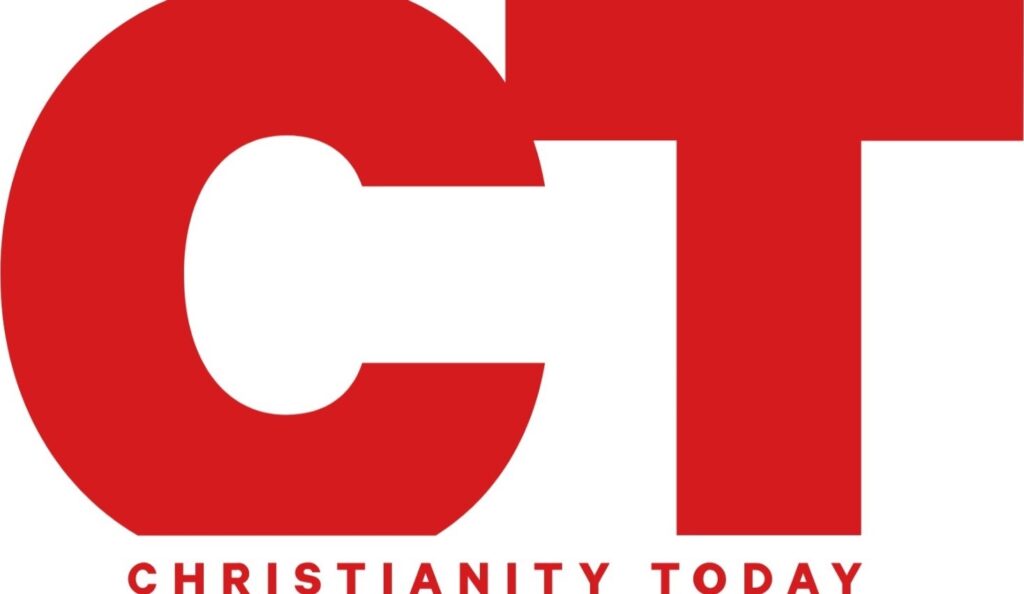 Michael W. Cuneo. The Smoke of Satan (Oxford)
By Richard J. Mouw, president of Fuller Theological Seminary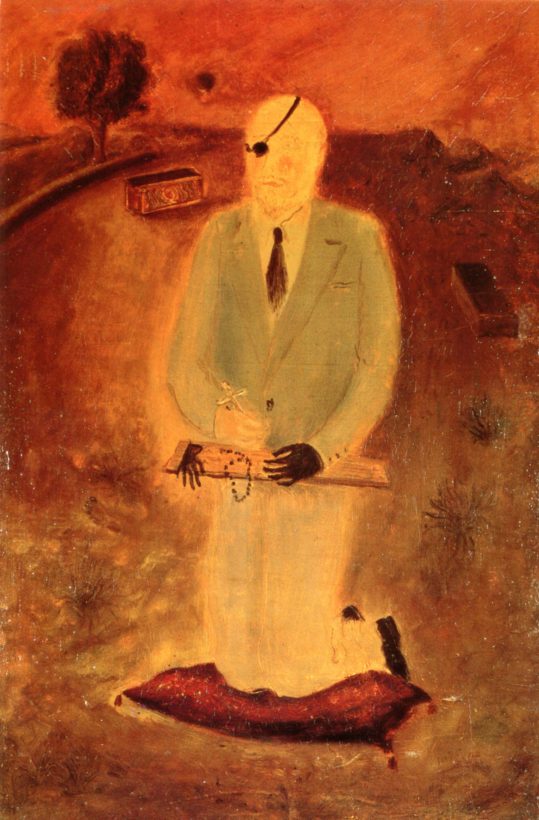 EVEN FOR EVANGELICALS who keep a watchful eye on things Roman Catholic, Michael W. Cuneo's The Smoke of Satan (Oxford, $27.50) sheds light on little-known movements within Catholicism: thriving communities of traditionalist nuns and priests, mystical Marian devotees whose ties to mainstream Catholicism are quite strained, and "the-end-is-near" apocalypticists – to say nothing of the separatist Catholics who believe that the present occupant of the papal throne is an imposter and a forerunner of the Antichrist.
The truths here are not only stranger than much fiction, they add up to a tale that reads like a well-written novel.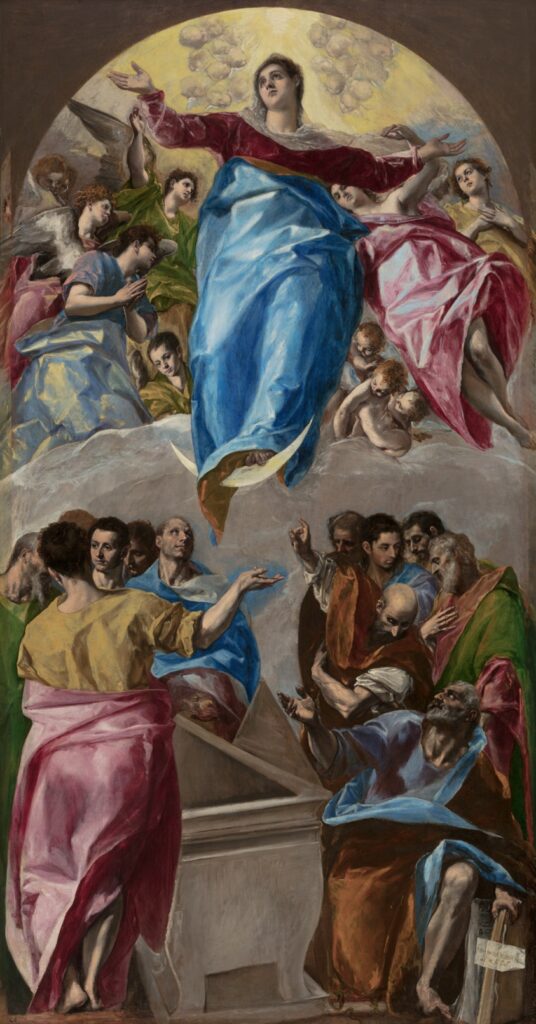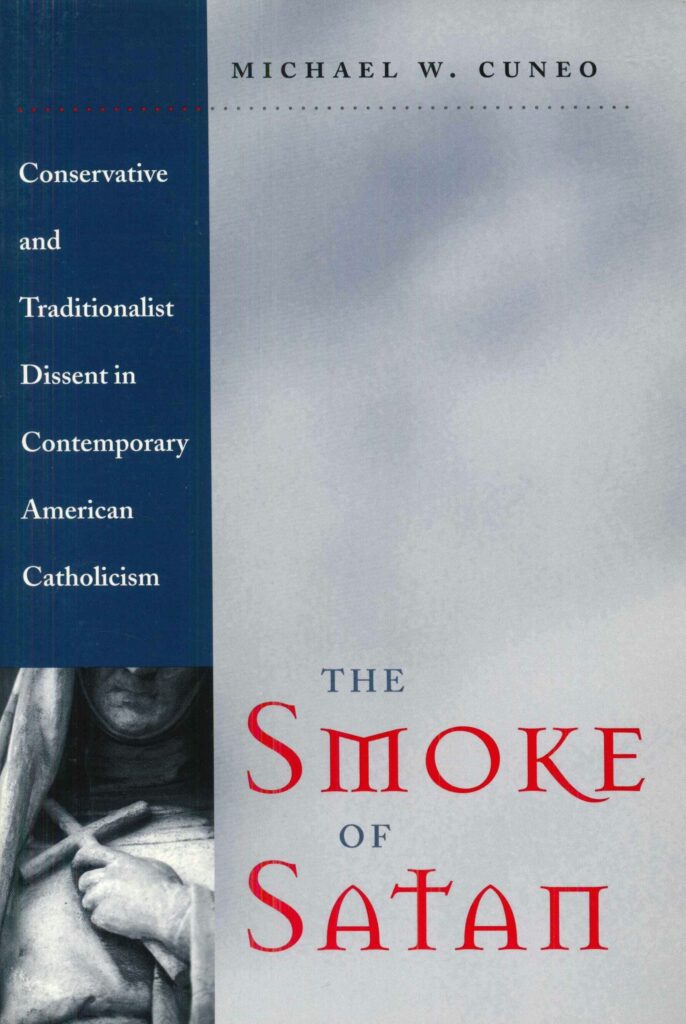 CATHOLICS AGAINST THE CHURCH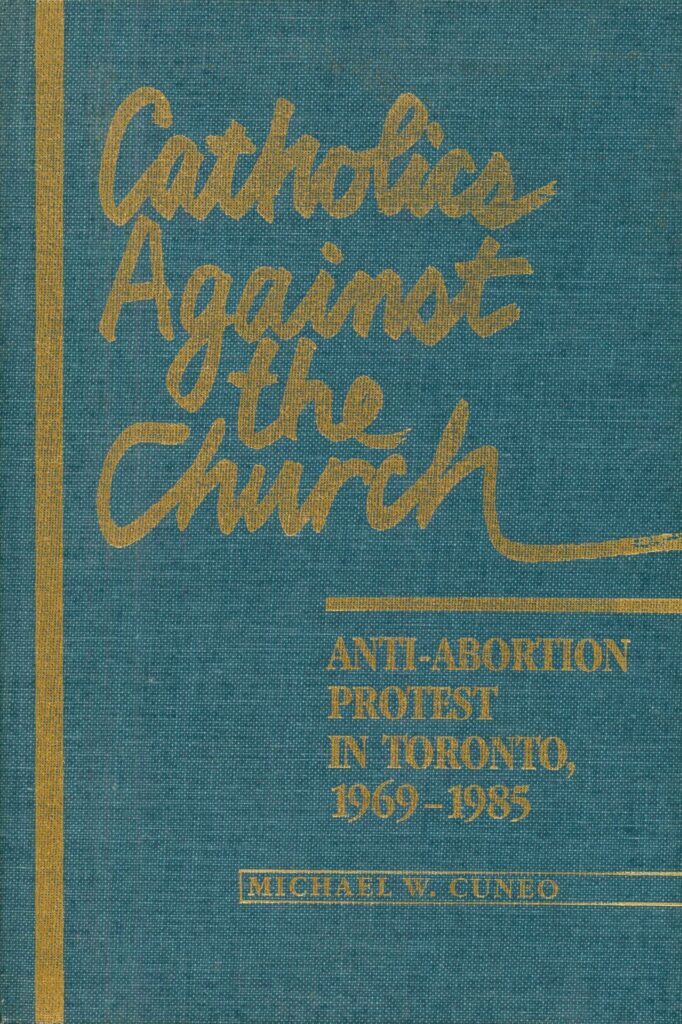 Finalist for the John Porter Book Award – awarded to the best book published in the social sciences in Canada over a three-year period

Toronto Star


Catholics squabble on abortion unity
By Michael McAteer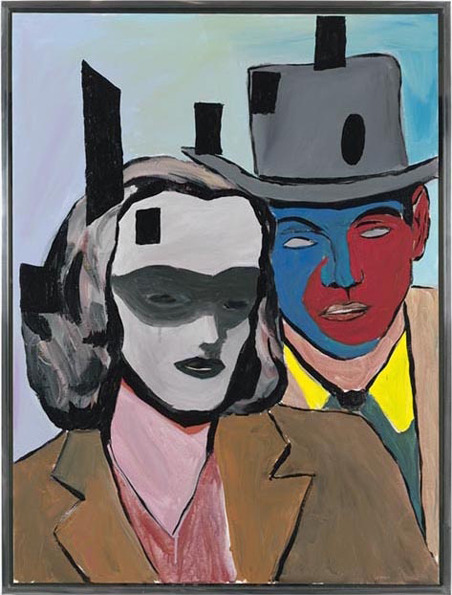 [excerpted]
MEDIA PHOTOGRAPHS of hymn-singing anti-abortionists, kneeling in prayer, clutching rosary beads, have lent support to the notion that the anti-abortion movement is monolithic and homogeneous, actively supported by the institutional Roman Catholic Church with the unqualified blessing of its bishops.
Nothing could be further from the truth, Michael Cuneo concludes in his new book Catholics Against the Church (University of Toronto Press: $40 hardcover, $16.95 paperback).
In fact, Cuneo says abortion, the very issue which is popularly supposed to evoke consensus among Catholics, provides the line of fracture for a widening ideological division within the Canadian church.
Far from promoting consensus and unity within the Canadian church, the movement is a battleground for competing ideas, a rallying point for those Catholics fearful of change and modernization within the wider culture and within Canadian Catholicism itself.
Cuneo says the Canadian anti-abortion movement is overwhelmingly Roman Catholic in composition but is scorned by the Canadian Catholic elite and scarcely tolerated by most bishops.
Moreover, despite its quintessential Catholicity, many movement activists regard the institutional Canadian church with unconcealed contempt and are at odds with the national bishops' conference.
Anti-abortion protest, says Cuneo, has been embraced by a discontented segment of the Canadian laity as a crucible of faith at a time when the wider church, including its bishops and professional elite, seem taken by other interests and absorbed by different passions.
"That the Canadian bishops are at best tepid in their support of the pro-life cause, and at worst traitors to it, has become an established belief within Catholic anti-abortion circles," writes Cuneo.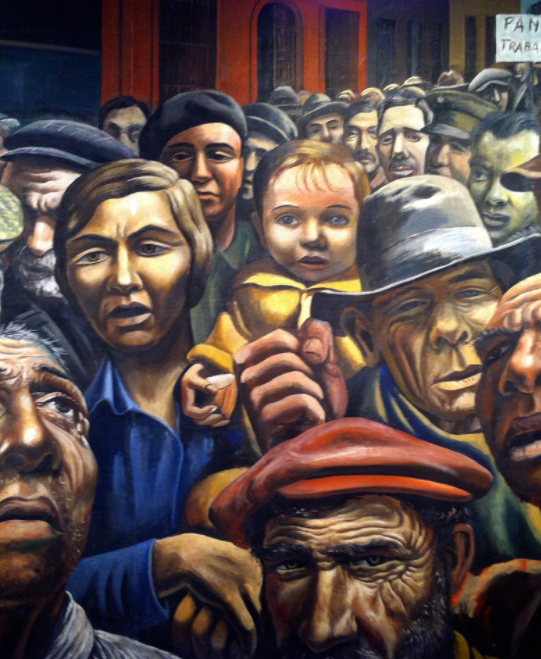 He says the social make-up of the movement had by the 1970s produced a polarization between its professional elite who preferred to address abortion within a strictly civil rights frame of reference, and its flourishing grass roots supporters for whom anti-abortionism was inextricably a crusade against feminism, secularism, and the rise of moral permissiveness in Canadian society.
By the 1980s, says Cuneo, anti-abortionism for many activists had become a definite badge of Catholic authenticity and of countercultural spirituality, and any Catholic who did not wear this badge proudly was branded a traitor to the faith.
Cuneo says the relationship between the movement and the institutional Canadian church has been plagued by bitterness and mutual estrangement.
"Particularly in Toronto, where movement passions burn hottest, militant Catholic activists have condemned mainstream Catholicism as apostate and have defined themselves as a holy remnant destined to conserve the flame of authentic faith at a time of spiritual decay and moral apathy."
Cuneo says that although there is no reason to doubt that the Canadian bishops were, and still are, adamantly opposed to abortion, they very early adopted a hands-off policy towards the anti-abortion movement.
Even before the abortion debate heated up, Cuneo says the bishops clearly did not want to puncture the mood of ecumenical good feeling in Canada's Christian community by resurrecting the spectre of triumphalism and their statements on contraceptives and divorce were marked by deferential caution.
But he says that for some Catholic anti-abortionists that caution was a sign of capitulation to modernism and evidence of a real lack of commitment to traditional Catholic moral values.
Cuneo says that at a time when the anti-abortion movement was fighting to enshrine protection for the unborn in Canada's Charter of Rights and Freedoms, the apparent volte face by Toronto's Cardinal Carter on his initial opposition to the charter was seen as a sign of betrayal.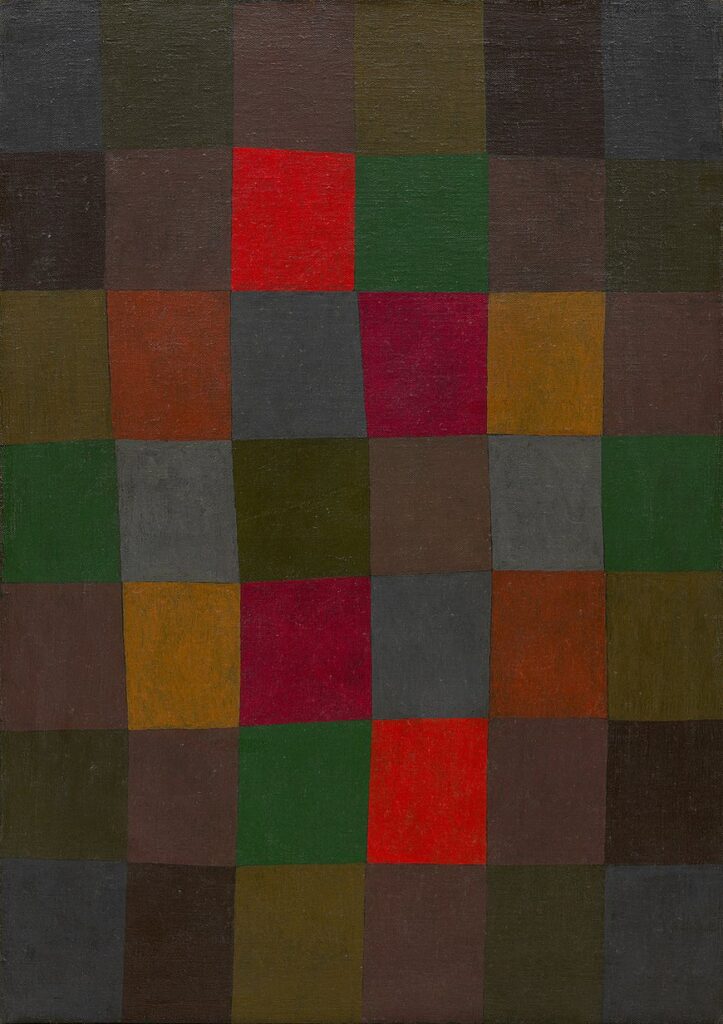 Saturday Night


Michael W. Cuneo. Catholics Against the Church (University of Toronto Press)
By Anne Collins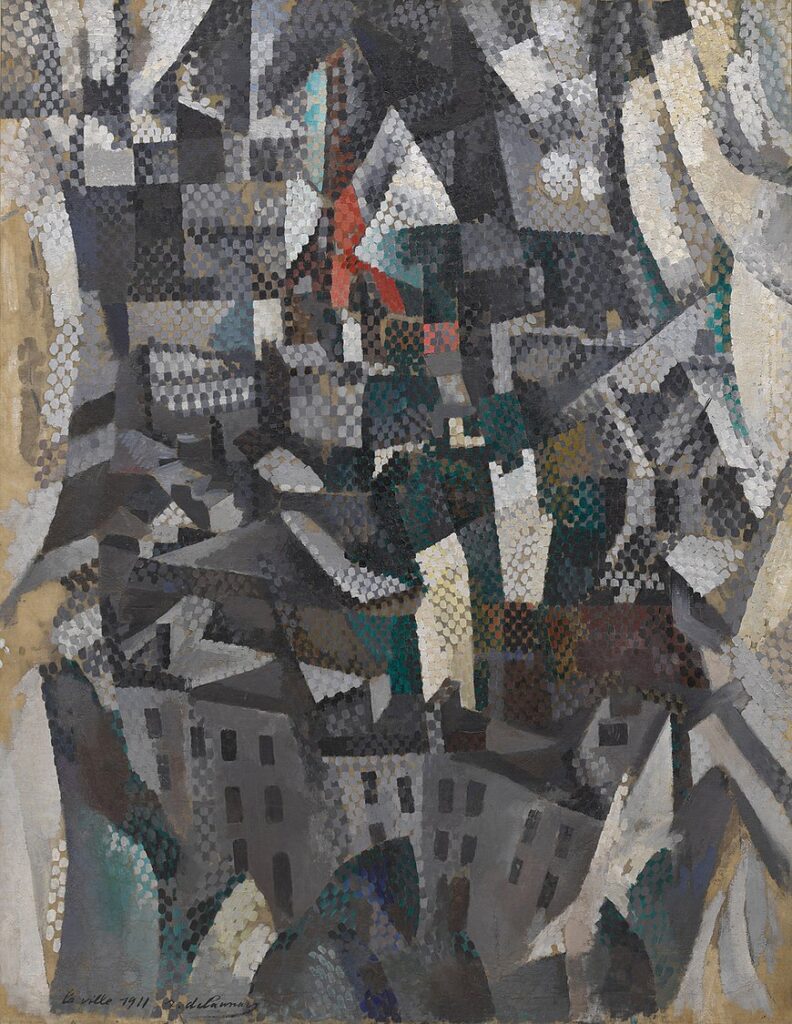 [excerpted]
THE ABORTION DEBATE. It's a wonder that we still describe it as such when neither side can bear to listen to the other's arguments and no one ever really wins. Things that look like victories – to the pro-choice, for instance, the striking down of Canada's old abortion law by the Supreme Court – only become grounds for new battles.
The call is once again going out to federal legislators to create some kind of law, a "typical Canadian compromise" that won't please activists on either side but that the rest of the country can live with.
In that reasonable if amnesiac call for compromise is buried a profound misunderstanding of the abortion debate: that it is a political issue that will be amenable to a political solution.
The quickest antidote to that idea may be to read Michael Cuneo's new book, Catholics Against the Church. Cuneo set out to document both pro-choice and anti-abortion protest in Toronto, the epicentre of the controversy in English Canada since a Morgentaler Clinic first opened its doors there. But Cuneo soon abandoned the pro-choicers; he found story enough in the lay Catholics of the anti-abortion movement.
His book is a fascinating account of how that movement, over the course of two decades, slowly turned on itself to eliminate "impure moderates" and present its most intransigent face to the world. Its target now, claims Cuneo, is as much the hierarchy of the Canadian Catholic Church as it is those who procure or perform abortions. It has evolved from a movement that would have settled for political reform to one that is on a "sacred crusade" to purify both the culture and the Catholic Church.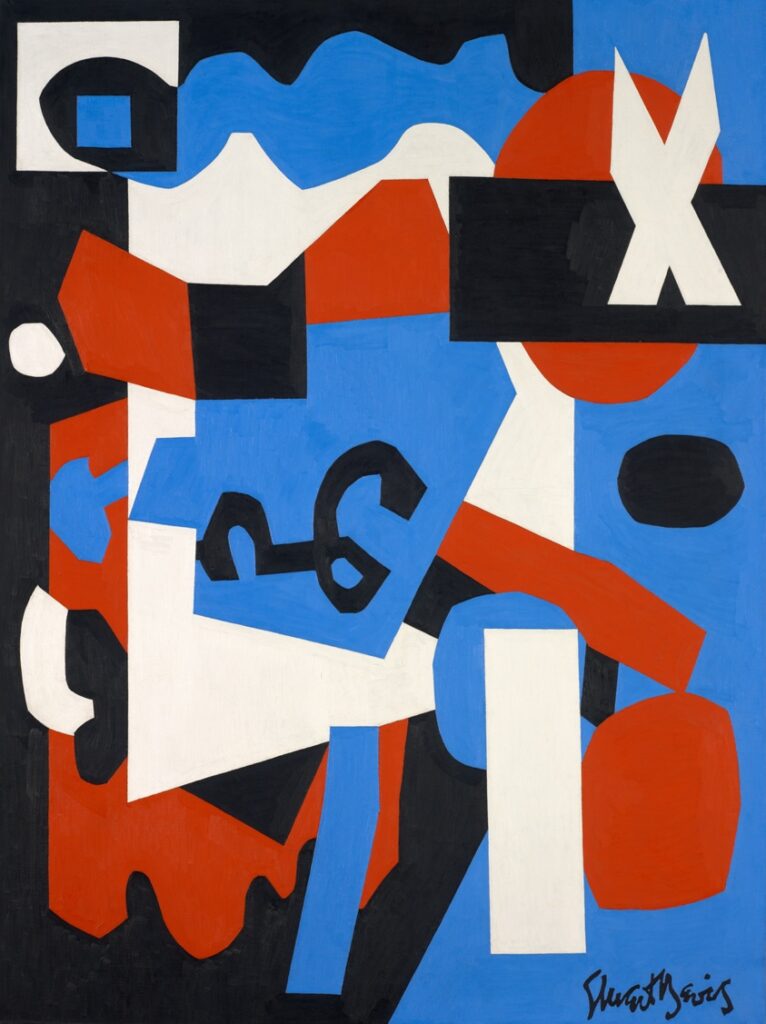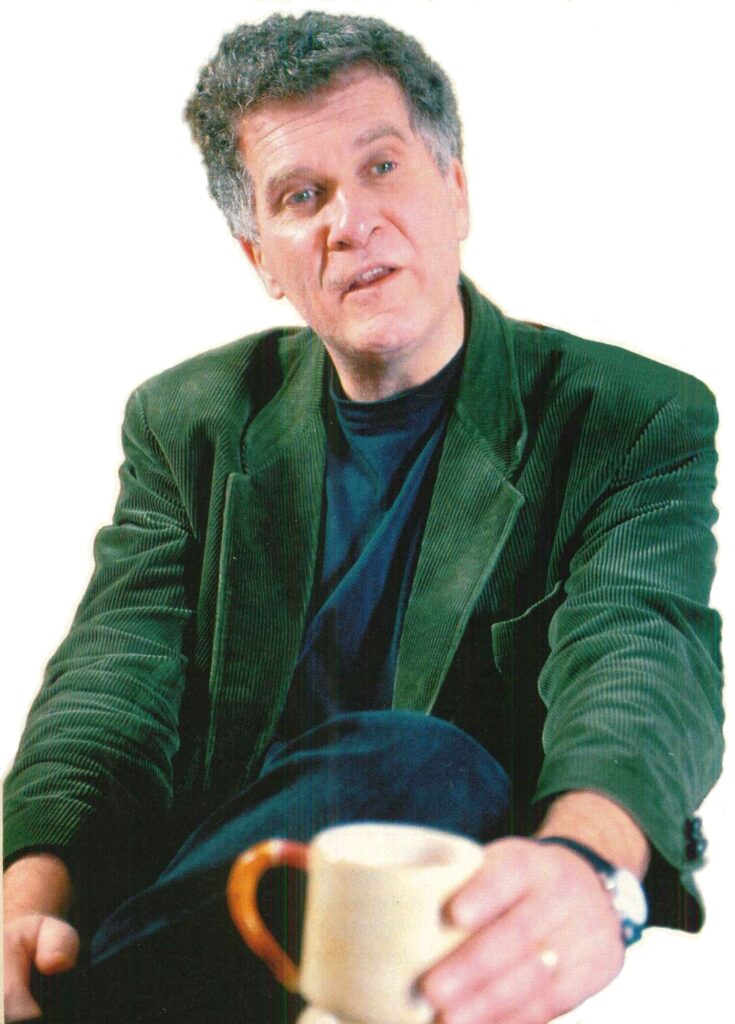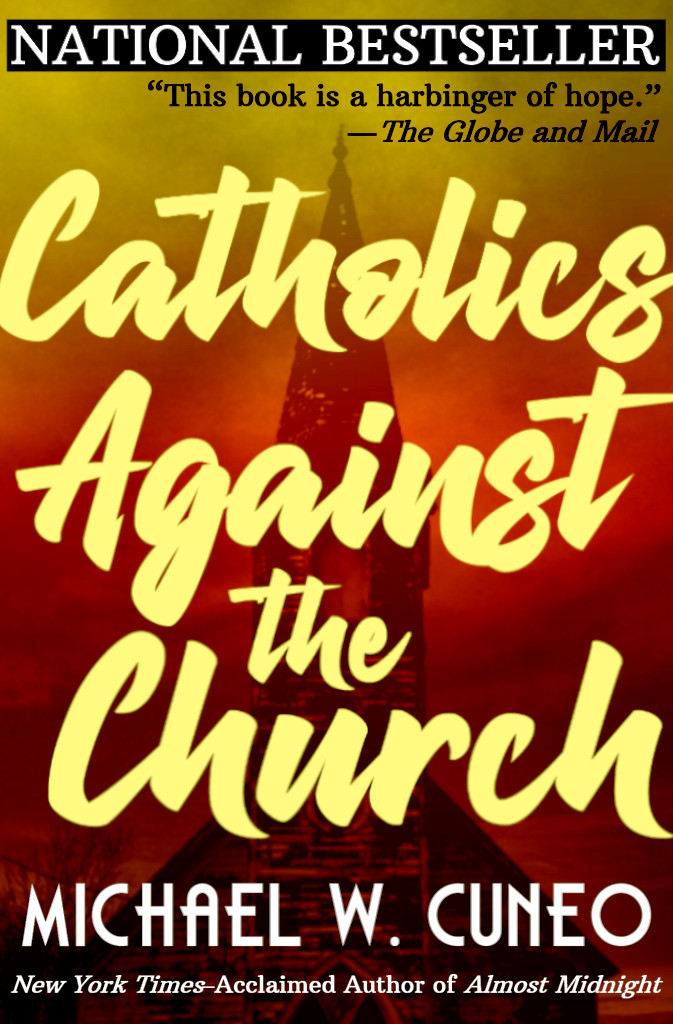 America (New York City)

Michael W. Cuneo. Catholics Against the Church (University of Toronto Press)
By Béla Somfai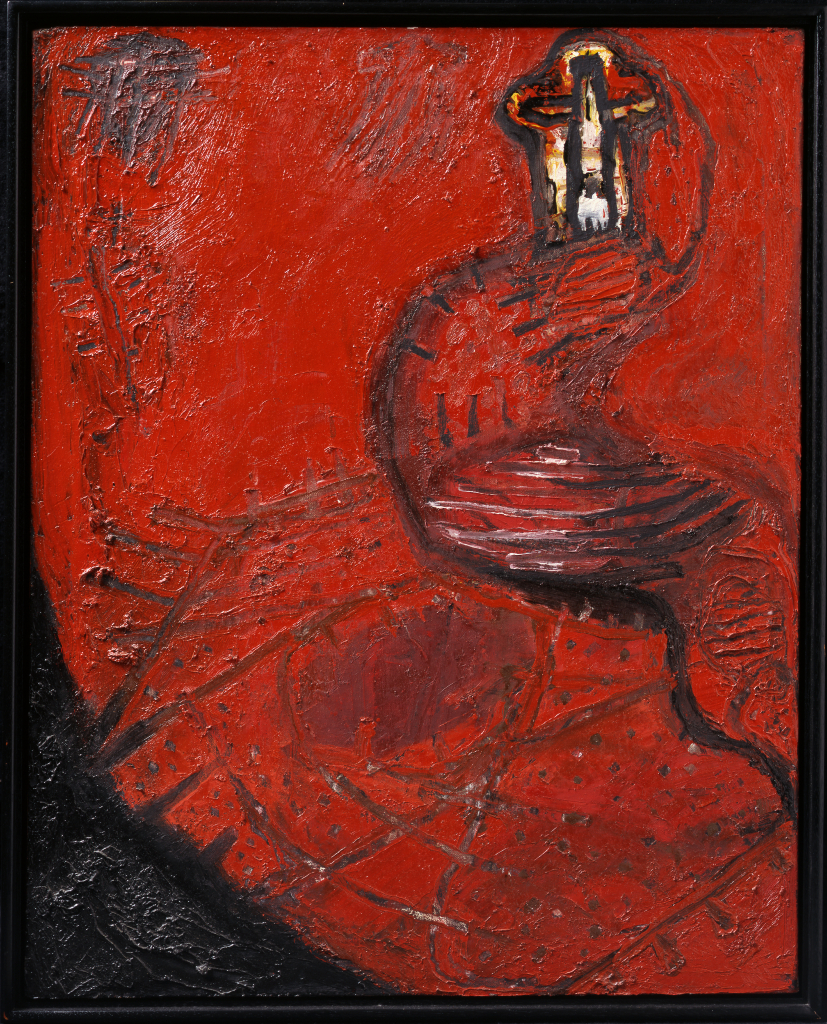 [excerpted]
MICHAEL CUNEO's new book is the first serious study of the Canadian anti-abortion movement. The book focuses on the Toronto area, where "movement passions burn hottest."
Though predominantly Catholic in composition, the movement hardly serves as a vehicle of Catholic identity and unity. Cuneo says that it is scorned by the Canadian Catholic elite and scarcely tolerated by most bishops. Furthermore, he says, "many movement activists regard the institutional church with unconcealed contempt."
●
Cuneo formulates a typology of anti-abortion activism. "Civil rights" activists are ecumenically oriented professionals who consider abortion but one form of discrimination and violence against the vulnerable. "Family heritage" activists are the foot-soldiers of the movement. These conservatively inclined Catholics and Evangelicals regard the liberalization of abortion as part of a larger plot to destroy traditional religious and family values.
Most interesting and influential are "revivalist Catholic" activists. Their concern with the protection of unborn life is wrapped in an eloquent articulation of disenchantment with the modern church. They see themselves as a remnant of orthodoxy within a church that has lost its roots. In their view, fighting abortion is a symbolic expression of sacred zeal. It represents for them, as Cuneo says, a "new spiritual frontier."
●
Cuneo remains faithful throughout to his avowed neutrality, displaying only occasionally the colors of a liberal theologian. Catholics Against the Church is a fascinating and timely study.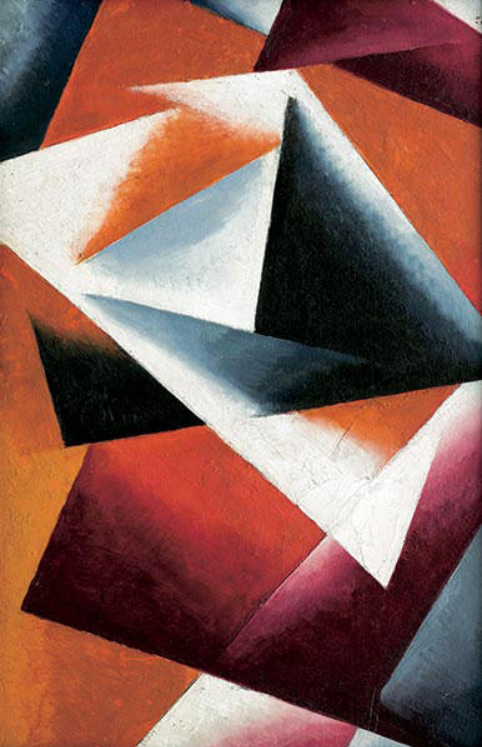 The Vancouver Sun

Unholy War
By Douglas Todd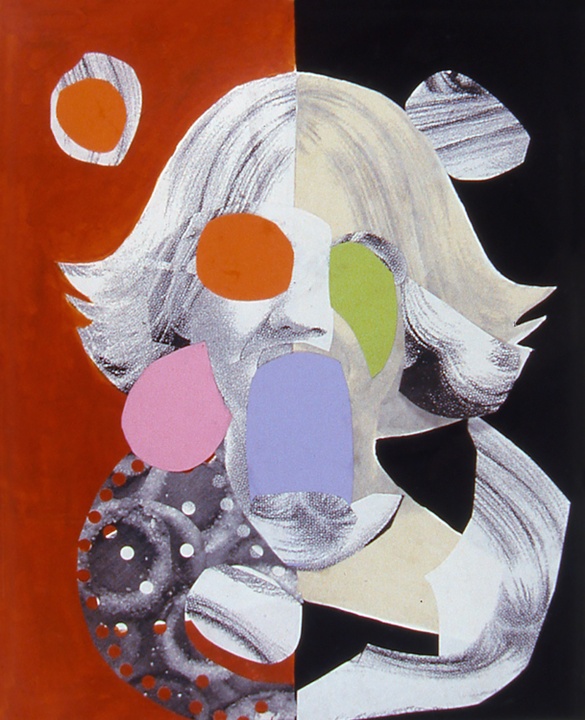 [excerpted]
SEX, IN ITS perennially troublesome way, has generated one of the most passionate divisions the Catholic Church has suffered in 2,000 years.
Pope John Paul II's renewed clamp-down against artificial birth control, married priests, pre-marital sex, divorce, abortion and women's ordination has set conservatives and liberals at each other's throats in a battle that threatens to tear asunder the 800-million-member institution.
The anti-abortion movement, rather than bonding Catholics, has stretched the chasm even wider, according to Michael W. Cuneo's new book Catholics Against the Church.
Conservative Catholics have taken on the pro-life issue as a cause célèbre for orthodoxy, as a bulwark against reform, Cuneo writes. Many liberal bishops and theologians, however, have been offended by the zealotry among pro-life leaders, who sometimes come heavily laden with a right-wing agenda.
As a result, Cuneo concludes it is no longer possible to speak of a single Catholic church. Catholicism, he writes, "is now a discordant chorus of contentious voices, voices which no longer speak within boundaries expressive of a common religious commitment."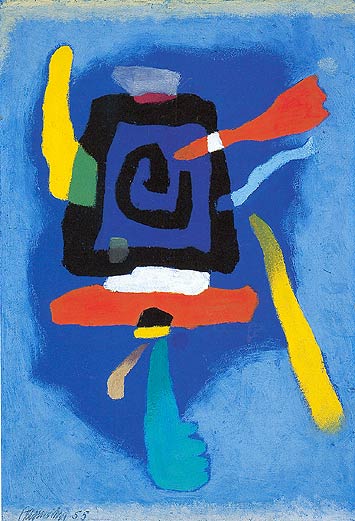 The Atlanta Journal-Constitution


By Delia M. Rios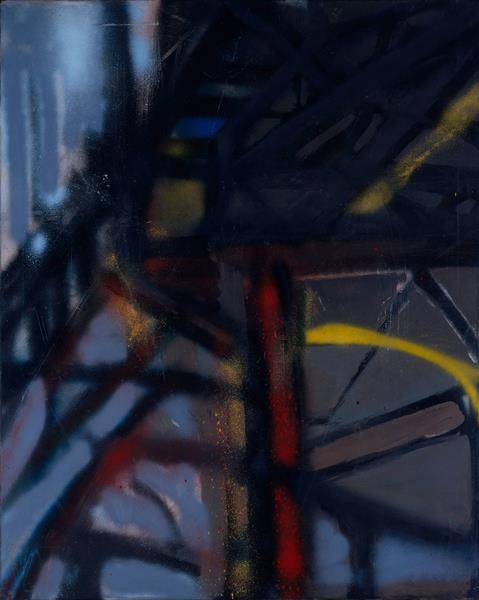 [excerpted]
TWENTY-FIVE YEARS after the Roe vs. Wade decision, the nation has reached a great divide in the continuing struggle over abortion. The struggle has turned from a shouting match to a shooting war – one begun by people denounced as fanatics by mainstream leaders on both sides.
Now both sides are weary of the violence and have a common interest in stemming it. The key may lie in their ability to reclaim the public stage wrested away by the violent.
The problem remains that the tactics of those on the fringe – whether they are called purists, militants or terrorists – have succeeded in one regard.
"Radical militants believe that when they protest, they keep the idea alive. In a sense, they're right," says Michael W. Cuneo, a professor of sociology and anthropology at Fordham University in New York and author of "Catholics Against the Church." Cuneo has studied Catholic anti-abortion protesters in both the United States and Canada.
Yet, Cuneo says, what also happens is that "lunatics surface from the woodwork. And all the people out in the streets protesting wind up unwittingly contributing to their own demonization."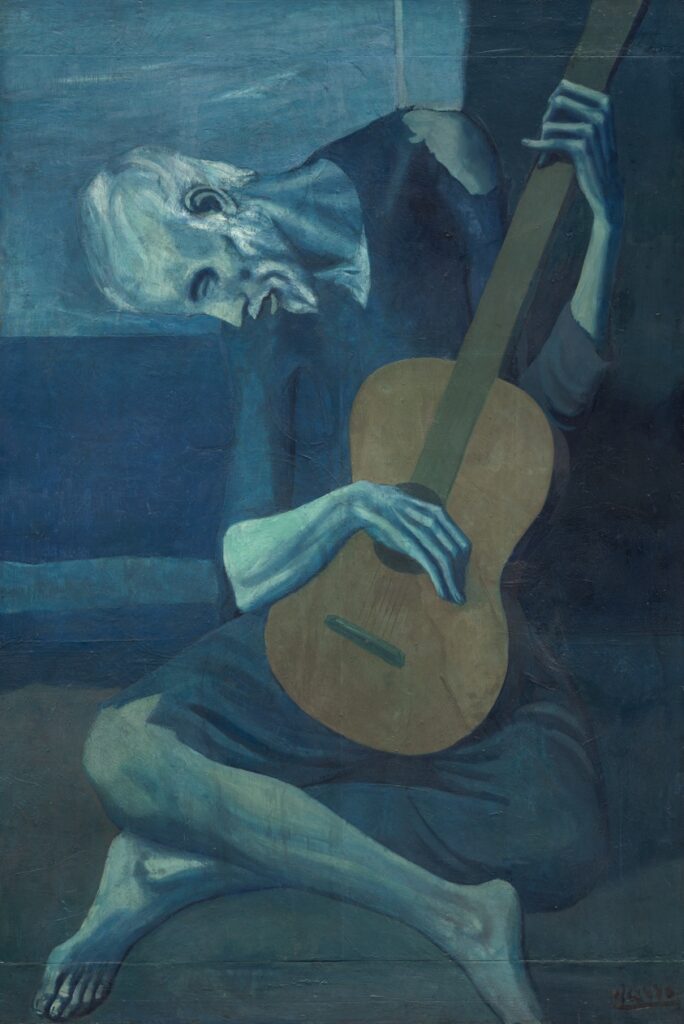 The Washington Post

Campaign of Violence Against Abortion Clinics
By Post staff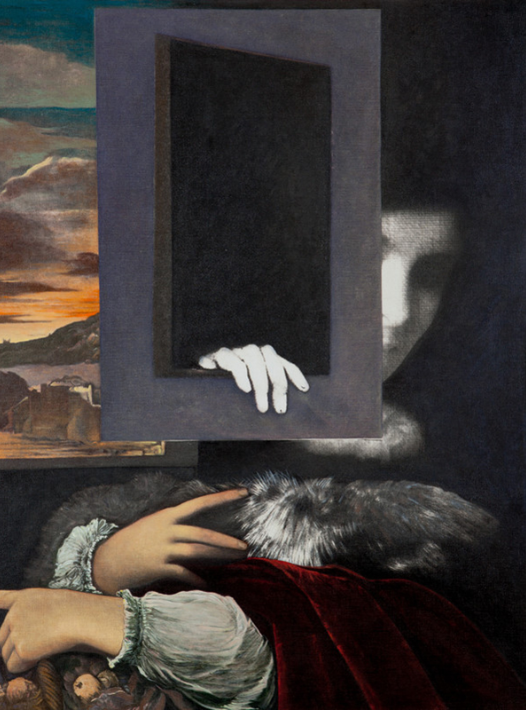 [excerpted]
THE ANTI-ABORTION movement is highly diverse, a loose coalition of organizations, informal groups and individuals. And like other social movements, it incorporates moderates and militants – those dedicated to pushing the cause through law, education and huge marches, and those who register their protests directly at the clinic doors.
"The division between the moderates and the purists in the movement is deep," said Michael Cuneo, author of Catholics Against the Church, a study of Catholic anti-abortion activists. Among many of the most militant, he said, "it's unqualified, no-holds-barred commitment."
Additional reporting New York Times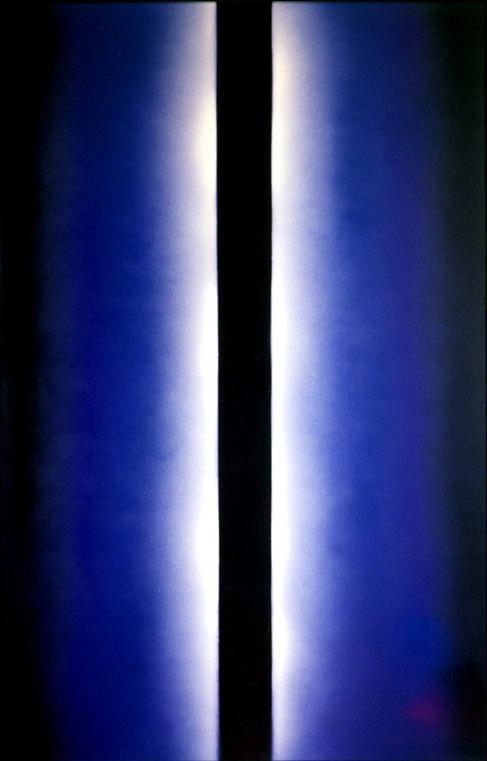 Crisis Magazine (Washington, DC)


Michael W. Cuneo. Catholics Against the Church (University of Toronto Press)
By Leonard A. Kennedy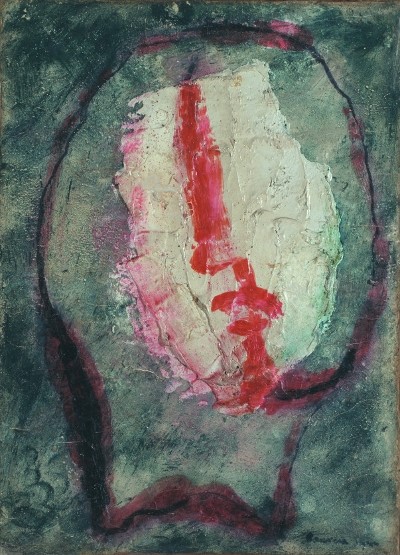 [excerpted]
THIS STUDY of the anti-abortion or pro-life movement in Canada will be of great interest to Americans.
Michael Cuneo says that his investigation is "strictly empirical" and that it attempts "neither to condemn nor to champion the movement's central moral belief."
The book begins with a history of the movement – to my knowledge, the only such account available. Cuneo then limits himself to a consideration of the role of Catholics activists.
●
Cuneo concludes that the movement "functions for many of its participants as a conventicle of lay dissent against processes of modernization and liberalization within the Canadian church."
"Indeed," he writes, "anti-abortion activism is a symbolic line of fracture separating Catholics of radically opposed faith commitments . . . Whereas [pro-life activists] regard opposition to abortion as the touchstone of genuine faith, Canadian Catholic elites, including most bishops, priests, and nuns treat the issue with a circumspection bordering on avoidance. Although Catholic elites are generally uncomfortable with the trend toward greater abortion freedom, the pro-life cause is beyond the pale of the progressive ecumenism to which they are committed."
"The anti-abortion movement, accordingly, has become the special domain of lay Catholics who feel both betrayed and disparaged by the leadership and current theological direction of the Canadian church," Cuneo writes. "Whereas liberal Catholics hesitate to challenge the cultural orthodoxy of the pro-choice ethic, [pro-life activists] relish the contracultural implications of anti-abortion protest. Through it they express not only moral abhorrence of abortion, but also their desire for a revitalized Catholicism."
This is not a typical sociology book. There are no surveys, charts, or statistical jargon. It is exciting reading from beginning to end.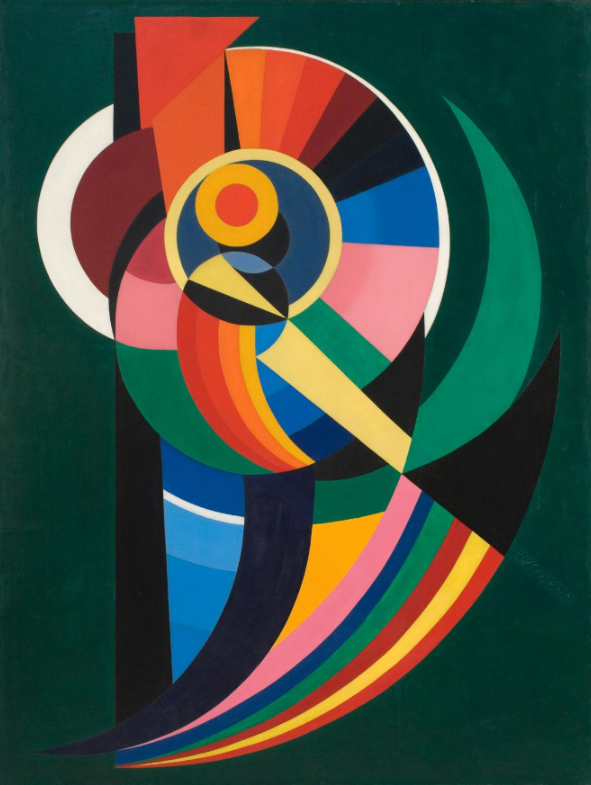 The Heythrop Journal (Oxford University, UK)

Michael W. Cuneo. Catholics Against the Church (University of Toronto Press)
By John R. Williams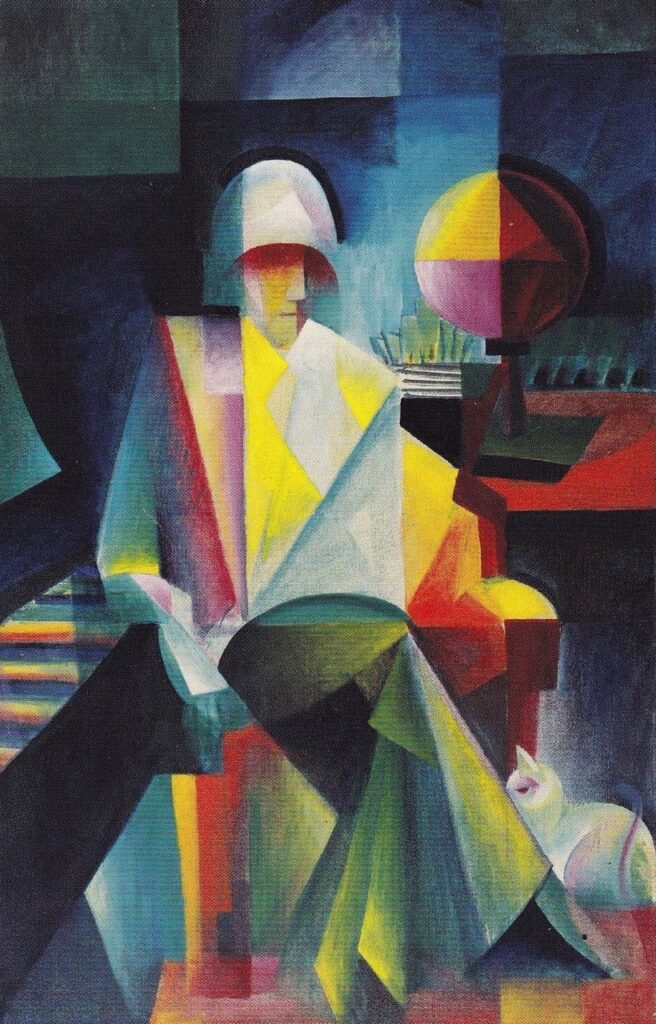 [excerpted]
THIS BOOK will be of interest to participants in the abortion controversy wherever religion is involved.
Michael Cuneo has undertaken a sociological study of the Catholic pro-life movement in Canada, with special reference to Toronto-based organizations. His analysis invites comparisons with similar movements in other countries.
●
Within the ranks of the anti-abortionists, Cuneo identifies no less than three distinct groups. Civil rights activists "conceive opposition to abortion as an essential aspect of a more extensive project of creating a social order in which no class of human life is denied fundamental justice" (p. 87). They favor a rational, temperate and pragmatic approach to abortion politics, and seek allies among feminists and other progressive constituencies. Family heritage activists see the trend towards liberalized abortion as "a calculated strategy on the part of cultural elites (feminists, secular humanists) to subvert both the traditional family and traditional religious values" (p. 85).
Revivalist Catholic activists, whom Cuneo describes as the "shock troops" of the movement, believe that the Canadian bishops and clergy have sold out to the forces of secularism, as is evident from their failure to oppose abortion and contraception. They are often the most devoted members of the movement and many are prepared to go to jail as a protest against abortion practice.
Cuneo's book raises important questions. It should be required reading.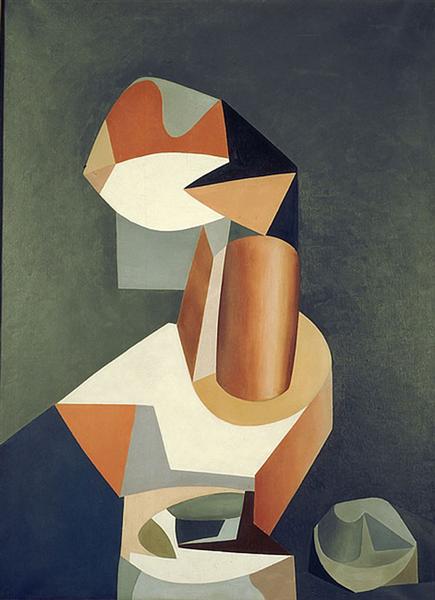 Sociological Analysis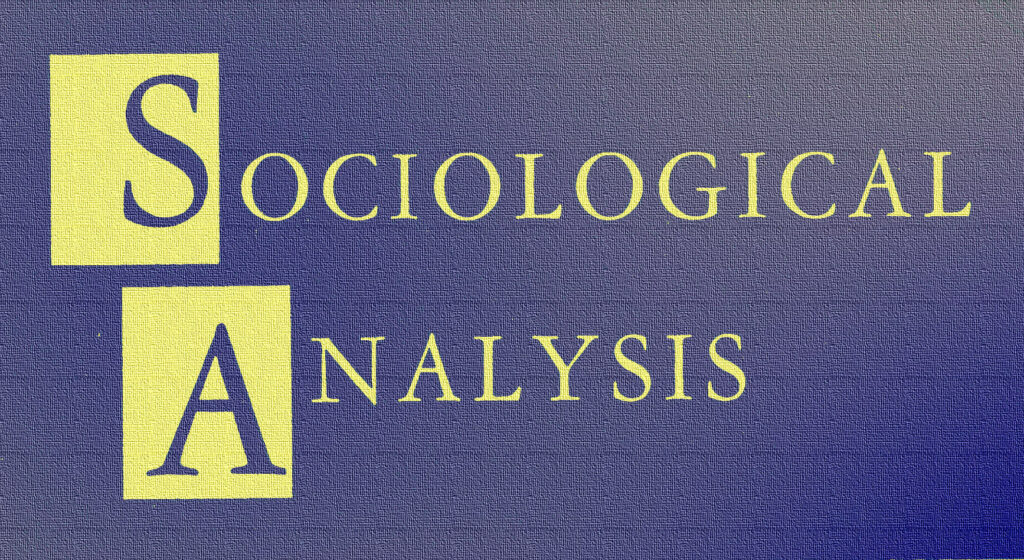 MICHAEL W. CUNEO. Catholics Against the Church (University of Toronto Press; $16.95, paper)
By Mary Ellen Batliuk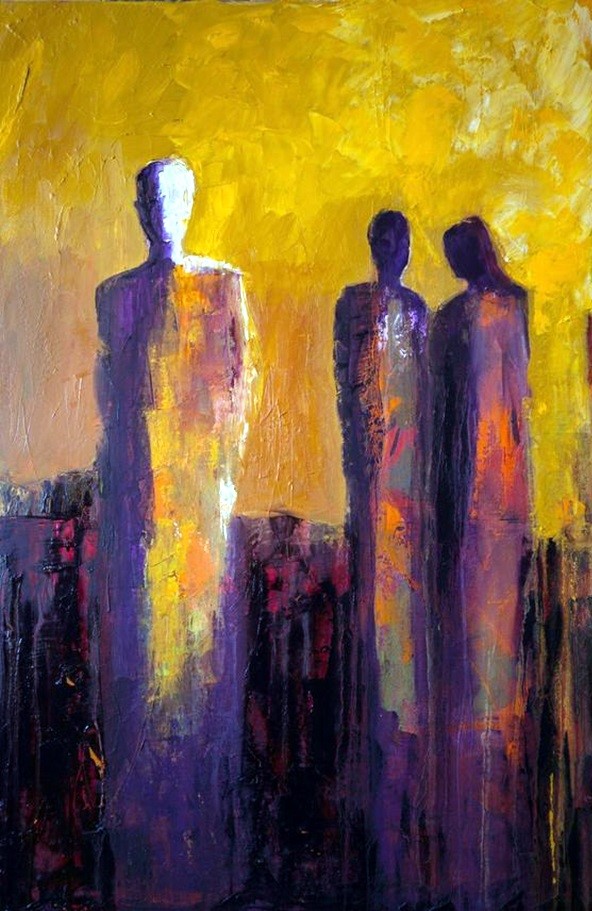 [excerpted]
MASTERFUL. Michael Cuneo paints with vivid color a picture of a divided church.
Indeed, Cuneo's wonderful and refreshing command of the language makes him a must-read and a delight to read.
On another level, Cuneo has produced an exemplary model of the sociologist at work: following the data, creating typologies that enhance our understanding of the data, and fleshing out the typologies with concrete examples from his in-depth interviews.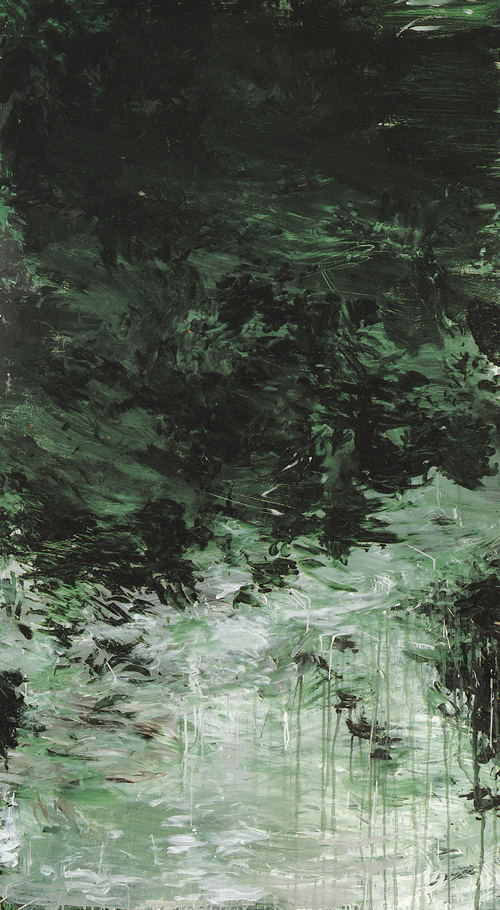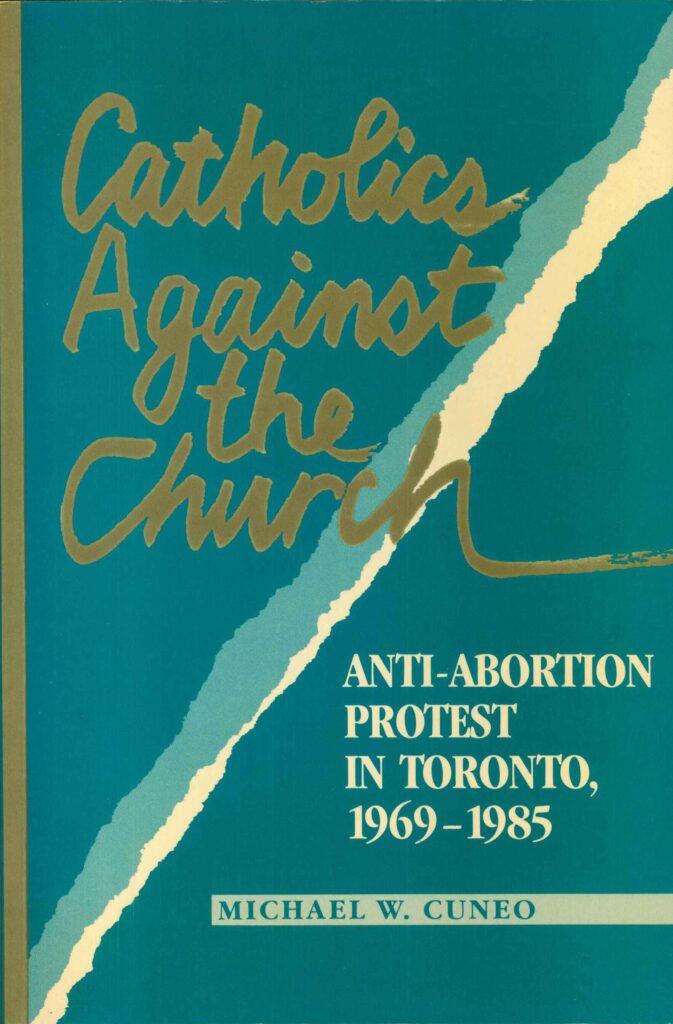 ISSUES IN THE SOCIOLOGY OF RELIGION / THE SOCIOLOGY OF RELIGION [w/ Anthony J. Blasi]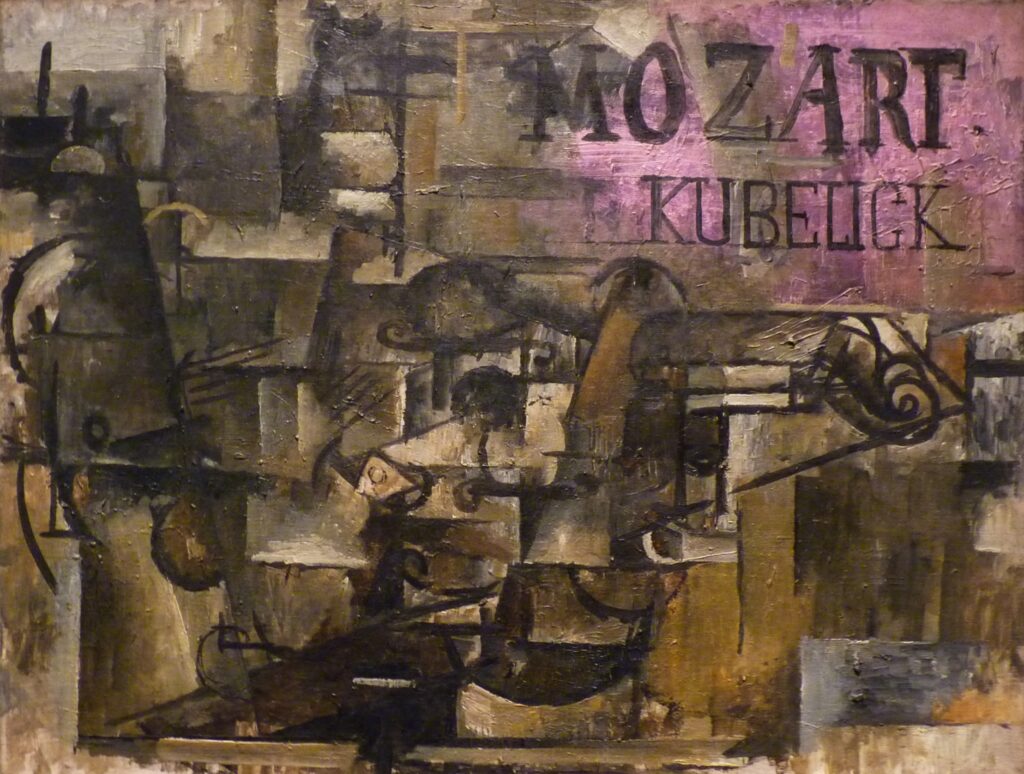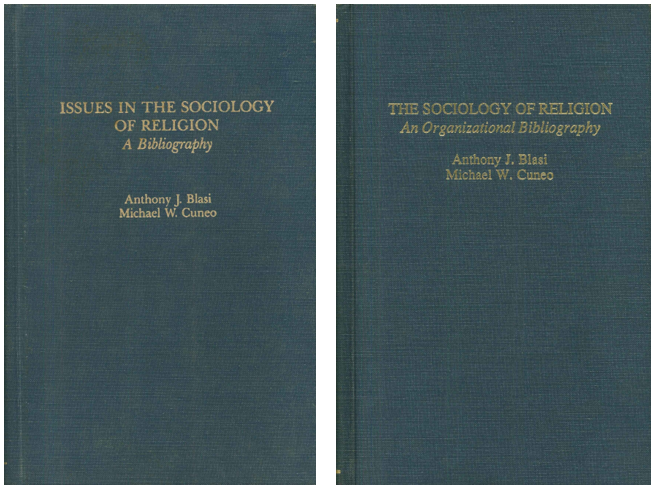 "I would buy Blasi-Cuneo without question. Issues in the Sociology of Religion is an incredibly good book."
— William H. Swatos, Jr., Sociological Analysis, Vol. 48, No. 3
"A major project. The Sociology of Religion is essential research."
— The Times-Recorder (Ohio)